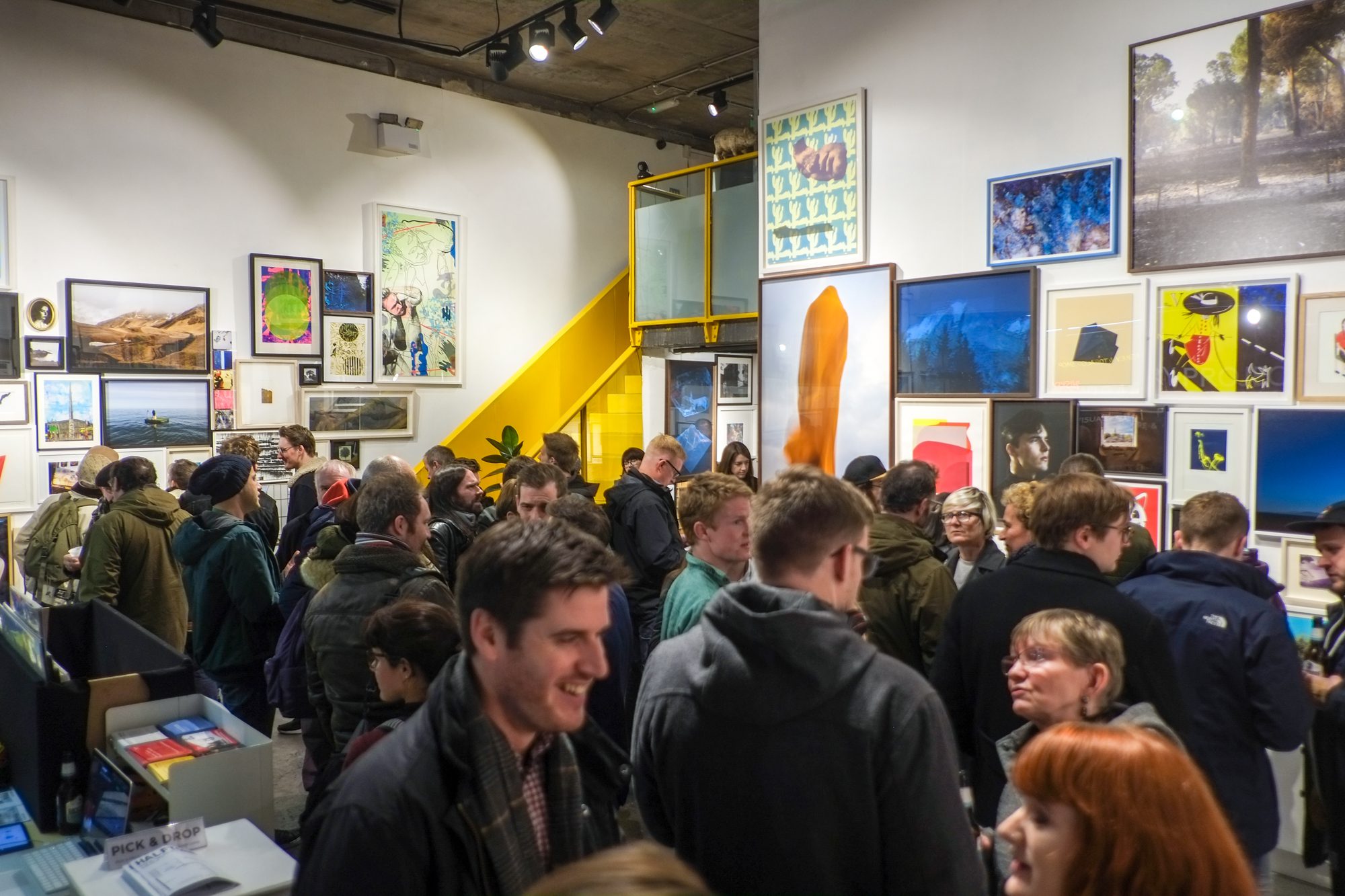 We have come to love these end-of-year reviews posts. In them, one can appreciate the achievements in an almost statistical way, but above all, they evidence our ambition and creativity in the pursuit of our aims. But before we get into the re-cap, we would like to extend our sincere thank you to everyone who made everything possible in 2018.
Thank You
This year brought some invaluable people to our team. Hannah Tiernan joined us as a bookkeeper and Clare Lyons, now on her way to an Arts residency in New York, is assisting with the PhotoIreland Foundation Collection – just after Surpriya Dhaliwal made a move to Belfast this year, to undertake her MA degree in English-Poetry at Queen's University. As part of Dublin Institute of Technology's Archiving in Context module, running for the 3rd year at The Library Project, we had the pleasure of working with Photography student Aleksandra Kimczak. The module allowed her to focus on essential aspects of archiving and managing a digital database, in addition to researching.
A big thank you to our festival volunteers Youri Alen, Bronwyn Andrews, Aurélie, Robert Ellis, Helena Gouveia Monteiro, Joe Johnston, Aisling Keavey, Margot Kenny, Heather Nickels, Valerie Stone, Oona Tully, Roisin White, and Deánna Wojciechowska. A very special thank you to Becks Butler, Youri Alen, Aoife Shanahan, and Ellie Berry for giving us a hand with events like the demanding HALFTONE Print Fair.
Thanks to the board of Directors and Advisors for their continuous support, and best wishes to Donall Curtin, appointed to the Arts Council Ireland for the next 5 years. We were lucky to have him on our Board of Directors for the last years, a huge supporter of the Arts!
Thanks also to all the organisations and cultural partners, sponsors, grant aiders, and in kind supporters, from Ireland and abroad, we worked with in 2018.

Patronage
This year, we started a patronage campaign to facilitate everyone interested and supportive of our work to contribute with as much as they see appropriate: being a philanthropist starts from as little as €1.50 a month. In exchange of a set of rewards, in as much as life-long kudos, our patrons have encouraged us to keep pushing forward with the campaign, and to look for more opportunities to reward their contribution. Find out why we started it and how you can join us.
We started this campaign without fireworks, without TV adverts, wanting to slowly let everyone know about it. In 2019, the 63 existing patrons and many new ones, will be the ones to enjoy exclusive access to content and experiences, hosted in project spaces such as The Museum of Contemporary Photography of Ireland.
To each and every one of our dear patrons, a huge thank you.
European Photographic Platforms
PhotoIreland is the only Irish organisation invited as founding member of two European Union co-funded platforms of Photography – and that speaks volumes about our work inside and outside of Ireland, as much as within the Irish Arts context.
As member of Parallel and Futures, we have the opportunity to bring Irish artists to significant events, fairs and festivals, in the international Photography calendar, to participate in the corresponding programmes, and to co-develop future events. The membership also opens a fresh new way to network with European like-minded organisations, placing our work beyond the parish, and exchanging the works of artists and curators. All this, to ensure an appropriate representation of the discipline in Ireland and of Irish Photography internationally.
The Parallel Intersection Zagreb saw the finalisation of Cycle 1 and the initiation of Cycle 2 in the Nikola Tesla Museum in Zagreb, Croatia, in September. Through an international open call, Irish artist Roisin White was selected as one of the 29 participants for the second cycle of Parallel. At the event in Zagreb, visitors had the opportunity to enjoy works that were produced in the context of the first cycle by Mark McGuinness.
For 2019, PhotoIreland Festival was appointed as one of the 6 exhibiting members of the platform, and we are currently working with emerging curator Seda Yildiz in developing an exhibition to launch during PhotoIreland Festival in July 2019, at The Museum of Contemporary Photography of Ireland.
Regarding the Futures platform, we put forward 5 artists to join the platform's talent pool: Barry W Hughes, Jamin Keogh, Miriam O' Connor, Ciarán Óg Arnold, and Róisín White. They were showcased at Unseen Amsterdam in the Futures Talent Pool and Futures Narratives, and participated in the Coaching Sessions.
Our presence in both platforms and events was kindly supported by Culture Ireland.
Unseen Amsterdam
Hands down, September was the busiest month for us! In addition to our participation in both platforms, we made a return to Unseen Amsterdam and participated in most of the fair's elements. We took the opportunity at hand and we maximised it, even building a mobile unit of The Library Project to display at the event's promenade. The mobile unit made its debut at Unseen, focusing on the Irish Photobook, allowing us to bring a much larger selection of items than usual to events, hosting visitors in a unique, fun and relaxed environment. We held a talk In the beginning was the Dummy, hosted by Irish curator Padraig Spillane in conversation with Irish artists Miriam O' Connor, Shane Lynam, Ciarán Óg Arnold, and Aisling McCoy. Ángel Luis González was in conversation with Futures artists on the topic of Change, for The Living Room Talks programme. For The Suitcase Collection, Ben Krewinkel (founder, Africa in the Photobook), Daniel Boetker-Smith (founder, Asia-Pacific Photobook Archive) and Ángel Luis González (founder, The Library Project) presented 4 Photobooks from their collections. Presented from PhotoIreland Foundation Collection: Dubliners by Tony O'Shea, Captured Light Exhibition Catalogue, Chrysalis by Catarina Leone, and End. by Eamonn Doyle. Last, but not least, you could also find us at the Unseen Book Market, in addition hosting Shane Lynam's Fifty High Seasons book signing.
September was a very productive month. Find out more and see some images here!
The Library Project
Following its success in Barcelona, the largest and most comprehensive Photobook exhibition to date – Photobook Phenomenon travelled to San Sebastián's San Telmo Museum. We were happy to loan publications from our collection to this great event.
Thanks to our new mobile unit, we were able to bring a wider selection of publications from the PhotoIreland Foundation Collection to the Organ Vida Book Market in Zagreb, Croatia, and also be part of the official Off-Site programme at Unseen Amsterdam. On our European trip, we stopped off to check out the TLP Editions and New Irish Works collections on sale at Museum of Photography of Antwerp FOMU in Belgium, and then the Centre Culturel Irlandais in Paris, where we donated a number of Irish Photobooks to the Mediatheque.
Nationally, we are grateful to have been invited to participate in the VAI Get Together, Dublin Art Book Fair, and at Irish Photo Fest with a selection of publications from our Art bookshop.
The Library Project venue saw another eventful year with many photobook launches: Julia Mejnertsen's new series Äret, Buddleia by Eric van Kampen, White Horses by Johnny Savage, Fifty High Seasons from Shane Lynam, and K by Eamonn Doyle – launched finally at Hens's Teeth in co-operation with St. Patrick's Festival. The venue hosted some notable exhibitions such as Dara McGrath's Lyme Bay Trials, Paul Carroll's Gaelic Fields, Brian Teeling's Uncover, Enda Bowe's At Mirrored River, and Roisin White's Lay Her Down Upon Her Back.
We celebrated the ninth edition of the Inspirational Arts Photography Award, with this year's graduate winner being Luke Faulkner from IADT with his work I'm Addicted To You, Don't You Know That You're Toxic), alongside the finalists Mira Kalliomäki from GCD (The Miraculous Magic of Everything), Wanderley Massafelli from DIT (The Children of Oxóssl), and Grace McEvoy from LSAD (#000000).
Another busy edition of HALFTONE Print Fair took place in November, with lots of sales and support for the local artists, including some acquisitions for the National Collection by the Office of Public Works.
Of course, one of the most poignant events of the year, and one we are very proud to have host, was the Together For Yes campaign space during the month of May – just as PhotoIreland Festival looked at the topic of abortion, with Laia Abril and Sarah Cullen's work as the main exhibition.
PhotoIreland Festival
In May, the main show presented at The Copper House Gallery, Laia Abril's On Abortion and Sarah Cullen's You Shall Have Exactly What You Want. It proved to be a timely and engaging response to the abortion referendum taking place that month, participating on the historic moment Ireland went through.
It was all possible thanks to the kind support of Inspirational Arts, The Copper House Gallery, Temple Bar Gallery and Studios, Dublin City Council and the Arts Council of Ireland.
The Library Project saw the first iteration of Moyross Study by Jamin Keogh, the annual showcase of Fotobook Festival Kassel 2018, the launch of Junior 3, as well as a number of Critical Academy talks and seminars.
With thank you to Belfast Exposed, we exhibited Mariela Sancari's acclaimed work Moises at the Instituto Cervantes. The festival also saw the launch of Daragh Soden's Toulon, and our participation in the Futures platform and announcement of the selected Irish artists. How to Flatten a Mountain returned for another exciting edition at Rathfarnham Castle – this residency, in collaboration with Cow House Studios, will now take place bi-annually with the next edition coming in 2020.
New Irish Works
The latest edition of New Irish Works is all set for 2019! The artists selected for the third edition of the triennial project are Aisling McCoy, Cian Burke, Dorje de Burgh, George Voronov, Jamin Keogh, Phelim Hoey, Robert Ellis, Roisin White, Sarah Flynn, and Zoe Hamill. These works were selected by an international panel of professionals Alexa Becker, Daniel Boetker Smith, Susan Bright, Fiona Kearney, Ingrid Leonard, Matt Packer, Nadya Sheremetova, Ingo Taubhorn, and Rachael Thomas. See you at the launch 4th July 2019, at The Museum of Contemporary Photography of Ireland!
TLP Editions
This ongoing series is an inexpensive and accessible collection of publications representing current emerging talent and new projects in contemporary photography. In 2017, we published TLP Editions by Ruth Connolly, Jane Cummins, Robert Ellis, Sarah Flynn, James Forde, Cristina Gismondi, Ellius Grace, Kevin Griffin, Mark McGuinness, George Voronov. In 2018, we added those of Gerry Blake, Rose Comiskey, Sarah Cullen, Clare Gallagher, Jamin Keogh, Josef Kovac, and Roisin White, with more coming soon by Aidan Kelly, Dianne Whyte, Ellie Berry, Dylan Davies, Hue Hale, Justyna Kielbowicz, and Tommie Lehane, amongst others.
It is also worth mentioning that both complete collections were purchased by The National Irish Visual Arts Library, in Dublin, and also by the Martin Parr Foundation!
Coming up in 2019
Sit tight for another cracking year with a 3 month long PhotoIreland Festival, and projects like The Museum of Contemporary Photography of Ireland, and a forthcoming new Photography magazine!