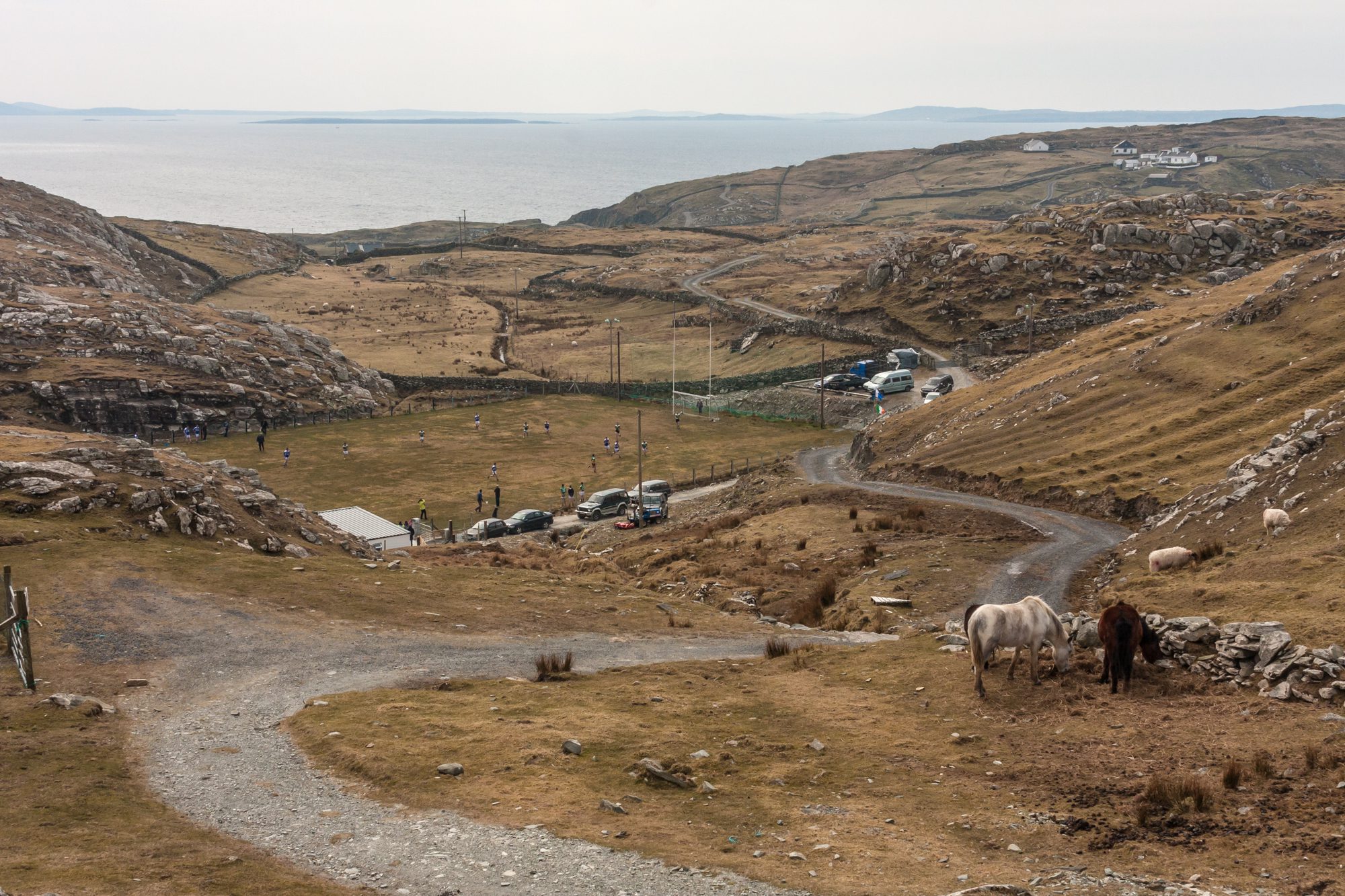 Gaelic Fields, Paul Carroll
6-25 March 2018
Launch: 6pm 8 March
at The Library Project
The work imprints the rituals, decisive moments and flow of a GAA club game onto the backdrop of the local environment. Football, hurling, camogie and ladies football games – Ireland's national games – are depicted at all adult levels in every county. Running from the outlying Gaelic fields of Aran and Inisturk islands, South Kerry and the Glens of Antrim to the unique urban landscapes of Cork, Dublin and Belfast, the work incorporates a vast array of locations in between. The four seasons and multifarious elements of Irish weather are interwoven in a snapshot of each city and townland, the people and their team.
More than 50,000 kilometres later he discovered a vibrant and important grassroots movement which is embedded within each of the 32 counties on the island. It is a movement which is volunteer-driven, with players receiving no pay. It has withstood the social and monetary ills of recession, as well as the mass emigration of many of its participants. Crucially, it accommodates all social strata in both urban and rural areas.
Over the course of his photo journey, Carroll documents those community values, grassroots Gaelic games and their relationship within the environment. Gaelic Fields showcases Ireland's landscape in a way which is both unique and familiar. It is also a portrait of communities and the social nature of Gaelic games.
About the Artist
Paul Carroll is a Cork City based photographer. He has worked extensively using the digital and film mediums. The main focus of his work is the intersection between Irish communities, their surroundings and environment. This approach led him to question the unique ways in which these communities harness and put their stamp on the land throughout the 32 counties on the island.
Historian and theorist Christopher Lasch said: "Play has always, by its very nature, set itself off from workaday life; yet it retains an organic connection with the life of the community, by virtue of its capacity to dramatise reality and to offer a convincing representation of the community's values." These words in combination with inspiration he took from the work of Dutch landscape photographer Hans Van Der Meer led him to a unique examination of Ireland's national games.
Between 2009 and 2016 Carroll focused exclusively and solely on capturing grass roots Gaelic games, the communities where they are played and their surroundings. This led to his debut book Gaelic Fields. It was independently published in November of 2016. It was selected as one of The Irish Times photo books of that year. The result is a social documentary which captures intrinsically unique values about Ireland's national games, environment, identity and play. It offers the viewer hints and clues telling a more complicated story of each community; sometimes humorous, sometimes serious and always thought provoking. His work has been featured on national television and in publications locally, nationally and internationally.
Carroll studied darkroom photography in Cork's College of Art and Design (CCAD). He has a degree in Electronic Manufacturing, a graduate diploma in Entrepreneurship Management and a diploma in Journalism. Currently he also works part time in a support accommodation for 18-25 year old's who are homeless or at risk of being homeless and as the organiser of the Cork Homeless Street league.
Find out more about the project at gaelicfields.com