Ireland's International Festival of Photography & Image Culture.
PhotoIreland Festival 2010:First Edition
PhotoIreland Festival is Ireland's first international festival of Photography and Image Culture, and the only festival dedicated to Photography in Ireland. It celebrates Ireland's photographic talents – oftentimes only recognized abroad – as well as bringing international practitioners and artists to Ireland. The festival highlights, promotes and elevates Photography in Ireland – conferring on it the importance it duly deserves.
We welcome you to the digital archive of this inaugural festival.
The Festival
Celebrating its first edition in, the PhotoIreland Festival is Ireland's first international festival of Photography and Image Culture. With the motto "vibrant, friendly, all-inclusive: a festival for all to enjoy," we set out to raise awareness on local and international photographers and artists working with Photography, and to underline the work of those organizations and individuals that for years have been promoting an engagement with the medium.
The festival is celebrated every summer, highlighting through a proposed programme, the works of national and international artists. The event brings together the energies of a wide range of artists, galleries and cultural institutions in a celebration of Photography, with many participative events for all types of audiences.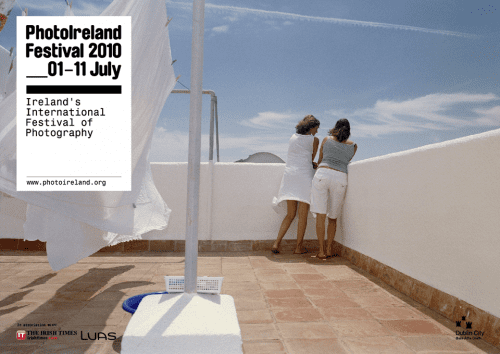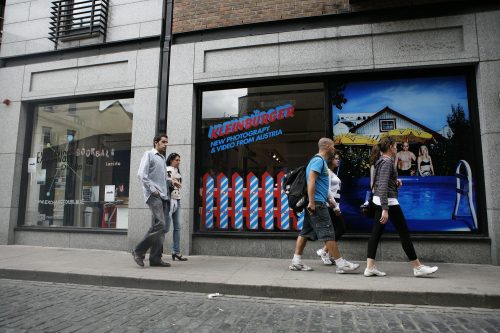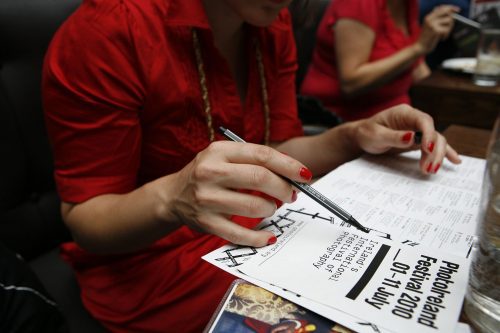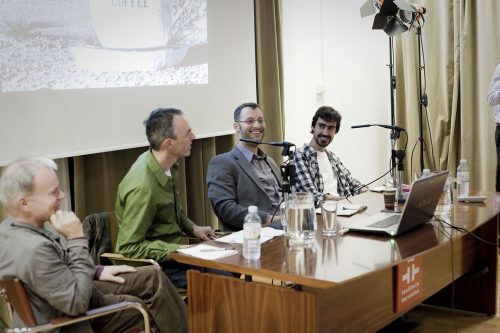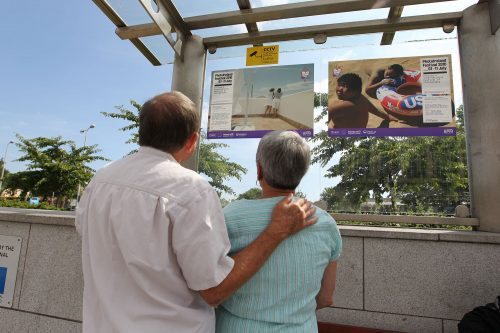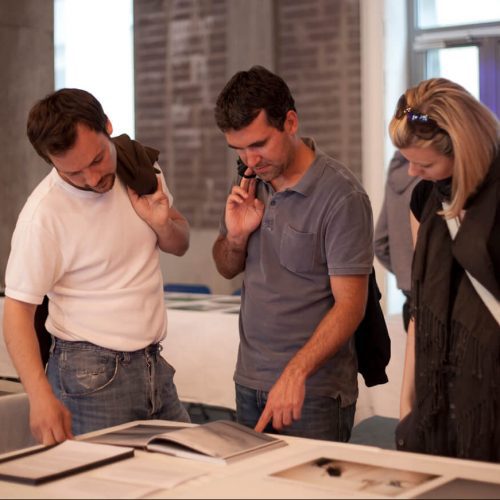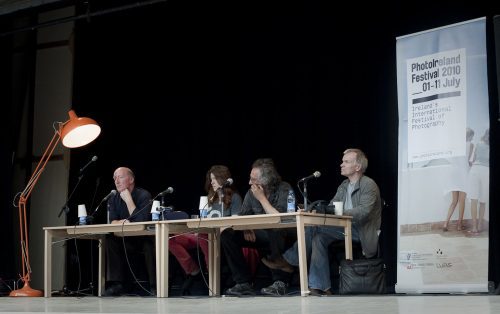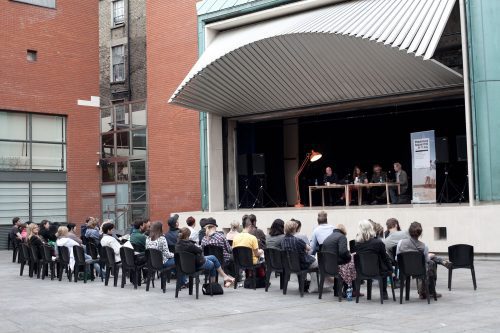 Exhibitions
Vote No. 1 Miriam O'Connor 1-11 July
Displacement, Shelley Corcoran 1-11 July
Demise en Scène, Michael Boran, Ethna O'Regan 1-17 July
The Gift, Giorgia Fiorio 1 July-23 Aug
360 degrees, Ruben Ochoa 1-11 July
America, Deirdre Brennan 1-11 July
Fragments From a Broken World, kennardphillipps, Sean Hillen 1 Julyy-2 Aug
Inspiration 1 July-2 Aug
The Birth of Motion and Colour Photography, Eadweard Muybridge, The Lumière Brothers 1-11 July
Kleinburger. New Photography and Video from Austria, Gianmaria Gava, Harald Hund & Paul Horn, 1-11 July
I Like Boring Things,  Dorje de Burgh, Tansy Cowley, David Morrissey, Samuel Cunnane, Kate Nevin, Anna J. McCormack, Edmund Doherty, 1-6 July
Etterspill / Postlude, Eva Ljosvoll,1-12 July
Outdoor Screening of 'The Gift', Giorgia Fiorio, 1 July
Art on the Luas,1-11 July
NCAD Photography and Digital Imaging Exhibition, 2-4 July
The Thing That Bruises You, 2-11 July
Domestic Landscapes, Bert Teunissen, 2-11 July
Heaven Is Under Construction , Mirjam Siefert, 2-31 July
The Scarred Landscape, Debbie Castro,  2-11 July
Self, 2-11 July
For The Love Of Exposure, Andreas Pettersson, Conor Buckley, 2-11 July
Home, 2- 9 July
Portfolio Reviews 3 July
Fine Art Black and White Landscapes from Ireland, Neil McShan, 3-31 July
Homeless Gallery,4-7 July
Chasing Shadows, Ian Mitton, Brian Brady, Louis Haugh, Kamille Matulaityte, Maeve O'Neill, Dominic Turner, Thomas Woods, James Maxwell, 4-11 July
Portfolio Reviews 2/2,  4 July
Rince na hÉireann – The Dance of Ireland, Liza Cauldwel, 5-17 July
OpenCall 2010, 5-18 July
Dublin Camera Club Annual Exhibition, 6-29 July
Creating the Perfect Print,  Hugh McElveen, 7 July
Open Call 2010 Review and Networking Session,8 July
Inanimate Beauty, Emer Roberts, 8-17 July
Fuck You All, Glen E. Friedman, 8-25 July
Film Screening: Instrument, Glen E. Friedman, 8 July
PhotoIreland Workshop 2/4, 9 July
SHOOT: Photography of the moment
Stephen Shore, Nan Goldin, Walter Pfeiffer, Boris Mikhailov, Wolfgang Tillmans, Juergen Teller, Mark Borthwick, Ari Marcopoulos, 9 July
Studio Lighting and Portraiture with Michael Conlon, Michael Conlon, 10 JulySource magazine Publication Opportunity Day, 10 July
Loose Threads, 13-20 July
Events
Thrown at the Wall. PhotoIreland Projections. Opening Session,1 July
Talk 1: Giorgia Fiorio, 2 July
Talk 4: Presentations by Richard Mosse and David Farrell,4 July
Talk 5: Grad Talks,  5 July
Talk 6: Grad Talks, 6 July
Talk 7: Photography in Contemporary Spain, 6 July
Talk 8: Grad Talks, 7 July
Talk 10: Grad Talks, 8 July
Talk 11 Overview of Photography in France from the 1930s to the 1960s and the Photographie humaniste, 8 July
Talk 12: A Light Evening, 8 July
Talk 13: Grad Talks, 9 July
Talk 14: On Stillness and movement: past and present, 9 July
Talk 15: A Light Evening, 9 July
Talk 16: Photo Blogging, 10 July
Talk 17: A Light Evening, 10 July
Talk 18: Open Forum. Challenges and concerns facing the Art Photography practice in Ireland 10 JulyTalk 19: A Light Evening, Kim Haughton, 11 July
Workshops
Workshop with Ian Mitton I, Ian Mitton, 3-4 July
PhotoIreland Workshop I, 8 July
PhotoIreland WorkshopII: Social Media for Artists, 9 July
Workshop with Ian Mitton II, Ian Mitton, 10-11 July
PhotoIreland Workshop III, 10 July
PhotoIreland Workshop IV, 11 July
Workshop: Aperture 3, 14 July
Sponsors
These are the organisations that made possible to bring you the first ever photographic festival in Ireland.
MAIN SPONSOR

Department of Culture and Sport
MAIN PARTNERS

Dublin City Council
Luas
MEDIA PARTNER
The Irish Times
SPONSORS
iophotoworks
Bags.ie
Green Earth Light
Exhibit A
Camera Centre
Conns Cameras
Inspirational Arts
PARTNER ORGANISATIONS
Alliance Française Dublin
Art Polonia
Austrian Embassy Dublin,
Candy Collective,
City Arts,
Connector,
Create Ireland,
D-Light Studios,
Daniel O'Gorman Visual Research
DIT,
Dublin Camera Club,
EUNIC,
European Photography,
Exchange Dublin,
Exchange Focus,
Exhibit A,
For The Love Of,
Freefun.ie,
Gallery Of Photography,
Goethe-Institut Irland
Green Earth Light,
IADT,
Indigo & Cloth,
Instituto Cervantes Dublin,
ioPhotoworks,
Irish Photo News,
Irish Photographers,
Istituto Italiano di Cultura di Dublino,
La Catedral Studios,
LBC,
Le Cool,
Light House Cinema Dublin,
Mexican Embassy,
Mexican Embassy Bicentenario,
Mill Street Studios,
Mondrian's Room
Monster Truck
NCAD,
Noble & Beggarman Books,
PhotoIreland,
Pixie,
PrettyvacanT Dublin,
Rizzoli,
Le Cool,
Light House Cinema Dublin,
Mexican Embassy
, Mexican Embassy Bicentenario,
Mill Street Studios,
Mondrian's Room,
Monster Truck,
NCAD,
Noble & Beggarman Books,
Pixie,
PrettyvacanT Dublin,
Rizzoli,
Sebastian Guinness Gallery,
Shop Wall Presents,
Smock Alley Theatre
WITH SPECIAL THANKS TO
Aesthetica Magazine
Circa
European Photography
Irish Photo News
photographers.ie
Voluntary Arts Ireland
Contributors
Aaron Dempsey, Adele O'Byrne, Aidan Kelly, Aileen Dempsey, Aindreas Scholz, Aishling Muller, Alan MacWeeney, Aleksandra Kaluza, Alexander Binder, Alison Baker Kerrigan, Amy Petherbridge, Amy Plant, Andreas Pettersson, Andrina Baker, Anna J. McCormack, Anna Wickham, Aoife Forrestal, Aoife Herrity, Aoife O'Sullivan, Aoife O'Donnell, Ari Marcopoulos, Artur Sikora, August Sander, Barbara Galvin, Barry Keogh, Barry McCall, Bert Teunissen, Boris Mikhailov, Brea Souders, Brendan Ryan, Brian Brady, Brian Daly, Brian O'Leary, Cait Fahey, Calin Ploscar, Carlos Lujan, Carlos Sanva, Catherine O'Gorman, Christine Jones, Christine Redmond, Ciaran Dolan, Claire Ryan, Clare Lymer, Claudi Nir, Cliona O'Flaherty, Conor Buckley, Daniel Gebhart de Koekkoe, Daniel Graham, Daniel Gustav Cramer, Daniel Holfeld, Darek Fortas, Dash Snow, Dave Conlon, David Bailey, David Farrell, David Morrissey, David Thomas Smith, Debbie Castro, Deirdre Brennan, Deirdre Mc Ging, Dominic Turner, Dominique Beyens, Donovan Wylie, Dorje de Burgh, Dragana Jurisic, Eadweard Muybridge, Edmund Doherty, Eduardo Nave, Efa Corwell, Ellen McDermott, Emer Roberts, Emily Quinn, Emma Birkett, Emma O'Brien, Emmett Connell, Eoin O'Connaill, Eoin Shiel, Erin Quinn, Ethna O'Regan, Eva Ljosvoll, Eva Sala, Feena Kavanagh, Ferdia MagLochlainn, Fergus Fordan, Fergus Jordon, Fiona O'Donnell, Flora Hanitijo, Frank Brennan, Fred Reilly, Garvan Gallagher, Georgia Pistoia, Gianmaria Gava, Gilles Peress, Giorgia Fiorio, Glen E. Friedman, Glynnis McDaris, Grant Munroe, Harald Hund & Paul Horn, Harry Lyster, Hazel Fitzpatrick, Henning Koestler, Hiromix, Hugh McCabe, Hugh McElveen, Ian Mitton, IÃaki Domingo, Irene Siragusa, Jacki Hehir, Jaimie Warren, James Maxwell, Jasmina Jasinska, Jason Lowe, Jason McGarry, Jason Nocito, Jeannette Lowe, Jeannie O'Brien, JH Engstrom, Jill O'Meara, Joanne Murphy, Joe Sterling, Johnny Mcmillan, Johnny McMillan, Johnny Savage, Jonás Bel, Jonathan Higgins, Jorquera, Juan Miguel Novoa, Juan MillÃs, Juan Santos, Juan Valbuena, Juergen Teller, Julie-anne Thorne, Kamille Matulaityte, Karen Clifford, Karen Forrester, Kasia Kaminska, Kate Nevin, Ken Miller, kennardphillipps, Kenneth Cappello, Kenneth O'Halloran, Kieran Harnett, Kieron Boyle, Kim Haughton, Kristina Collender, Laura Curran, Laura McGovern, Laura Pyne, Leah Reynolds, Liam Campbell, Linda Brownlee, Linus Bill, Liza Cauldwell, Logan White, Lorna O'Brien, Lorraine Tuck, Louis Haugh, Louise Enhorning, Louise Scott, Louise Slevin, Lucy Nuzum, Lydia O'Connor, Lyndsey Browe, Lynn Rothwell, Madi Ju, Maeve O'Neill, Mandy O'Neill, Marc Doyle, Marcus Cassidy, Margaret Boland, Margaret Brown, Marie Louise Halpenny, Mark Borthwick, Mark Morgan, Mark Treston, Marta Soul, Matías Costa, Maurice Gunning, Megan Gallagher, Michael Boran, Michael Conlon, Michael Schmelling, Miguel Robaina, Mike O'Toole, Miriam O'Connor, Mirjam Siefert, Monika Fabijanczyk, Moninka Chmielarz, Nacho Alegre, Nan Collins, Nan Goldin, NCAD CEAD Students, Neil Dorgan, Neil McShane, Niall O'Brien, Niamh Raftery, Nick Bayne, Nikki O' Carroll, Noel Bowler, NOPHOTO, Ola Rindal, Orla O'Brian, Orrie King, Paco Gómez, Paul Grahem, Paul Schiek, Paul Sharp, Peres Project, Perry Ogden, Peter Sutherland, Pierre Jamet, Ramona Farrelly, Rebecca Byrne, Rich Lambe, Richard Gilligan, Richard Mosse, Rimi Park, Robert Mc Cormack, Roberta Girkute, Roger Mayne, Roseanne Lynch, Rosie Nixon, Ross Ellis, Ross Mc Donnell, Ruben Ochoa, Sally Colley, Sam Falls, Samuel Cunnane, Sarah Martin, Seamus Sullivan, Sean Breithaupt, Sean Hillen, Sharon Murphy, Shelley Corcoran, Simon Bates, Simon Devir, Siobhan Byrne, Skye Parrott, Stephen Pyke, Stephen Shore, Steven Nestor, Tanit Plana, Tansy Cowley, Teresa Martin Varela, The Lumière Brothers, Thomas Jeppe, Thomas Woods, Tim Barber, Tom Scott, Tony Rooney, Treasa O' Hanlon, Ulla Schildt, Veronica Vierin, Walter Pfeiffer, Wolfgang Tillmans, Yurie Nagashima, and Yvette Monahan.
Ãngel Luis González
Festival Director
Moritz Neumüller 
Guest Curator
Anthony Haughey
Guest Curator
Helen De Lacy
HR & Logistics Manager
Aoife Concannon
Production
Miriam O'Connor
Researcher
Chloe O'Connor
Corporate Sponsorship Coordinator
Emma Casey
Sponsorship Coordinator
Leah Reynolds
Temple Bar Coordinator
PhotoIreland Festival 2010 Key Achievements
Edition one of the first ever international photographic festival on the island of Ireland.
PhotoIreland secures funding from the department of Tourism, Culture & Sport.
PhotoIreland Director Ángel Luis González Fernández is awarded Business to Arts David Manley Emerging Entrepreneur Awards 2011.
Aidan Dunne on Photography (Press)
At the opening of The Thing That Bruises You, Angel Luis Gonzalez read a text by Aidan Dunne written for the occasion. The text said:
"Over the last decade and more, the standard of the third level fine art degree and MA exhibitions has improved dramatically, but by far the most exciting development has been the appearance of photography as a degree subject in a fine art context. Prior to that, photography was really taught as a purely technical subject. Of course, fine art students opted to use photography of their own accord, but compared to some other European countries, Ireland lagged behind in recognizing its role and its potential.
In particular, there was little appreciation of how photography as a medium had extended its reach into so many different areas of creativity. Happily, there were people who understood this, both teachers and students. Staff in the photographic departments of both DIT and IADT, particularly, have been tremendous in opening up the subject, overseeing the production of diploma and degree work of the highest quality.
But it would be wrong just to praise the staff. I think people are inherently creative, and the academic challenge is to guide them in realizing their potential rather than dictating what they should do or how they should do it. What's really been impressive about the photography degree and MA exhibitions is what the students have brought to process. It's one thing to learn how to do predictable things well, it's quite another to manage to do completely unpredictable things brilliantly. That's being creative, and I've seen it happen every year in the photography shows. We should nurture and encourage all this talent."
Aidan Dunne
Locations
The Ark Stage
EXCHANGE
SPACE 54
LIGHT HOUSE CINEMA
La Catedral Studios
MonsterTruck
South Studios Dublin
Mill Street Studios
Instituto Cervantes
Goethe Institut
Alliance Francaise
D-Light Studios
The Centre For Creative Practices
LBC Gallery, 16 Lower Mount St
Stone Gallery
The Joinery
Smock Alley Boy's School
13 North Great George street
The Complex
15 St. Stephens Green
Inspirational Arts
Dublin Camera Club
Enoteca Delle Langhe
Pearse Street Library and Archive
CityArts
Shop Wall Presents – Nobble & Beggarman Books
Sebastian Guinness Gallery
NCAD Photography and Digital Imaging Certificate Graduate Exhibition 2010
The Sycamore Club
Indigo & Cloth
The Ormond Wine Bar
The Point LUAS Stop
Jervis LUAS Stop
Smithfield LUAS Stop
Heuston LUAS Stop
St Stephen's Green LUAS Stop
The Merrion Hotel
GALLERY OF PHOTOGRAPHY
NATIONAL PHOTOGRAPHIC ARCHIVE
"PhotoIreland 2010 is Ireland's first international festival of Photography and Visual Culture. It is a festival that ventures enthusiastically to celebrate Ireland's photographic talents as well as representing practitioners and artists from abroad. The festival aspires to highlight, promote and elevate photography – confer on it the importance it duly deserves. Foremost, it is a festival that is vibrant, friendly, all-inclusive: a festival for all to enjoy.
With more than 30 participating venues around Dublin city, over 100 participating photographers, and with the kind support of many leading cultural organizations and individuals, this year marks the start of what will become a nationwide festival. We hope you enjoy visiting PhotoIreland's events as much as we did making them happen. We look forward to seeing you there." – The PhotoIreland 2010 team