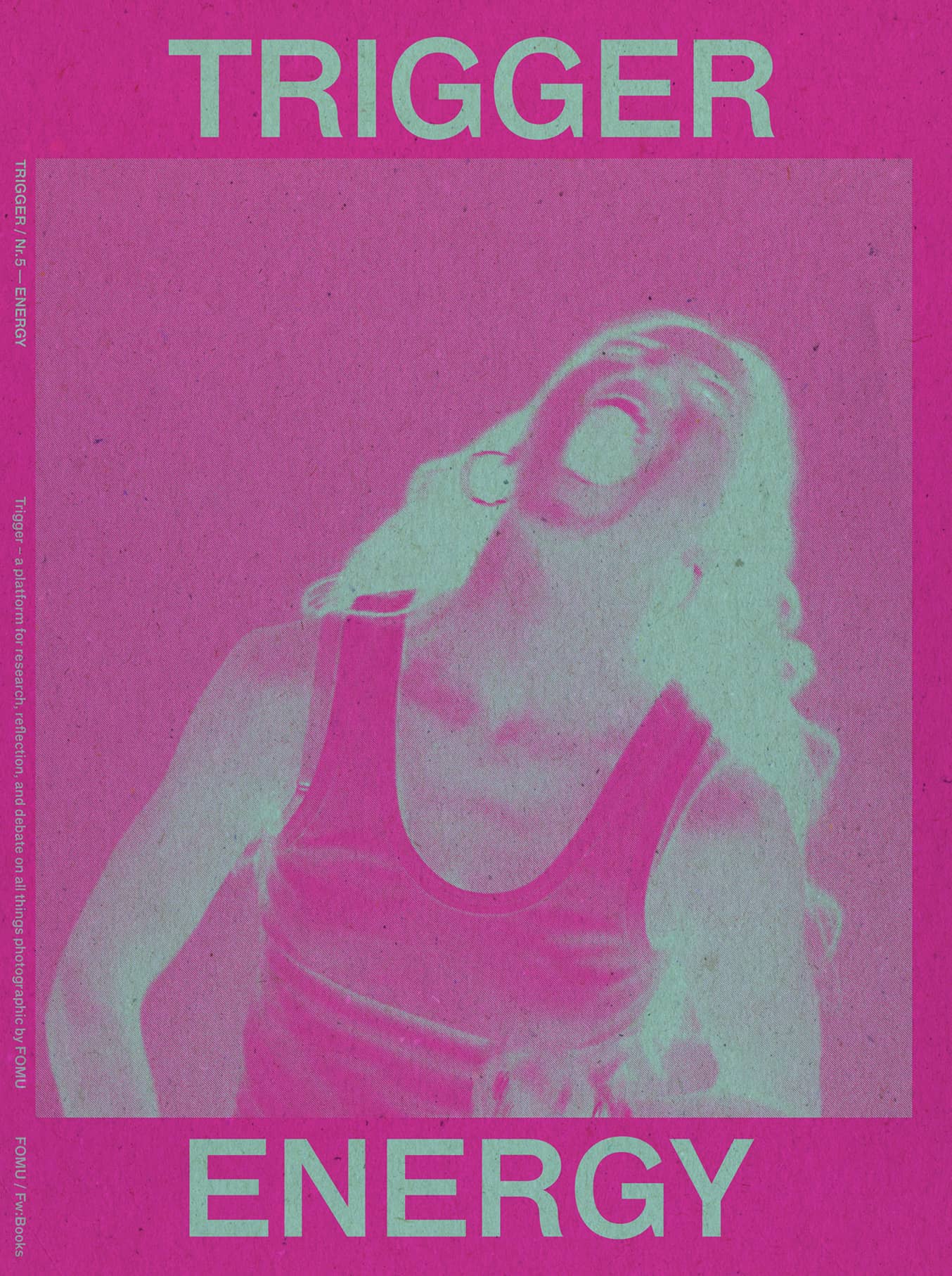 3:30-4:30pm Tuesday 14 November
At Fotomuseum Antwerp, Waalsekaai 47, 2000 Antwerpen, Belgium
The fifth issue of Trigger Magazine, themed ENERGY, launches in FOMU Antwerp. Each issue sees an invited co-editor with Trigger #5 co-edited by FUTURES members:  PhotoIreland (IE), Robert Capa Contemporary Photography Center (HU), FOTODOK (NL), and FOMU (BE).
The launch takes place during the 2-day FUTURES Meet-Up Event taking place 13-14th November at FOMU. The magazine will be officially launched with a panel talk featuring artists Sheng Wen Lo, Tanja Engelberts, and Sebastian Koudijzer, moderated by Mariama Attah (Deutsche Boerse), followed by closing drinks.
Trigger #5: Energy
Trigger #5: Energy consists of thirteen contributions (essays, artist contributions, conversations) which engender possible ways photography might start to unlearn entrenched ideas and habits concerning the use and abuse of energy. With contributions by: Duncan Wooldridge, Sylvia Ballhause, Máté Dobokay, Agata Madejska, Mariama Attah, Euridice Zaituna Kala, René D'amour Hitimana, Risk Hazekamp, Eline Benjaminsen, Tanja Engelberts, Bas Blaasse, Hannah Fletcher, Hiroki Shin, Cara Daggett, Sheng-Wen Lo, Cale Garrido, Kateryna Radchenko, Yana Kononova, Tina Farifteh, Yvette Monahan, Hiền Hoàng, Sebastian Koudijzer, Léonard Pongo, Caroline Woolard. Designed and distributed by Hans Gremmen/Fw:Books. Cover image by Tina Farifteh.
Trigger #5: Energy is a special FUTURES edition, funded by the Creative Europe program of the European Union. Every year FUTURES publishes a themed book, for 2023 inviting FOMU to develop a new publication through Trigger.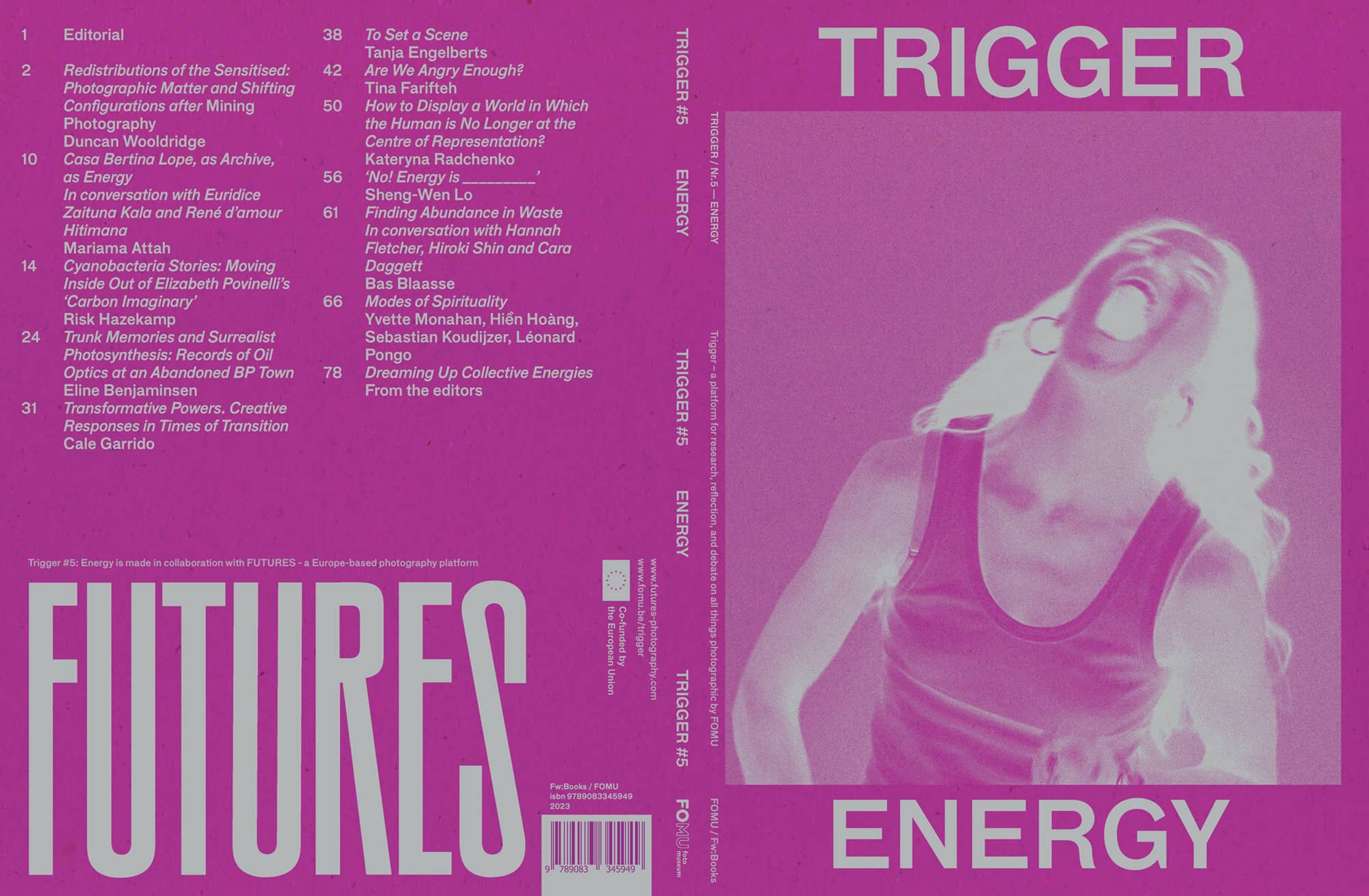 About Futures
Futures Photography Platform is co-funded by the Creative Europe Programme of the European Union, and PhotoIreland is the Irish partner of the platform.
Since 2017, PhotoIreland is the Irish member of the European Platform of Photography Futures, alongside 17 other partner organisations. Futures organises a series of events across Europe within each of its member countries. The aim of the platform is to pool the resources and talent programmes of leading photography institutions across Europe in order to increase the capacity, mobility and visibility of its selected artists. All participant members of the platform put forward every year 5 artists to be promoted nationally, and that alongside all the other selected artists gather at the annual Futures event — previously held at Unseen Amsterdam and in an online festival RESET last year. It is there where they enjoy a series of professional development events conceived to further their careers and promote their work. The artists are also promoted online, in print, participate in awards, and enjoy a profile page on the Futures website. You can visit these at futures-photography.com/artists
To date, PhotoIreland has put forward 30 Irish and Ireland-based artists, selected through direct invitation and an open call: Aindreas Scholz, Aisling McCoy, Aoife Herrity, Audrey Gillespie, Barry W Hughes, Becks Butler, Cian Burke, Ciaran Óg Arnold, Clare Lyons, Dorje de Burgh, Emilia Rigaud, Emma O'Brien, Garry Loughlin, George Voronov, Jamin Keogh, Jialin Long, Mark Duffy, Mark McGuinness, Megan Doherty, Miriam O' Connor, Niamh Barry, Patrick O'Byrne, Pauline Rowan, Phelim Hoey, Róisín White, Ronan McCall, Ryan Allen, Shia Conlon, Vera Ryklova, and Yvette Monahan.
The current members of the platform are Bienal Fotografia do Porto (PT), CAMERA (IT), Centre Photographique Rouen Normandie (FR), Copenhagen Photo Festival (DK), Der Greif (DE), FOMU (BE), FOTODOK (NL), Fotogalleriet (NO), Fotofestiwal Lodz (PL), Fotograf 07 (CZ), ISSP (LV), Organ Vida (CR), PHotoESPAÑA (ES), PhotoIreland (IR), Photo Romania Festival (RO), Robert Capa Contemporary Photography Centre (HU), Triennial of Photography Hamburg (DE), and Void (GR), and research member Eurokleis (IT).
FUTURES is co-funded by the Creative Europe Programme of the European Union.