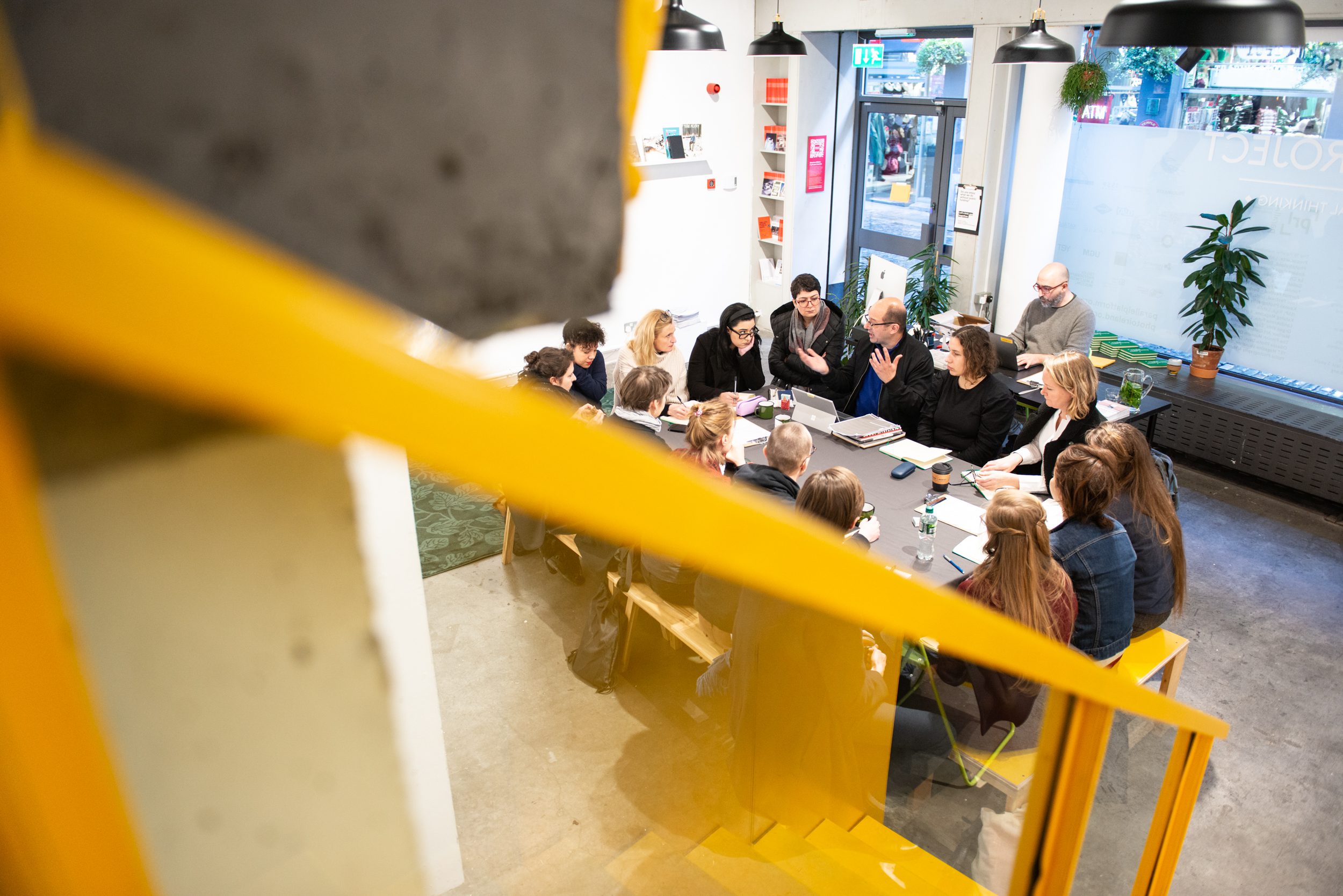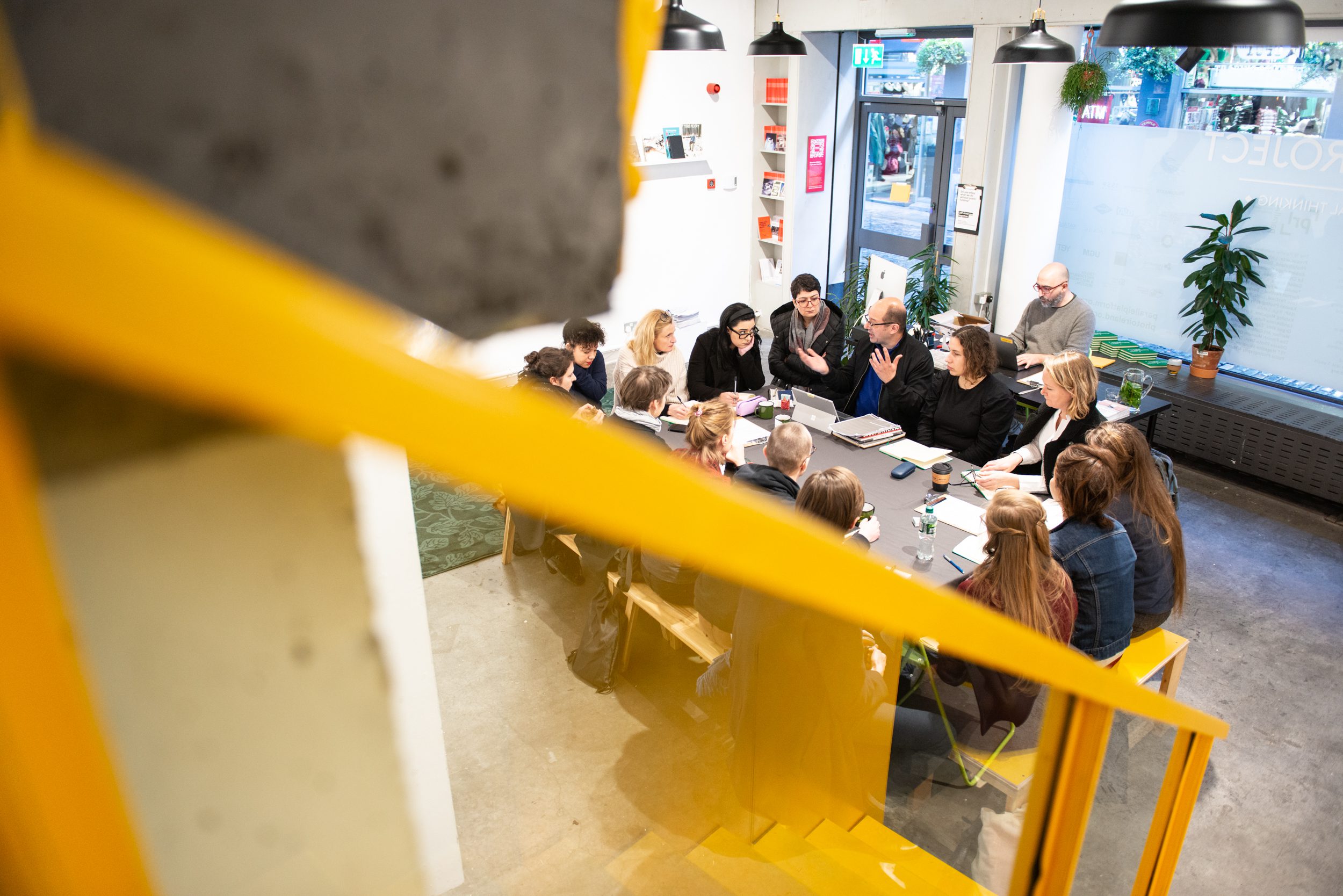 Image: Parallel Platform Curatorship, 2020, Photograph by Emilia Krysztofiak
*****THIS POSITION IS NOW CLOSED*****
Application Deadline: 5pm 31st October
Contract: February-August 2023 with possibility of long-term renewal.
Location: On-site: based in the PhotoIreland offices in Dublin 8, at The Library Project in Temple Bar, and throughout various festival venues. Remote working may be possible in certain circumstances, but on-site is the expected primary place of work. Some travel may be required for meetings.
Hours: Full time Mon-Fri. Candidates may be required to work overtime as may be necessary to support the workload, particularly in the lead up to (Apr-Jun) and during the festival period (Jul-Aug). This will be communicated and agreed on in advance.
Wage €16/hour
Context
PhotoIreland is looking for the right individual to become an integral part of the team — a highly motivated, ambitious, and focused person, eager to progress and grow within their role as the company expands its operations in support of Photography in Ireland. The future of the organisation is as ambitious as it demonstrated in its first decade of existence, and now is the perfect time to join us to be part of this important momentum of significant growth and change.
Over the last decade, PhotoIreland has become a key constituent of the Visual Arts in Ireland and an essential European partner, with a portfolio of projects that creates opportunities for artists, enriches the local ecosystem with diversity, and motivates audiences to engage with ambitious art practices. We develop fertile partnerships with a growing network of organisations, most notably with ambitious Creative Europe support. We are responsible for Ireland's International Photography festival, Ireland's critical journal of Photography and Visual Culture, and Ireland's Art bookshop, where a wide range of our curatorial projects manifest.
You can find out more about what we do online at https://photoireland.org/about/
Candidate
The position offered is Festival Producer for the upcoming 14th edition of the annual PhotoIreland Festival. The Festival Producer will report to, and work closely with, the Director and General Manager of PhotoIreland, and guest curators and artists. This is an ideal opportunity for a candidate to progress into a permanent contract becoming an integral part of the PhotoIreland team, supporting a variety of administrative and strategic operations in Ireland and abroad. However, those seeking a temporary project-based position are welcome to apply.
This is a fitting position for an ambitious, hard-working individual that must demonstrate excellence and commitment, an individual who knows how to get things done in the Arts sector. The position offers a full-time contract of 5 days a week, Monday-Friday, though candidates may be required to work overtime, as may be necessary to support the workload,  particularly in the lead up to (Apr-Jun) and during the festival period (Jul-Aug). The contract will include a one-month probation period, and a final review will follow after the completion of the project to discuss a permanent contract if appropriate.
Main Duties
The main duties relating to the administration and management of PhotoIreland Festival include:
Ensuring the festival's programme is delivered on-time, within scope, and within budget.

Working closely with the invited international and local curators, artists, collaborators, venues, and PhotoIreland staff in planning and implementing the exhibitions and events to take place.

Ensuring the aims and standards of the festival, collaborators, and stakeholders are maintained throughout the programme.

Overseeing the production of the exhibition installations in collaboration with the invited curators and PhotoIreland staff.

Acting as the central point of contact and communication for logistical inquiries from partners, venues and team.

Providing and managing contractual agreements between curators, collaborators, artists, and service providers for the programme.

Regular liaison with invited curators, artists, venues, and other stakeholders as required, ensuring everyone is always informed throughout the process. Including liaison around travel, accommodation, obtaining information such as bios, images etc.

Managing the relationship with all festival collaborators, and facilitating communications between PhotoIreland staff, festival partners, collaborators, and other stakeholders.

Coordinating plans, including marketing, installation, volunteer and production team schedules, and so on.

Preparing texts for print and online, and support with promotional materials, ensuring successful strategic communications for the festival programme.

Ensuring accurate recording and reporting of expenses, and associated communication to the bookkeeper.

Assisting in the recruitment, coordination, and orientation of volunteers for the festival.

Supporting the staff and curators during the exhibition installation period.

Assisting in the marketing and promotion of the festival through social media and newsletters. 

Ensuring the festival website and social media are kept up to date.

To assist with the evaluation and review of the festival for the public funders' reporting.
Additionally, on-site work will be required in July and August, which includes tasks such as:
Front of house management and invigilation.

Attending and hosting events on behalf of the festival.

Supporting at times the production team during installations.
Additionally, on-site work will be required in July and August, which includes tasks such as:
Front of house management and invigilation.

Attending and hosting events on behalf of the festival.

Supporting at times the production team during installations.
Essential Skills and Experience
3-5 years in a comparable area. Experience in the cultural sector — whether in Ireland or abroad — is favourable, but not necessary to apply.

Methodical organisational skills are a must. The individual must be able to manage their duties through time management, prioritisation, multitasking, and appropriate planning, while maintaining accuracy.

Ability to take individual tasks and projects from concept to completion.

Interpersonal, efficient communication, and negotiation skills.

Demonstrated ability to work on own initiative.

Good judgement in problem solving.

Excellent command of English and copywriting skills.

Motivated, reliable, with a proactive and positive problem-solving attitude.

Computer skills are essential: basic working knowledge of Adobe Creative Suite, WordPress, Google Apps, and others, will be key in the role.

Detail oriented with the ability to see the whole picture.
In addition, we would value:
Passion and knowledge of the Arts and especially contemporary Photography.

Design experience and knowledge.

Research skills.

Previous grant writing experience.

International cultural work experience.
How to Apply
To apply, follow these two steps:
1- Fill in the Application Questionnaire
2- Email your CV and a Letter of Motivation to Julia Gelezova at julia@photoireland.org
3- Though a PPSN is not required to apply, it will be essential to obtain it by February 2023 if the candidate is selected.
Incomplete applications will not be considered. Applications that do not meet the essential points outlined before will also not be considered. The deadline for applications is 5pm 31st October, and we don't extend deadlines. Interviews to be held throughout November via Zoom. The position will start in early February 2023.
Additional Information for Applicants
It is advisable to learn more about PhotoIreland and all its projects before considering applying. It is important for applicants to be aware of all our activities throughout the years and our aims. You can find out more about us and what we do on our website, starting from the about page and following with the individual projects.