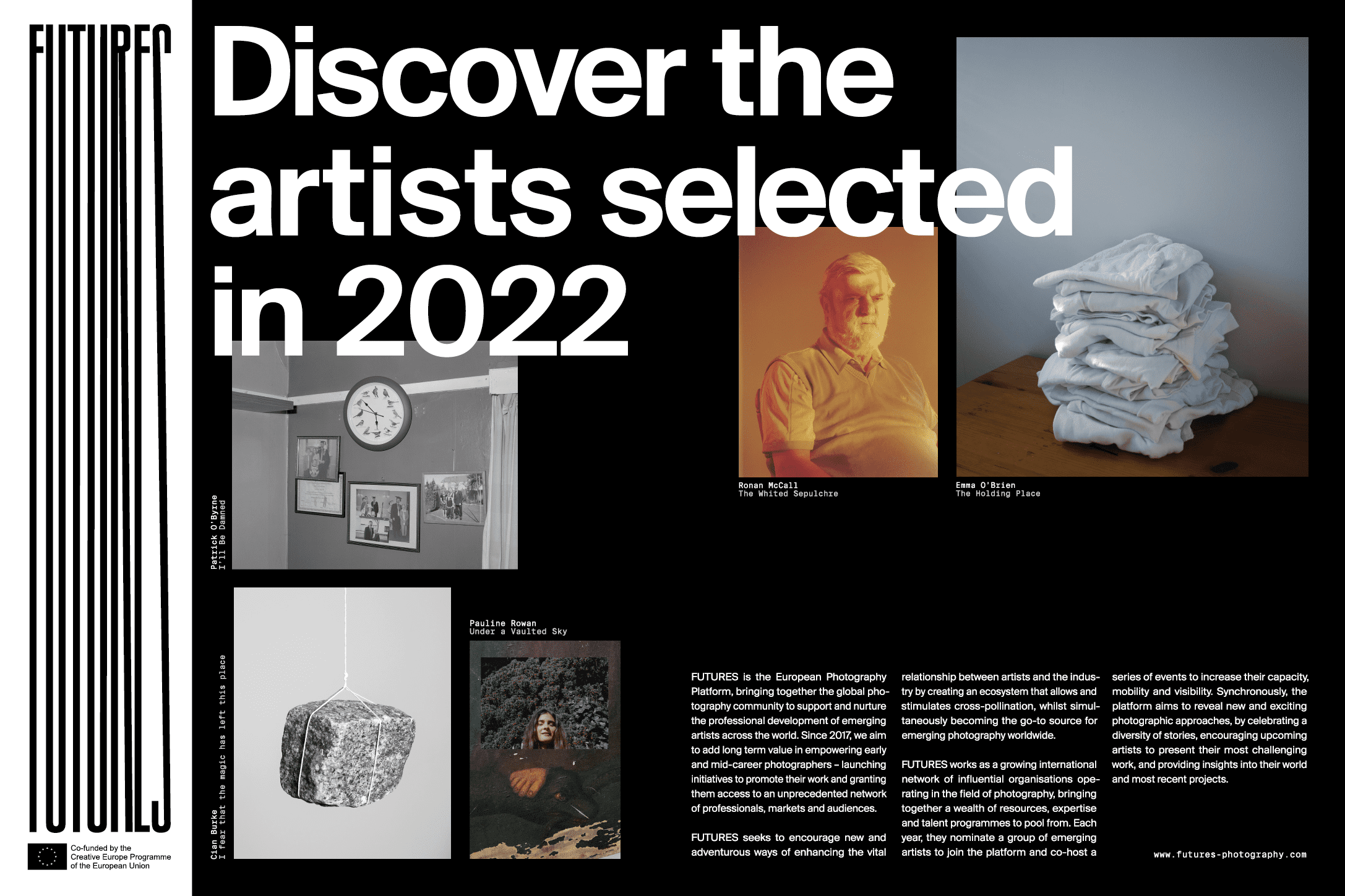 Launch 4 November 2022
Running 26 October 2022—8 January 2023
At CAMERA, Turin, Italy
FUTURES Irish Artists nominated by PhotoIreland, heading to Turin, Copenhagen, and Poland.
Two FUTURES Irish Artists, Cian Burke (2022) and Mark Duffy (2021) have been selected to show their work in an exhibition entitled ON THE VERGE this Winter in Turin, Italy. The exhibition will travel thereafter to Copenhagen Photo Festival, Denmark, and Fotofestiwal Lodz, Poland.
Can we go beyond the limits of trauma? Can we transform the experience of the frontier into art? What kind of art do we need at times of crisis? These are some of the starting points of the exhibition representing selected past and current FUTURES artists. The artists reflected on the concept of the 'verge' – in the sense of the border, edge or margin – to tell both personal and collective stories that explore complex matters of contemporary societies: from gender issues to food sustainability, from feminist criticism to ecological questions, via the rise of populism, racism and nationalism.
Seven artists of the FUTURES Platform have been selected in total for the exhibition: Alice Pallot (France), Cian Burke (Ireland), Daniel Szalai (Hungary), Julia Klewaniec (Poland), Mark Duffy (Ireland), Pauline Hisbacq (France), and Ugo Woatzi (France). Their projects will be included in the exhibition of more than 80 works curated by Giangavino Pazzola, with the support of Maja Dyrehauge Gregersen (Copenhagen Photo) and Marta Szymańska (Lodz Fotofestiwal).
In addition, this year's Irish artists (Cian Burke, Ronan McCall, Emma O'Brien, Patrick O'Byrne and Pauline Rowan) will travel to Turin to avail of the professional development programme as part of the FUTURES Photography Platform Annual Event. CAMERA, Turin, is host to an intense programme of activities involving not only 100 young photographers and artists and 20 curators from all over Europe, but also other international guests such as artists Laia Abril (Spain), Tayio Onorato and Nico Krebs (Switzerland) and Max Pinckers (Belgium), together with curators Julija Reklaitė (Lithuania, director of Rupert, Vilnius) and Krzysztof Candrowicz (Poland, curator of the CICLO Biennial in Porto, Portugal), who will be tutors of the educational programme reserved for FUTURES artists, as well as the protagonists of talks open to the public in CAMERA.
Find out more about Futures →
Find out more about the 2022 Irish Futures Artists →
Find out more about past Irish artists nominated by PhotoIreland →
The current members of the platform are CAMERA (IT), Centre Photographique Rouen Normandie (FR), Ci.CLO (PT), Copenhagen Photo Festival (DK), Der Greif (DE), FOMU (BE), FOTODOK (NL), Fotogalleriet (NO), Fotofestiwal Lodz (PL), Fotograf 07 (CZ), ISSP (LV), Organ Vida (CR), PHotoESPAÑA (ES), PhotoIreland (IR), Photo Romania Festival (RO), Robert Capa Contemporary Photography Centre (HU), Triennial of Photography Hamburg (DE), and Void (GR). Futures is co-funded by the Creative Europe Programme of the European Union.