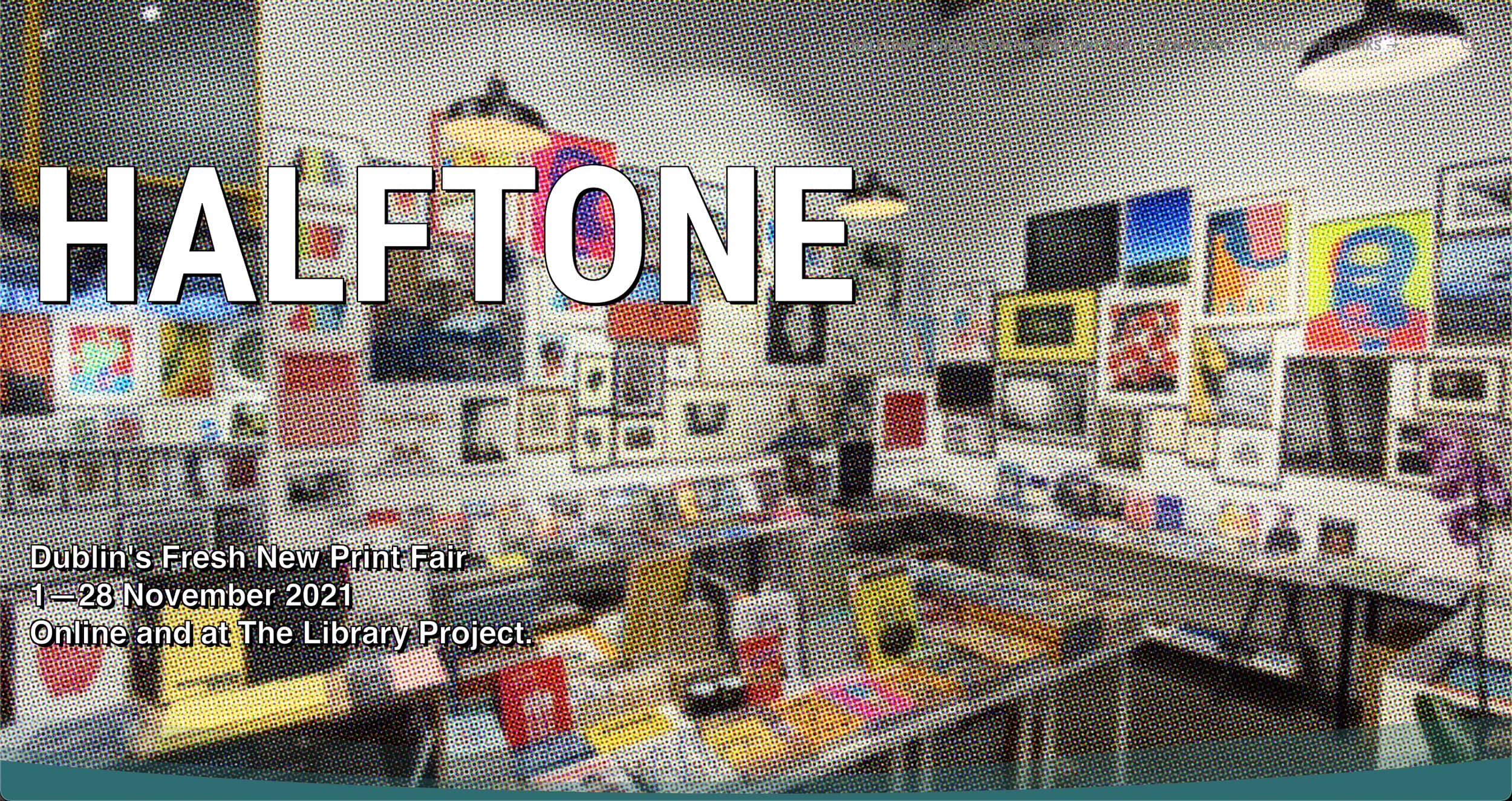 The 7th edition of the print fair brings over 200 prints by 71 artists to The Library Project.
HALFTONE is the ideal place where to get to grips with a diversity of printing techniques while discovering new work for your collection or finding an excellent present. It is a great opportunity to purchase fantastic artworks at enviable prices!
HALFTONE is an initiative by PhotoIreland hosted every year at The Library Project. In this 7th edition, the fair brings together a large selection of works by established and emerging artists, showcasing Ireland's exciting Art scene.
Come and enjoy a great selection of artworks from many disciplines and practices including etchings, intaglios, reliefs, screenprints, monotypes, risographs, photographs and more!
With your help, HALFTONE has raised over €50,000 for artists since 2015, supporting and promoting the practice of over 600 participating artists to date, and shipping their work internationally and contributing to public and private collections.
The Artists presented are Andrea Calabro, Ann Kavanagh, Aoife Herrity, Artur Sikora, Barbara Kenneally, Berta Martinez, Billy Kenrick, Billy Woods, Brian Hickey, Brian Teeling, Bronagh Lee, Caitriona Dunnett, Ciaran Meister, Clare Lyons, David Monahan, Debora Ando, Denis Dunne, Dermot Kelly, Devin Lee, Dianne Whyte, Edel McGrath, Edi Oliveira, Eimhin Farrell, Elaine Crowe, Ellie Berry, Emma O'Brien, Fiona Hackett, Gabrielle Bowe, Gerhardt Gallagher, Grace O'Leary, Graham Martin, Harry Phipps, Helena Gouveia Monteiro, Iryna Baklan, Ishmael Claxton, Jana Bulochova, Janine Davidson, Joanne Conlon, John Cullen, John Foley, Julie Morrissy, Karl Gaff, Kety Duran, Kevin Sharkey, Letizia Lopreiato, Lorcan Cassidy, Margaret McLoughlin, Maria Mollohan, Michael Croghan, Monika Janicka, Mo Levy, Natalia Campos, Neil Smyth, Nick Bradshaw, Noel Hensey, Norah Brennan, Paddy Kiernan, Paul Carroll, Rafal Krol, Rebecca Cairns, Ria Czerniak-LeBov, Robert Kelly, Ruth Egan, Sarah Usher, Séamus Sullivan, Sean Hanrahan, Sebastian F. Mahon, Senija Topcic, Steve Turner, Tara Carroll, and Vera Ryklova.
Location
The Library Project, 4 Temple Bar Street, D02 YK53, Dublin, Ireland.
Launch
No launch event will be hosted this year but you can enjoy extended opening hours on Saturday 6th November, 12noon to 8pm.
Running
Until 17th December 2021
Opening Hours
Monday-Friday 11-6pm, Saturday-Sunday 12-6pm.
Entry
The event is free and everyone with a mask is welcome.

Floor Plan
You can download the HALFTONE 2021 Floor Plan as a PDF to check prices and editions, or browse through the artwork list in the HALFTONE website.
Delivery
We ship artworks worldwide. Postage costs depend on each individual case, and can be consulted by email or phone.
Collection
Free in-store collection is available from The Library Project during opening hours.
Get in touch
Contact us at info@thelibraryproject.ie and +353 897058784