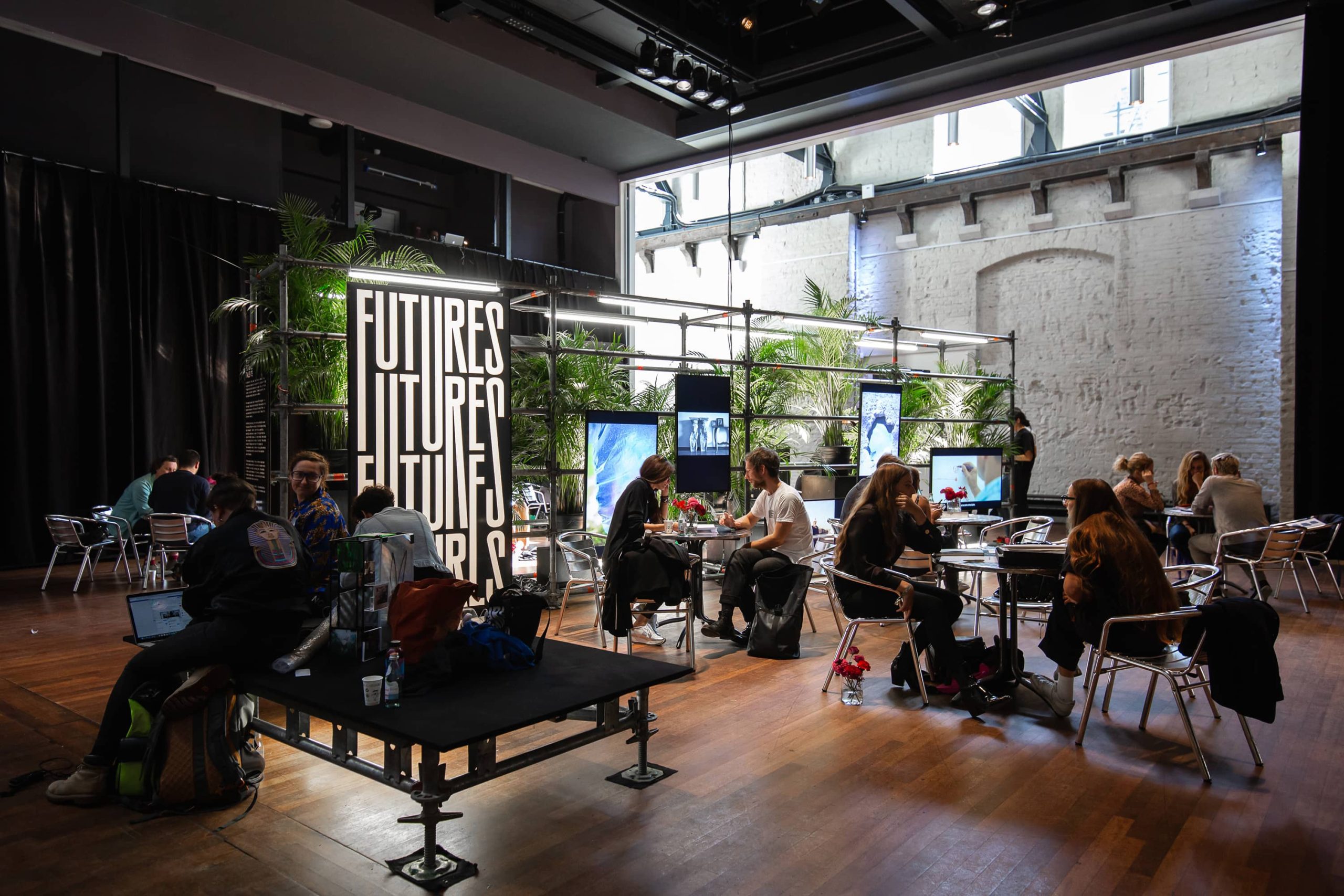 Image: FUTURES Annual Event 2019 at Unseen Amsterdam. Image by Maarten Nauw
This week, PhotoIreland and the 2023 Irish artists selected for the FUTURES Platform, are travelling to the Robert Capa Contemporary Photography Centre in Budapest for the FUTURES Annual Event.
The artists will participate in a number of workshops and portfolio reviews with international professionals, talks and tours, as well as less formal networking opportunities provided by the busy programme. Workshop facilitators include curators Krzysztof Candrowicz and Kateryna Radchenko, and artists Esther Horvath and The Center for Genomic Gastronomy, amongst other participants.
In addition, PhotoIreland are co-curators and hosts to the annual travelling exhibition in 2024. Along with our exhibition partners FOTODOK and the Robert Capa Contemporary Photography Center, we have formulated the annual theme and selected artists from a FUTURES open call, responding to the theme of ENERGY: Redistributing Power and Taming Consumption. The first of the exhibitions is curated by Emese Musci and will launch during the weekend of events at the Robert Capa Contemporary Photography Center on the 13 October.
Follow us on Instagram for live updates and news from Budapest!
PhotoIreland and Futures
Futures Photography Platform is co-funded by the Creative Europe Programme of the European Union, and PhotoIreland is the Irish partner of the platform.
Since 2017, PhotoIreland is the Irish member of the European Platform of Photography Futures, alongside 17 other partner organisations. Futures organises a series of events across Europe within each of its member countries. The aim of the platform is to pool the resources and talent programmes of leading photography institutions across Europe in order to increase the capacity, mobility and visibility of its selected artists. All participant members of the platform put forward every year 5 artists to be promoted nationally, and that alongside all the other selected artists gather at the annual Futures event — previously held at Unseen Amsterdam and in an online festival RESET last year. It is there where they enjoy a series of professional development events conceived to further their careers and promote their work. The artists are also promoted online, in print, participate in awards, and enjoy a profile page on the Futures website. You can visit these at futures-photography.com/artists
To date, PhotoIreland has put forward 30 Irish and Ireland-based artists, selected through direct invitation and an open call: Aindreas Scholz, Aisling McCoy, Aoife Herrity, Audrey Gillespie, Barry W Hughes, Becks Butler, Cian Burke, Ciaran Óg Arnold, Clare Lyons, Dorje de Burgh, Emilia Rigaud, Emma O'Brien, Garry Loughlin, George Voronov, Jamin Keogh, Jialin Long, Mark Duffy, Mark McGuinness, Megan Doherty, Miriam O' Connor, Niamh Barry, Patrick O'Byrne, Pauline Rowan, Phelim Hoey, Róisín White, Ronan McCall, Ryan Allen, Shia Conlon, Vera Ryklova, and Yvette Monahan.
The current members of the platform are Bienal Fotografia do Porto (PT), CAMERA (IT), Centre Photographique Rouen Normandie (FR), Copenhagen Photo Festival (DK), Der Greif (DE), FOMU (BE), FOTODOK (NL), Fotogalleriet (NO), Fotofestiwal Lodz (PL), Fotograf 07 (CZ), ISSP (LV), Organ Vida (CR), PHotoESPAÑA (ES), PhotoIreland (IR), Photo Romania Festival (RO), Robert Capa Contemporary Photography Centre (HU), Triennial of Photography Hamburg (DE), and Void (GR), and research member Eurokleis (IT).
FUTURES is co-funded by the Creative Europe Programme of the European Union. The ENERGY exhibition at PhotoIreland and its engagement programme is co-funded by the Arts Council of Ireland.