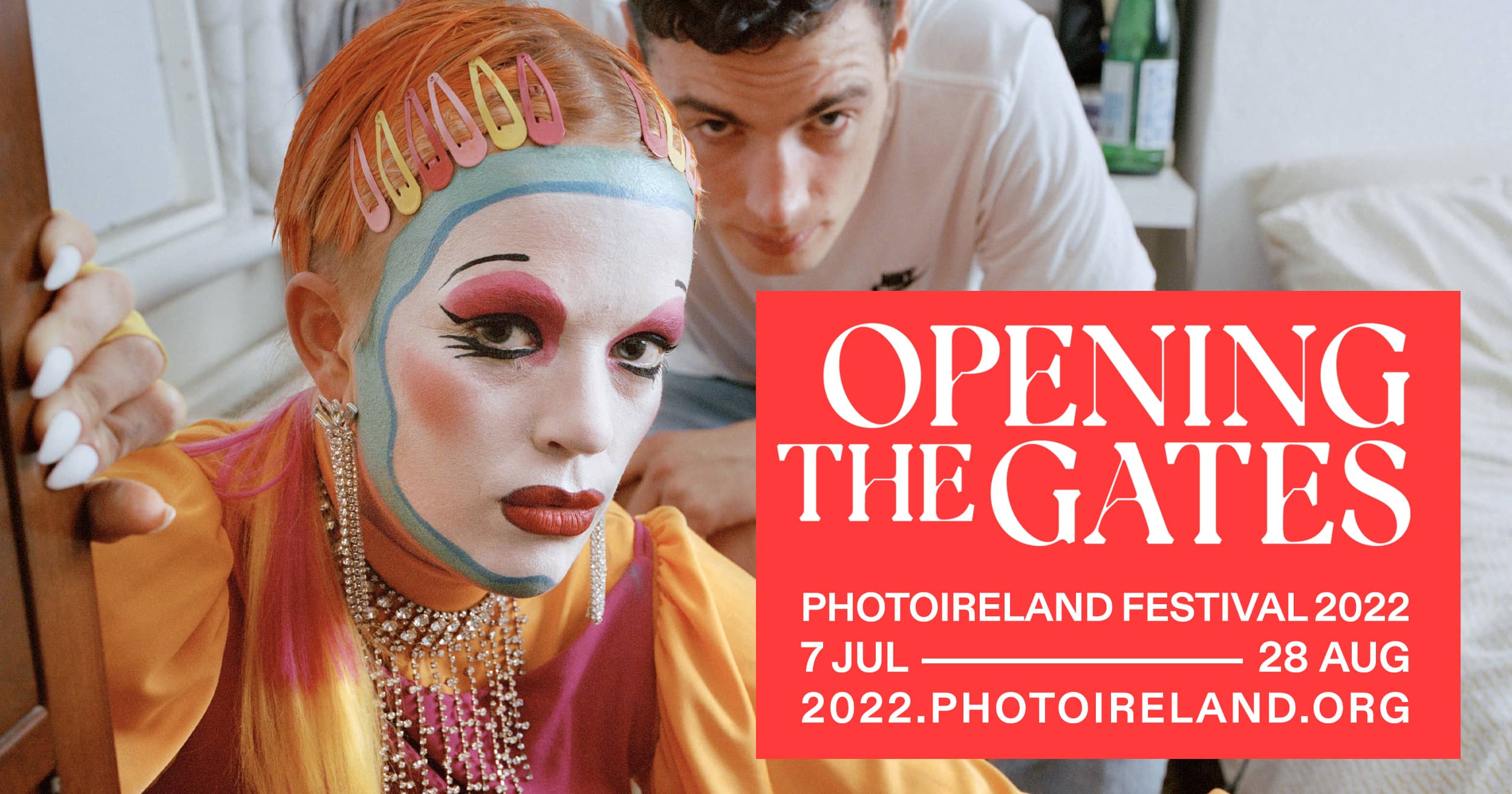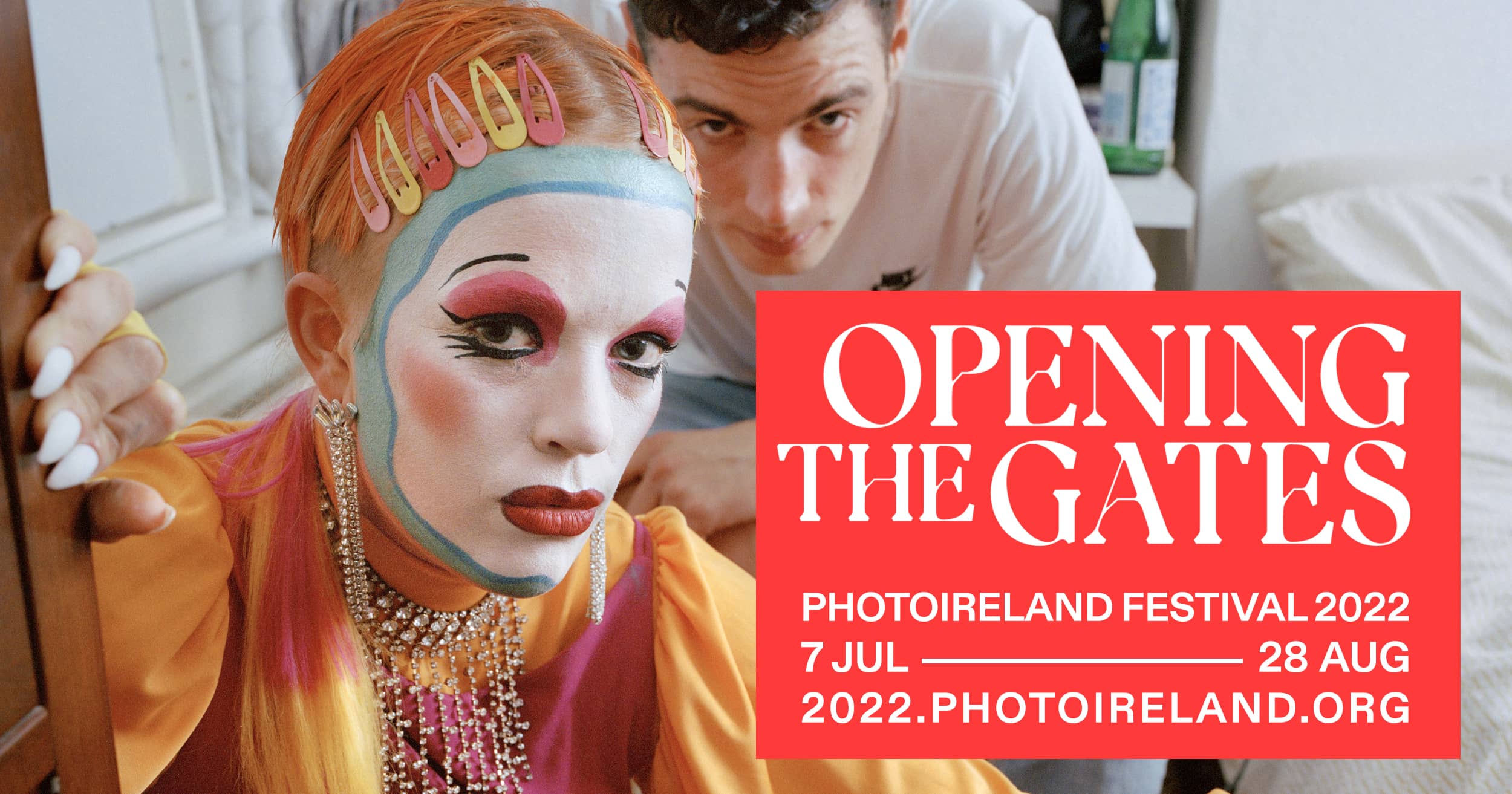 PhotoIreland Festival 2022 launches at 6pm Thursday 7th July, returning to The Printworks in Dublin Castle, where we first launched our public-facing research project, the Museum of Contemporary Photography of Ireland, back in 2019. Presenting a very ambitious edition, the festival provides a comprehensive survey of Irish photographic art practices, with many new, as well as established, voices.
The main exhibition Images Are All We Have traces the thematic development of the discipline and contextualises the historical background, bringing together the diverse and socially engaged set of contemporary art practices that define Irish Photography today. This survey exhibition on the discipline involves artists spanning several generations, practices, and backgrounds, and will include video installations by Alan Butler and Eamonn Doyle, alongside a screening room presenting a schedule of video works
See below the free events taking place the first week of PhotoIreland Festival. We look forward to seeing you there!
Thu 7th July
Launch of PhotoIreland Festival
Speech and Doors 6pm Thu 7th July
Location The Printworks, Dublin Castle, Dame Street, Dublin
Full programme launching 6th July at 2022.photoireland.org
Please send a brief RSVP to julia@photoireland.org
Fri 8th July
Launch of Ladies & Gentlemen
When 6pm Fri 8th July
Location Rathfarnham Castle, D14 K3T6, Dublin
Following the launch of the festival, we open a new exhibition by Daragh Soden in Rathfarnham Castle at 6pm Friday 8th July. This never before seen work Ladies & Gentlemen is a series of large format portraits that raises questions around gender roles, photographer-subject relationships and the performativity of identity.
Sat 9th July
Family Cyanotype Workshop with Caitriona Dunnett
When 11am-1pm Sat 9th July
Location The Printworks, Dublin Castle
Have fun together experimenting with the cyanotype printing process, one of earliest forms of photography! Each family will create their own set of unique Prussian blue prints to take home. All materials will be provided and families are welcome to bring in small objects to work with.
Booking essential via Eventbrite
Photography's Futures Artist Talk Series: Jean Curran and David Flood
When 12-1pm Sat 9th July
Location The Printworks, Dublin Castle
Booking essential via Eventbrite
Book Launch: Olamide Ojegbenro, Naïve
When 1-2pm Sat 9th July
Location The Printworks, Dublin Castle
All welcome.
Poetry and Photography: In Conversation
When 3-4pm Sat 9th July
Location The Printworks, Dublin Castle
Writer Chandrika Narayanan-Mohan talks to photographers Michelle Moloney and Letizia Lopreiato about the connection between poetry and photography.
Booking essential via Eventbrite
Sun 10th July
Cyanotype Workshops for Adults with Caitriona Dunnett
When 10am-12pm Sun 10th July
Location The Printworks, Dublin Castle
Join this workshop to experiment with the cyanotype printing process, one of earliest forms of photography. Working with paper coated with light sensitive iron salts you will create a set of unique Prussian blue prints. All materials will be provided and you are welcome to bring in small objects to work with.
Booking essential via Eventbrite