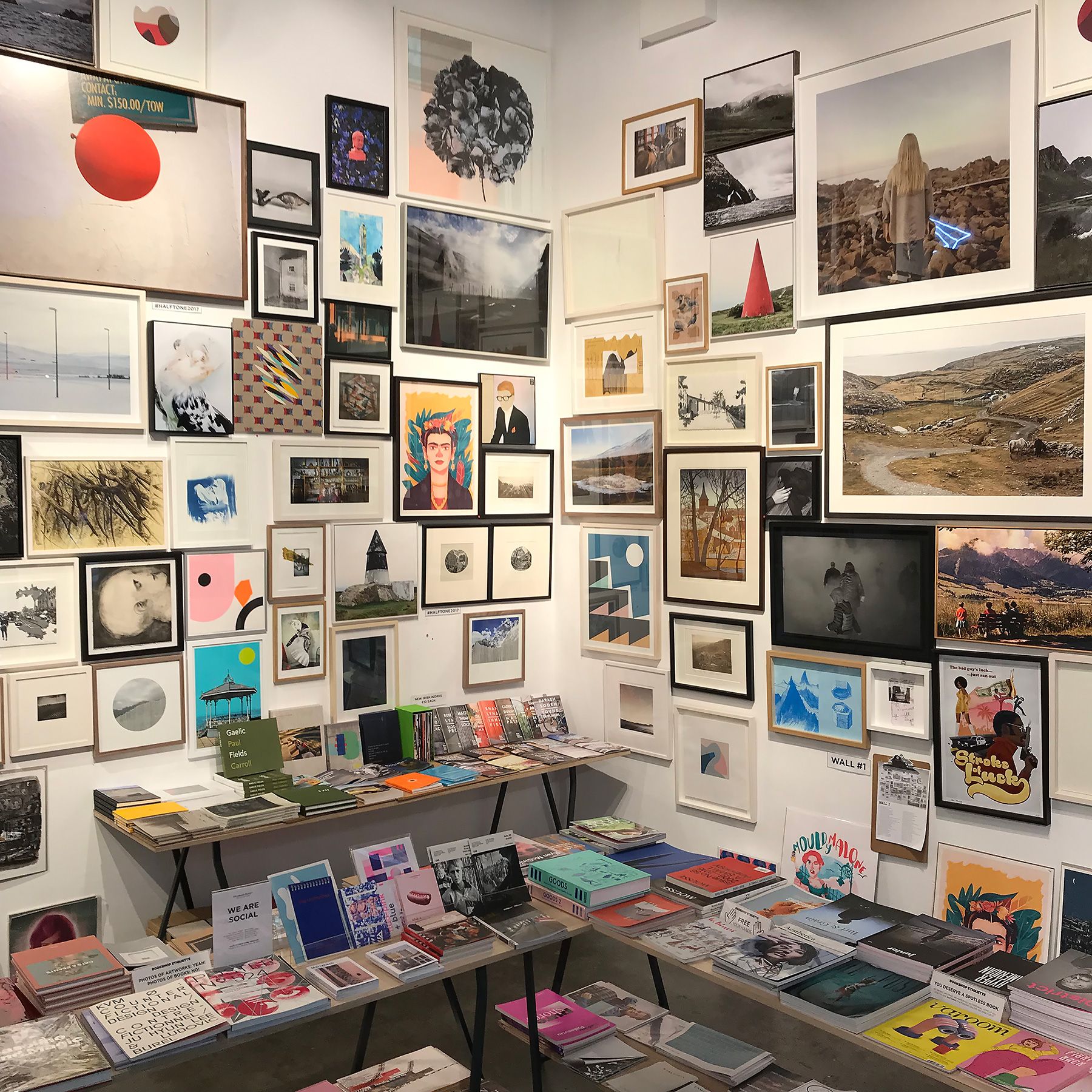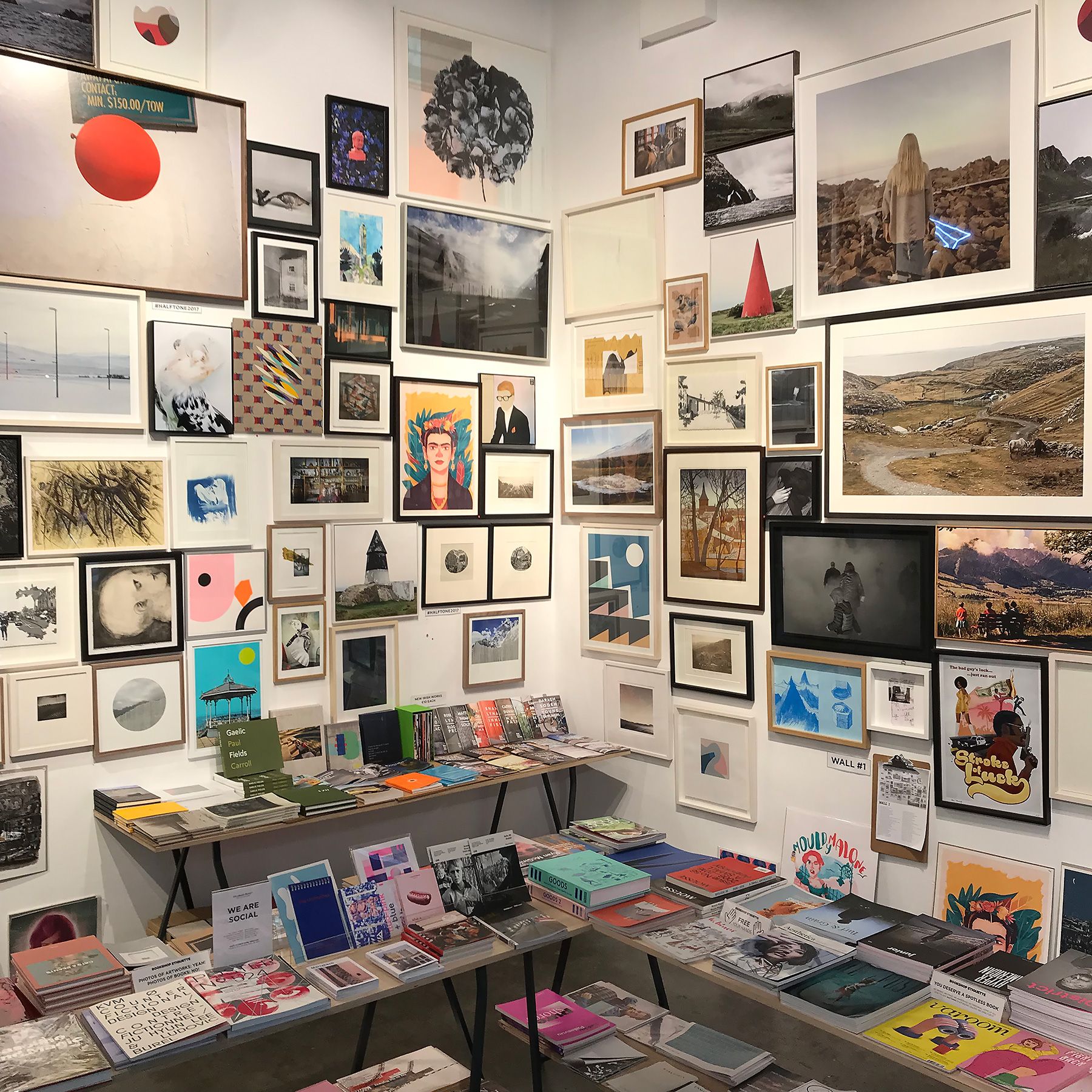 A very frequent question posed to our staff at The Library Project is what should artists or any other creatives do to sell their work at our venue, so we have gathered all the information in this post to help you in the process.
First of all, what is The Library Project?
Run by PhotoIreland since September 2013 at its present address, The Library Project is Ireland's art bookshop. It is a buzzing cultural hub, multidisciplinary in its approach and with a focus on Photography, that includes a specialised photobook library and a busy gallery programme with events such as HALFTONE Print Fair every November, while running publishing projects such as the TLP Editions.
The Library Project offers visitors an open door to discover local and international contemporary art practices through a careful selection of publications and artworks, and a variety of exhibitions and events. The Library Project supports the practice of many individuals, artists, designers, publishers, galleries, and other organisations by showcasing their work and providing revenue from sales in our physical store at 4 Temple Bar Street, Dublin, and online at thelibraryproject.ie
The Library Project occupies the ground floor gallery space of Black Church Print Studio's purpose-built premises. Closing every January and September by contract to accommodate Black Church Print Studio's exhibitions, the space is hypermobile in nature, ever-changing, and permanently creative, always preserving to some degree three elements: bookshop, library and gallery.
Selling your publications and artworks at The Library Project
The Library Project stocks a growing variety of publications and artworks covering eclectic subjects and practices, reflecting contemporary visual culture and critical thinking. From art theory to photography, from selected kids books to the latest magazines and the rarest of zines, and from silver gelatin prints to etchings and screenprints, the selection presented is carefully made by our staff, who are constantly researching to stay informed.
The artists and authors stocked range from international to local artists, some well known, mostly being emerging voices; we strive to create opportunities for everyone to display and sell their own prints and publications, looking for ways to contribute to their practice with sales revenue.
In terms of commission for sales, The Library Project takes 35% for publications and 40% for artworks, and you should consider this in your pricing.
As with any other outlet, first, make sure that you do indeed want to sell your publication or artwork at The Library Project, and that it suits both your and our market. You can browse our currently stocked publications online and read more about us at thelibraryproject.ie
Submit Your Work
Step 1: Gather all your details.
To allow us to properly consider your proposal, you should gather the following details:
About You Short bio Who are you? what is your practice? where are you based?
About the Product Retail price, quantity proposed to stock, expected delivery date, size, and weight.
In addition, for

publications

: define the theme or focus, people involved, edition run, where was it made, where was it printed, how is it presented, and any other necessary details.
For

artworks

: define technical approach, edition run, how it is presented, sleeved, framed, etc.
For

other items

: define the materials used and how it is presented.
Product Images include sample pages if a publication, or include image of the work as intended to be presented in the bookshop, and the work itself.
Step 2: Submit all the details in a single PDF.
Once you have gathered all these details, create one PDF file containing it all and email it to info@thelibraryproject.ie
I Submitted, Now What?

Allow for up to a week for us to reply; quite likely we will reply almost immediately, but during our busier periods it may take us considerably longer. There are some practical considerations in the way we take our decisions:
Our Market: as an art bookshop, we have a wide customer base with very specific tastes and needs. They consist of photographers, designers, architects, students, scholars, collectors and so on. We understand what our customers like and what sells well, and so we tailor our selection around that.
Our Values: though we cater to a wide range of tastes, it is important to us that the publication reflects our own values and beliefs.
If we agree to stock your products, we will be in touch to arrange delivery and to discuss the conditions. If we don't go for your products, we will always recommend more suitable places to approach, local and abroad. Of course, don't take it personally in this case, as what doesn't work in our shop could be very successful elsewhere, and we certainly would hope so.
Products Presentation
All products must be presented in perfect conditions and without any damage. If you are adding extra materials to a publication, for example free stickers, prints, etc., you should find a way to do so that doesn't damage your or other publications, and that keeps all the materials together. Consider using a paper bag or secure them with glue dots instead of clips or staples, whatever it takes so no loose materials can fall out from the publication.
In the case of prints, if unframed, they should be presented in a manner that can be displayed standing, without bending or warping; protect them within a clear sleeve, add a grey board backing, and take this opportunity to add your contact details, brand, etc. as needed. Always add whether it is an edition and, if so, of how many, or if uneditioned. We all like to be able to find out more about an artist or the context of an artwork, so we recommend to add any additional text that would help the customer take a decision.
We will keep written record of the receipt of products and the agreed arrangement. Your products will be included in our online shop as much as in the physical one. From then on, sales reports will be available on demand, and if needed, a restock will be requested.
If you have any further questions about this process, email us at info@thelibraryproject.ie