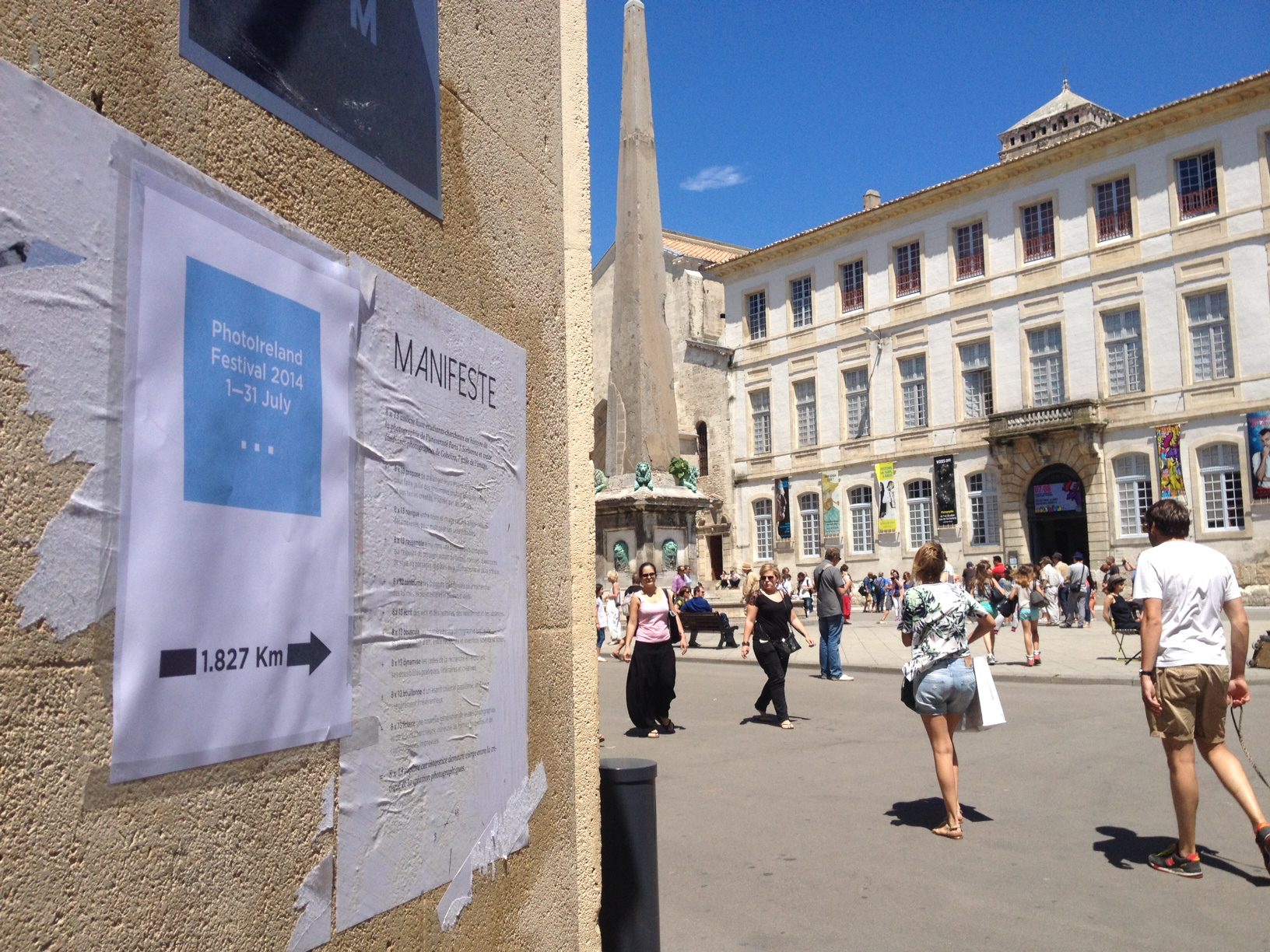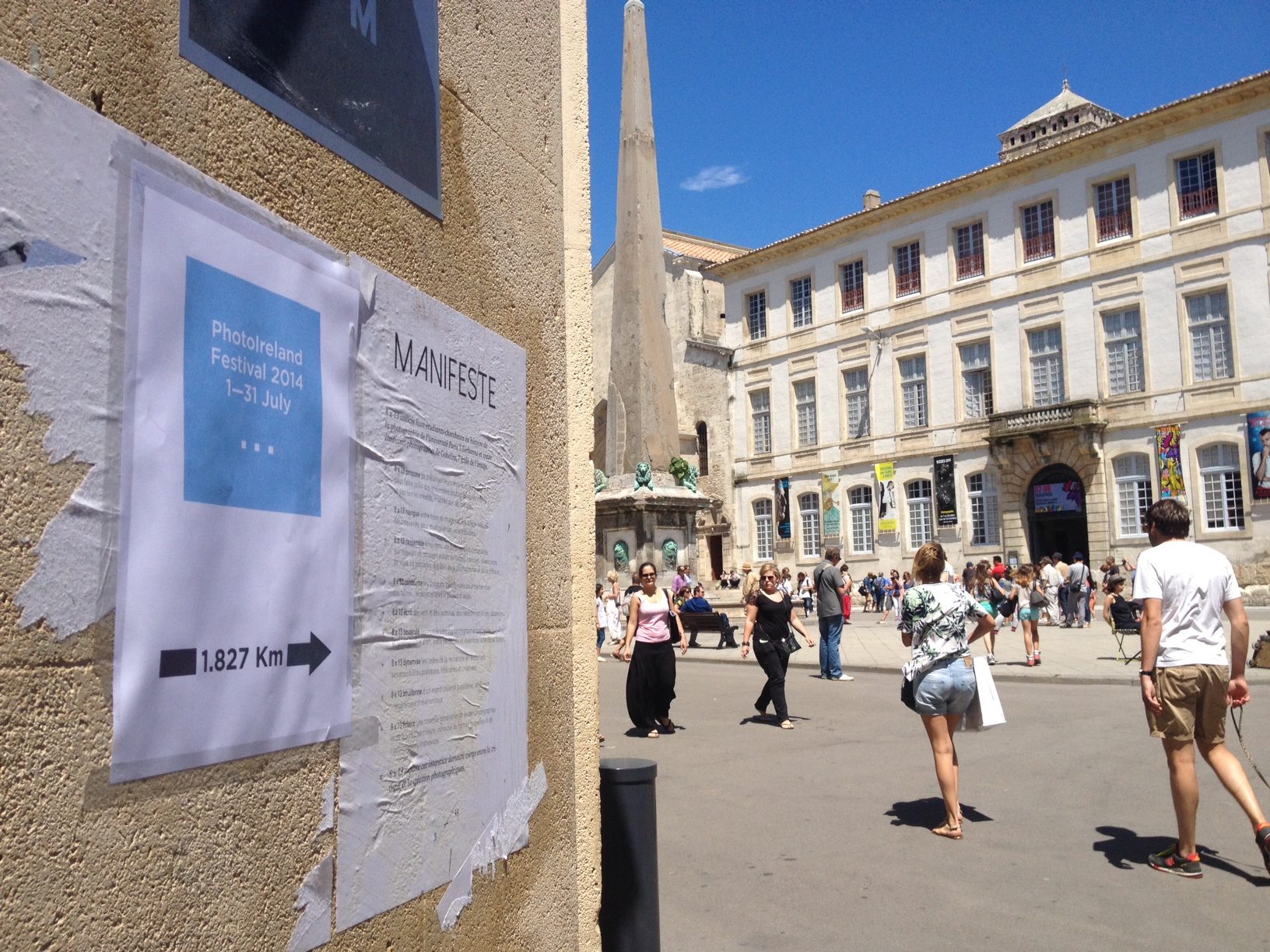 HOLD ON TIGHT, THIS IS A LONG POST!
We didn't want to start the new year without a quick review on all the hard work done in 2014, a very productive year indeed!
THE TEAM
The Library Project team in 2014 was: Aimee Nolan, Alin Chirculescu, Anke Muijsers, Camila Brandão Lopes, Claire de Lacy, Clare Collins, Dorje de Burgh, Hanna, Josephine Geoghegan, Kelsey Lennon, Laura-Jean Byrne, Mitchell Onuorah, Niamh Ó Hanlon, Nigel Payne, Olen Joseph Bajarias, Sinead Phelan, and Steven Maybury.
For the PhotoIreland Festival 2014, managed by the super efficient Sinéad Corcoran, with the curatorial support of Moritz Neumüller, the team was: Claire de Lacy, Laura-Jean Byrne, Frank Brennan, Jamin Keogh, and Angel Luis Gonzalez. The Volunteer Team, a.k.a. Flaneurs, were: Au Ngoc Dung, Olen Joseph Bajarias, Conor Bent, Pawel Boros, Rachael Cahill, Colette Cassidy, Jill Clarke, Kate Conboy-Fischer, Niamh Crowley, Lukasz M. Czajkowski, Dorje de Burgh, Fergus Dunne, Stu Hill, Javier Leite, Maeve MacNamara, Kate Louise McBride, Sara Muthi, Liisa Neste, Nigel Payne, Maria Quigley, Warda Sehar, Brian Paul Cregan, Joseph Carr, Itziar Telletxea, and Adrian Wojtas.
This is what we do:
PhotoIreland is dedicated to promoting critical thinking around Photography, enhancing a wider visual literacy and a deeper engagement with the Visual Arts.
This is how we did it in 2014
PHOTOIRELAND FESTIVAL 2014

248 Artists, 34 Exhibitions, 35 Venues, 24 Events, +220 Publishers and +1200 books.
'Truths, Facts, Fictions, Lies' brought to Ireland an incredible selection of emerging photographers. The main theme included The Sochi Project, with photographs by Rob Hornstra and texts by Arnold van Bruggen.
[two_col_50_50_col1]
Gustavo Alemán
Carlos Azeredo Mesquita
Kathrin Baumbach
Norman Behrendt
Horst Maria Blaschek
Brown&Bri
Eufália C Paz
Sarah Carlier
Elena Chernyshova
Serena De Sanctis
Vincent Debanne
David Fathi
Karolina Gembara
[/two_col_50_50_col1] [two_col_50_50_col2]
Yaakov Israel
Marco Kesseler
Sara Macel
Romain Mader
Anne Sophie Merryman
Karl Ohiri
Zhao Renhui
César Rodríguez
Jan Rosseel
Vitus Saloshanka
Marie Sommer
Carlos Spottorno
Tommaso Tanini
[/two_col_50_50_col2]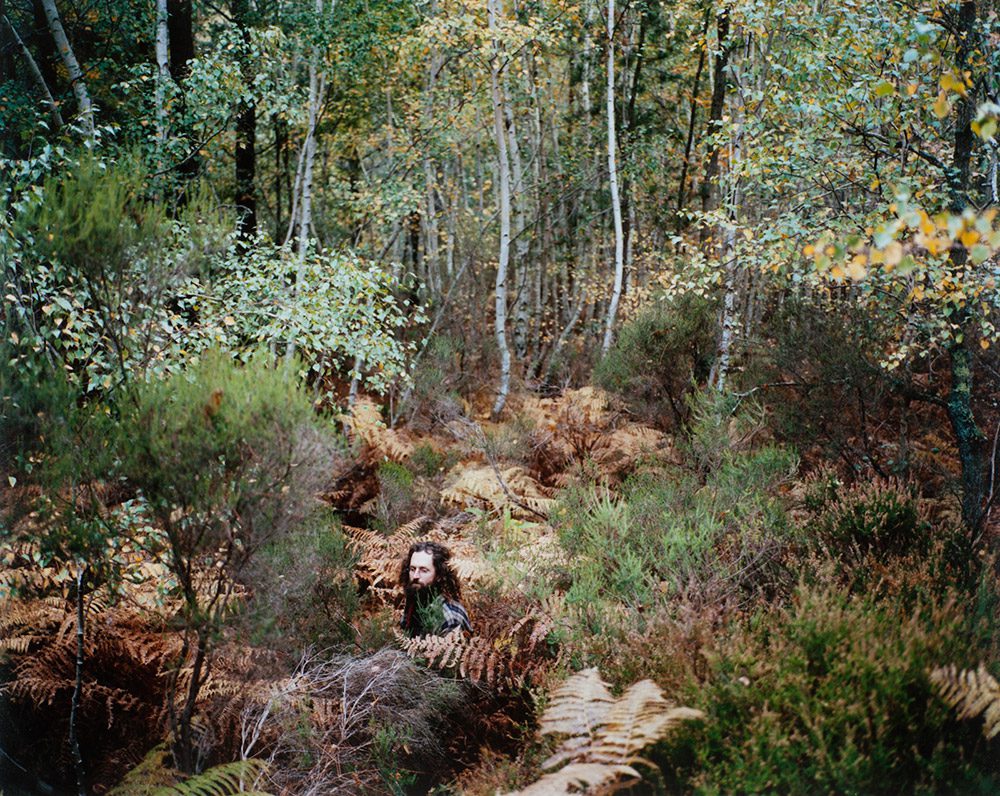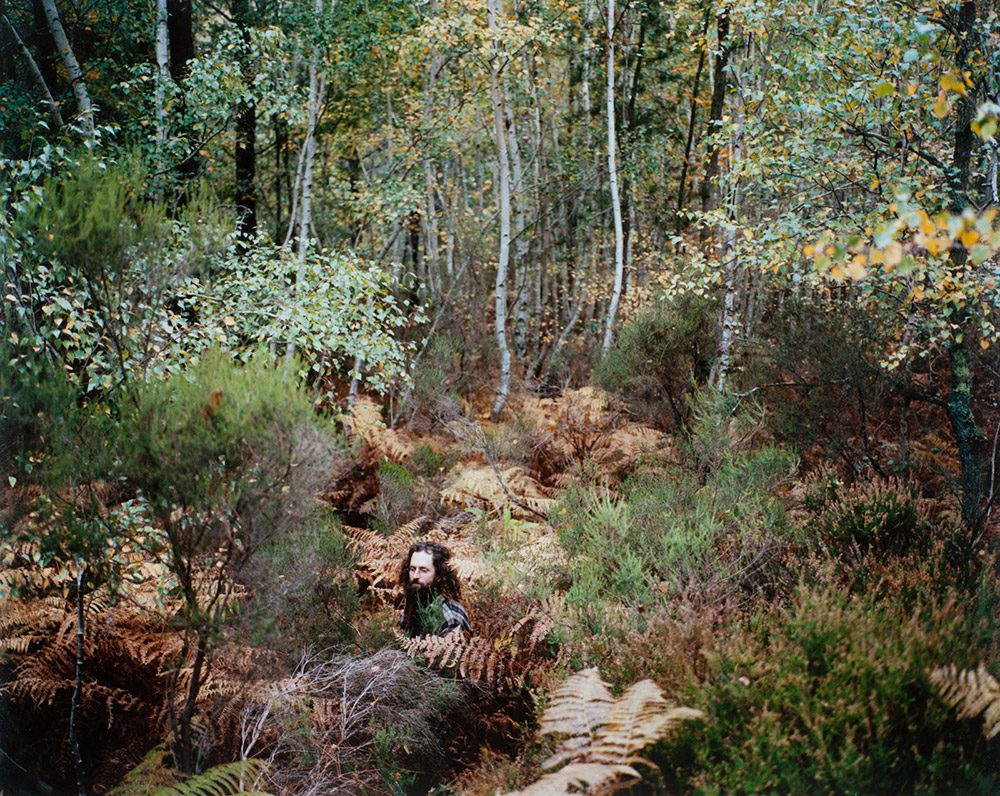 The winner of Portfolio 14 was Christiane Peschek. She will exhibit at The Copper House Gallery next July during PhotoIreland Festival 2015.
The Portfolio Reviewers in 2014 were:
Ângela Berlinde, Director/ Curator, Encontros da Imagem, Portugal.
Barry W Hughes, Director, SMBH Magazine, Dublin, Ireland.
Christiane Monarchi, Editor, Photomonitor, London, UK.
Dieter Neubert, Director, Fotobook Festival, Kassel, Germany.
Emma Bowkett, Photo Editor FT Weekend Magazine Financial Times, London
Federica Chiocchetti Founder of Photocaptionist, Curator & Writer, London
Gregory Barker, Commissioning Editor at Hotshoe International, London, UK.
Irène Attinger, Library Curator, Maison Européenne de la Photographie, Paris
Jim Casper, Director, Lensculture, Paris, France.
Krzysztof Candrowicz, Director, Fotofestiwal, Lodz, Poland.
Leszek Wolnik, Curator, The Copper House, Dublin, Ireland.
Louise Clements, Director Format Festival, Derby, UK.
Manolis Moresopoulos, Director Athens Photo festival, Greece.
Manik Katyal, Founder & Editor-in-Chief, Emaho Magazine, New Dehli, India
Mindaugas Kavaliauskas, Chief Curator, Kaunas Photo, Lithuania.
Moritz Neumuller, Independent Curator, Educator and Writer, Barcelona, Spain.
Nicolas Combarro, Artist and Master's Tutor at Istituto Europeo di Design, IED.
The Participants: Anna Maguire, Chloe Lelliott, Christiane Peschek, Christos Ilias, Daniel Orlando Lara Garcia, David Jazay, Diane Vincent, Elizabeth Curtis, Ian Mackown, Jacek Zygmunt, Jason Wilde, Jenia Fridlyand, Jessica Lara Rizzi, Jill Quigley, Jocelyn Allen, Johnny Savage, Kate Nolan, Kathrin Baumbach, Katie Mooney-Sheppard, Leafhopper Project, Mandy O'Neill, Marc Ballo Colell, Matthew Thompson, Michele Pauty, Mike Connor, Noel Bowler, Oliver Smith, Rita White, Roger Coulam, Rosa Rodriguez Sanchez, Sam Laughlin, Shane Lynam, and Victoria Rodriguez Cruz.
PhotoIreland Festival 2014 was kindly supported by the Arts Council of Ireland, and by the Dublin City Council Arts Office. Our main sponsors was The Copper House Gallery, to whom we are very thankful for their continuous support. Our cultural partners were the Instituto Cervantes de Dublin, Goethe Institut Dublin, Alliance Française Dublin, French Embassy, and the US Embassy in Dublin. Main media partner: Hotshoe Magazine.


The festival was supported by the Gallery of Photography, RTE Supporting the Arts, The Irish Times, Le Cool, Canon Ireland, Maurice Ward Art Handling, Blow Photo Magazine. Venue Partners included the Oliver Sears Gallery, Smock Alley Theatre, The Irish Georgian Society, South Studios, and The Temple Bar Company. Exhibition Partners: Paris Photo, The Aperture Foundation, and Fotobook Festival Kassel. With thanks to the Royal Hibernian Academy, and Irish Museum of Modern Art.


*     *     *     *     * 
Les Rencontres d'Arles 2014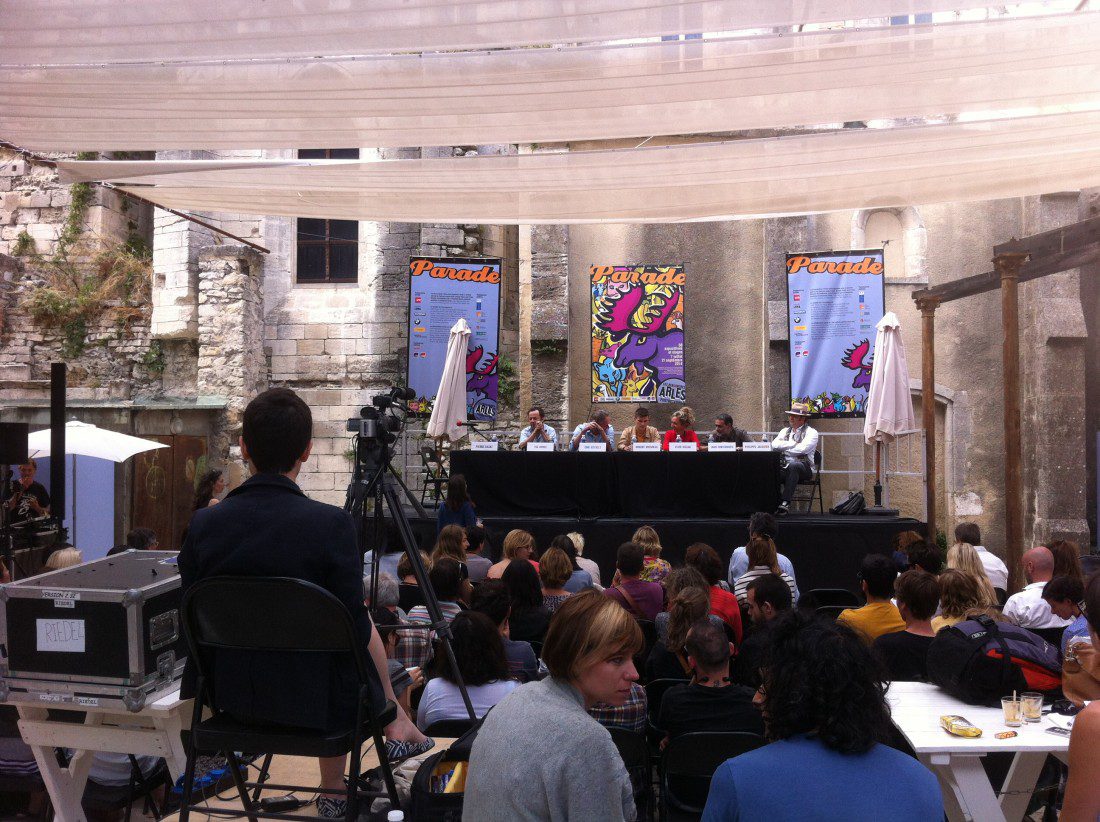 We prepared a small presentation of Irish Photobooks at COSMOS, during Les Rencontres d'Arles, France – thanks to Sebastian Haus and Richard Sporleder. The event included a book signing of 'The Time Of Dreaming The World Awake' by Yvette Monahan.
We believe Ireland should have better representation in key events such as Les Rencontres d'Arles, and we are planning more events such as this for future editions.
*     *     *     *     * 
Photobook Week Aarhus 2014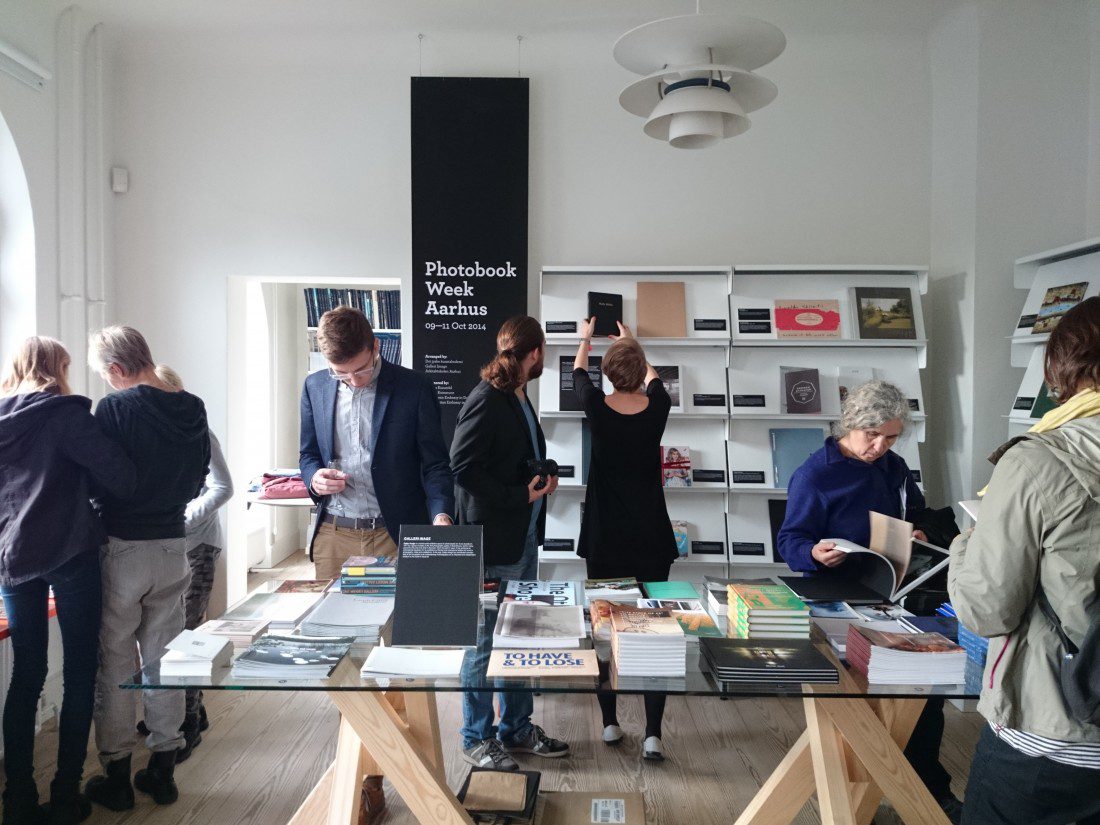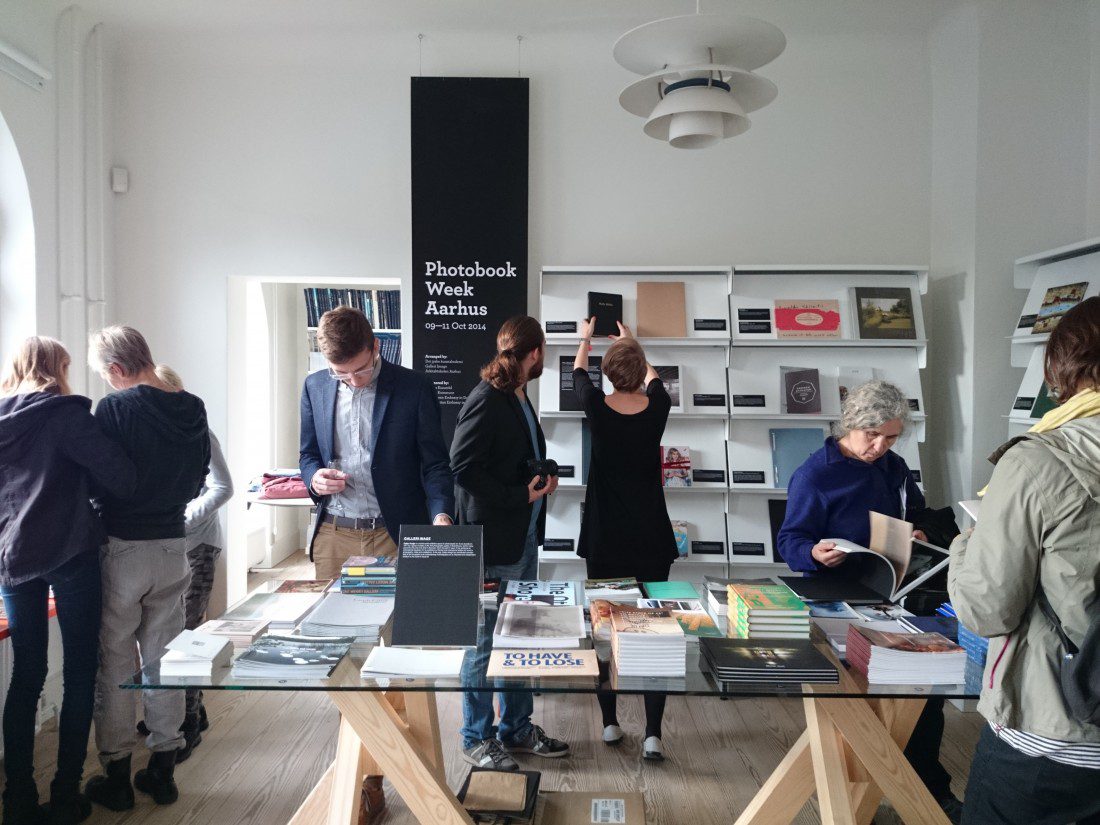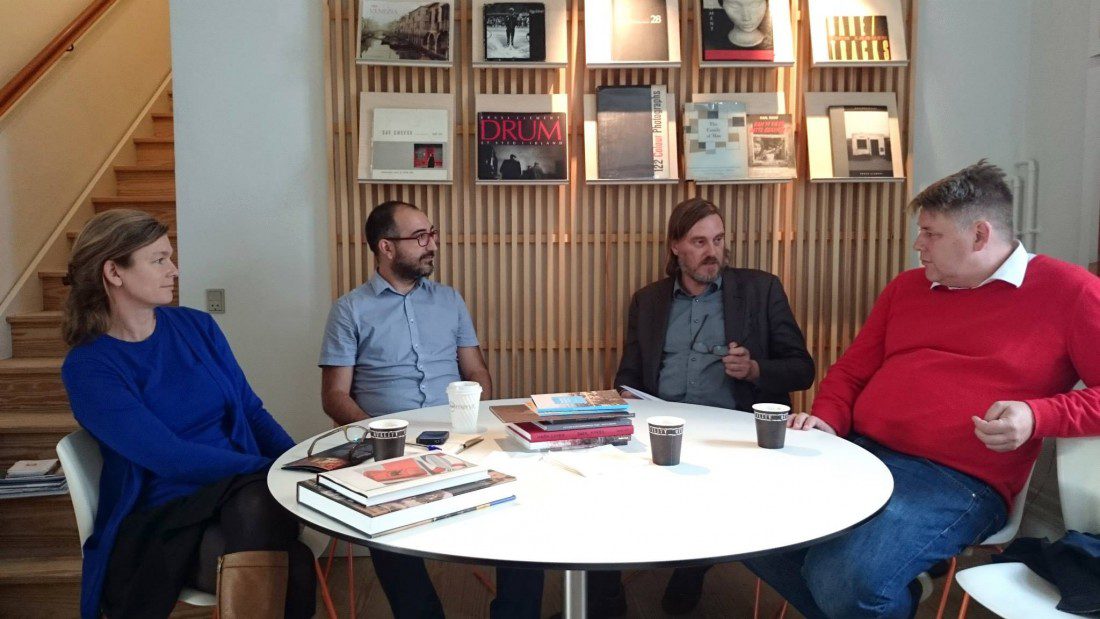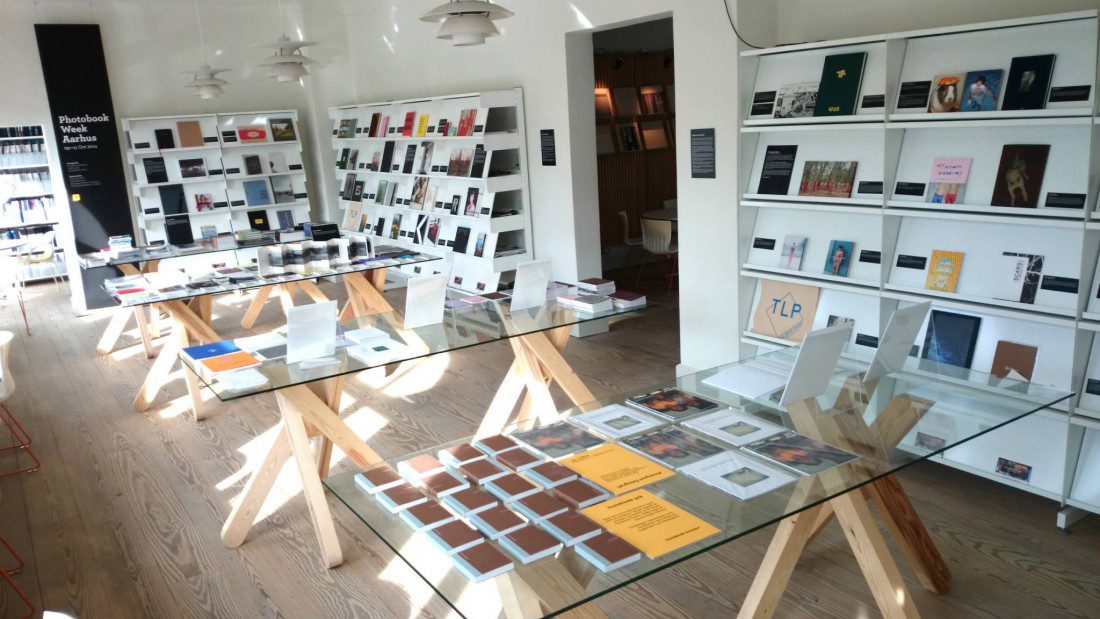 We joined the first photobook festival celebrated in Denmark, the Photobook Week Aarhus, developed in collaboration with Moritz Neumüller, Galleri Image, and Karen Kjærgaard, Anne Elisabeth Toft and Louise Kruse Fischmann from Aarhus School of Architecture and rector of the Jutland Art Academy Jesper Rasmussen. Our participation included the presentation of highlights from The Library Project collection, with a special look at Irish Photobooks.
Artist and professor at Chung-Ang University, Kyungwoo Chun presented a selection of photobooks from South Korea, and we are very thankful to him for donating the books – now being added to our online catalogue – and to Beate Cegielska for facilitating the transport of the books to Dublin.
*     *     *     *     * 
Whiskey en seine at Polycopies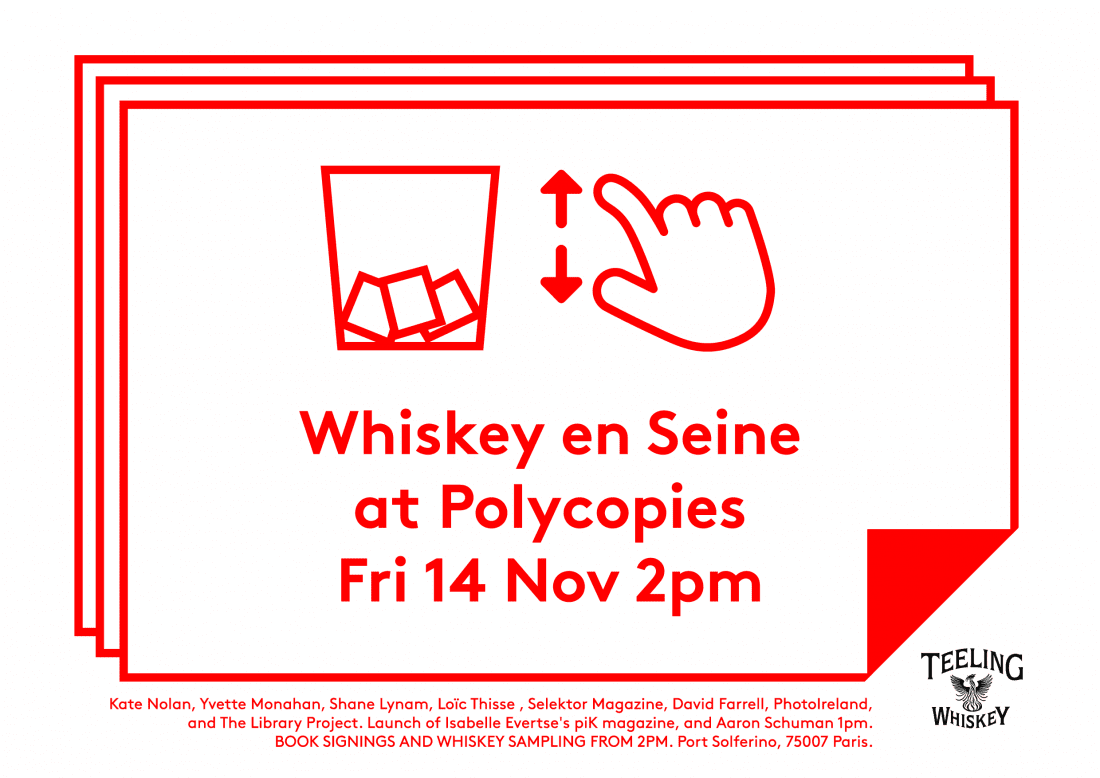 Continuing with our push to offer a representation of Irish produce during Paris Photo, we joined forces with Kate Nolan, Yvette Monahan, and Shane Lynam, to develop 'Whiskey en seine at Polycopies'. The event was kindly supported by Teeling Whiskey. The work presented included:
– Kate Nolan, Neither.
– Yvette Monahan, The Time of Dreaming the World Awake.
– Shane Lynam with Thisse Loïc launching Selektor Magazine issue 2.
– David Farrell, The Swallowing Tree.
– Selected items from The Library Project bookshop, like BLOW Photo Magazine, New Irish Works, and others.
Also, we celebrated the launch of Isabelle Evertse's piK magazine.
*     *     *     *     * 
Après Paris 2014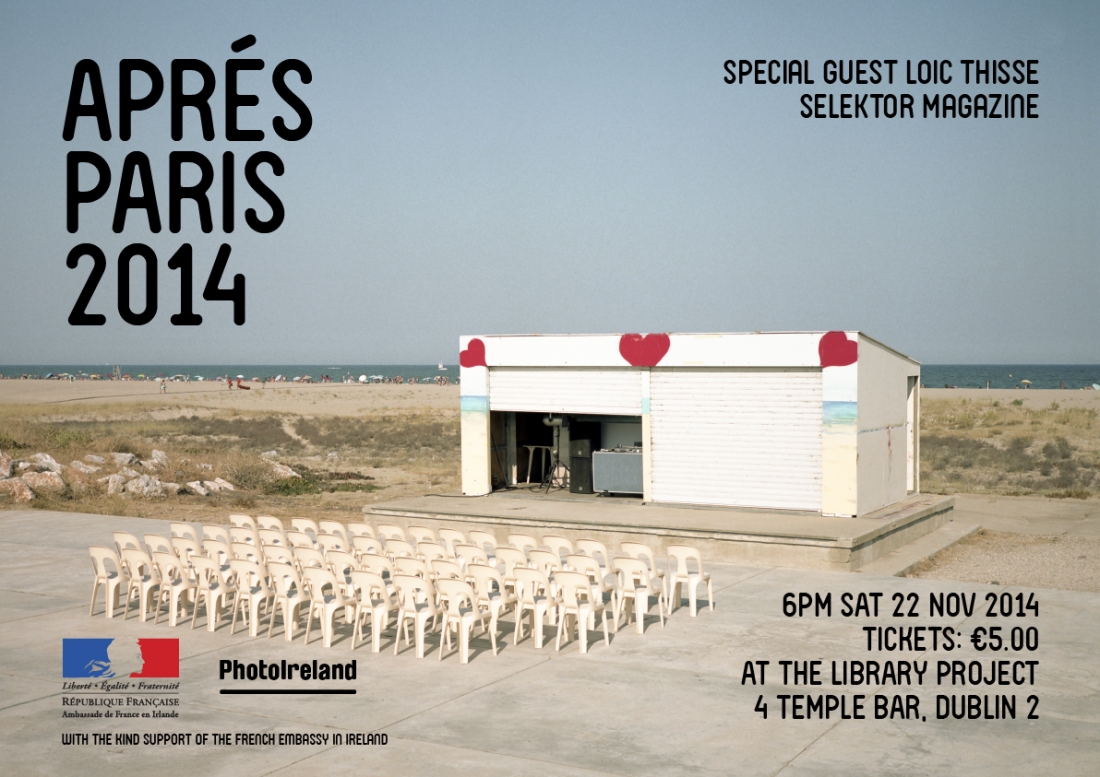 With the kind support of the French Embassy's Cultural Service, the 4th edition of Après Paris took place at The Library Project. Conceived as an informative event for those who couldn't make it to Paris, or couldn't manage to see all the events programmed in November, Après Paris is an evening for all to enjoy. Aside from an special guest talk, we always offer a large selection of materials relating the different venues and events programmed in Paris, so we can all share and discuss. The special guest this year was Loic Thisse, from Selektor Magazine. Selektor is a contemporary photography magazine, a quarterly collection of photographer's monographs in magazine form. The issue number two was dedicated to Irish photographer Shane Lynam. It was presented at Polycopies during Paris Photo, and launched in Ireland at Après Paris.
*     *     *     *     * 
Greetings From Ireland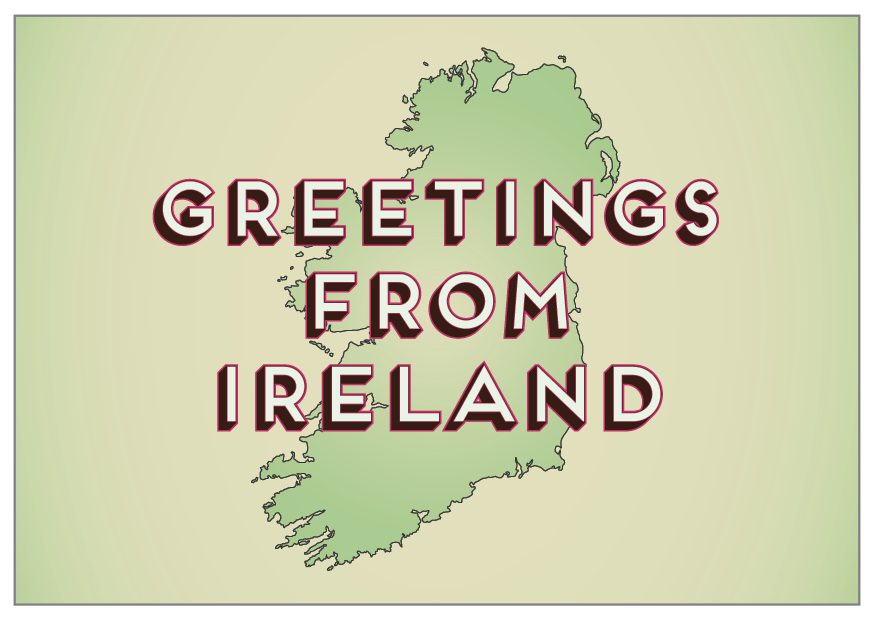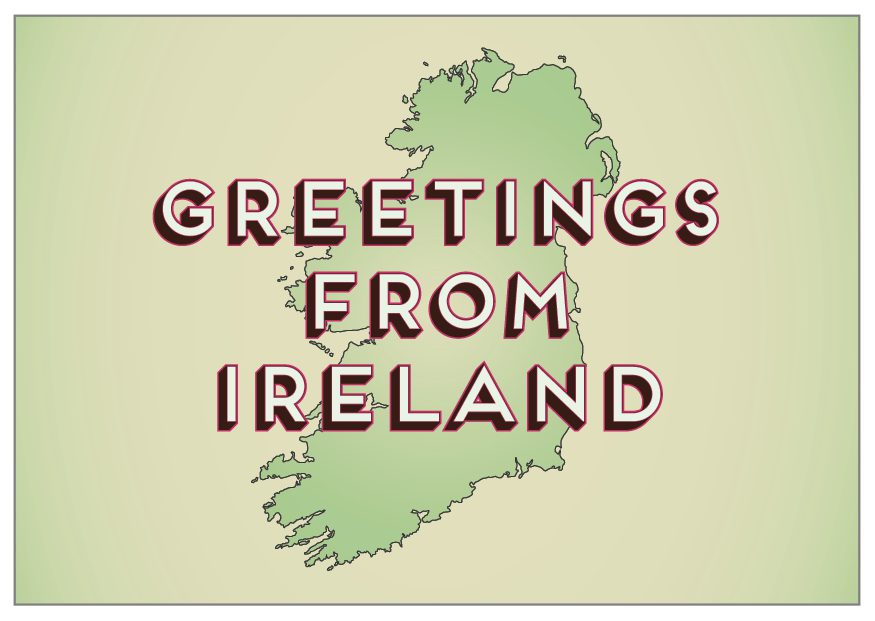 PhotoIreland produced a series of materials selected from an open call, inviting local and international artists to present their personal interpretation of what Ireland is today. The result was 40 images by 40 artists, at times romantic and fun, but always drawn from personal experience.
The artists are: Aerandir Baiza, Aidan Kelly, Bernadette Keating, Bob Negryn, Brian Cregan, Connor Horgan, Conor McMahon, David Farrell, Dorje de Burgh, Dragana Jurisic, Eamon Doyle, Erica Coburn, Garry Loughlin, James Parkin, Jamie Young, JB Maher, Jill Quigley, Kate Nolan, Kenneth O Halloran, Kevin Griffin, Liam Murphy, Mandy O'Neill, Mark Duffy, Martin McGagh, Matthew Thompson, Miriam O'Connor, Paul Corcoran, Paul McCarthy, Paula Barrett, Richard Gilligan, Richard Wade, Sarah Ryan, Sean Breithaupt, Shane Lynam, Simon Burch, Steven Nestor, Tristan Hutchinson, Victoria J. Dean, Yvette Monahan.
You can browse the images selected for Greetings From Ireland, and get your postcards and posters. The project will develop into an exhibition during PhotoIreland Festival 2015.
*     *     *     *     * 
The Library Project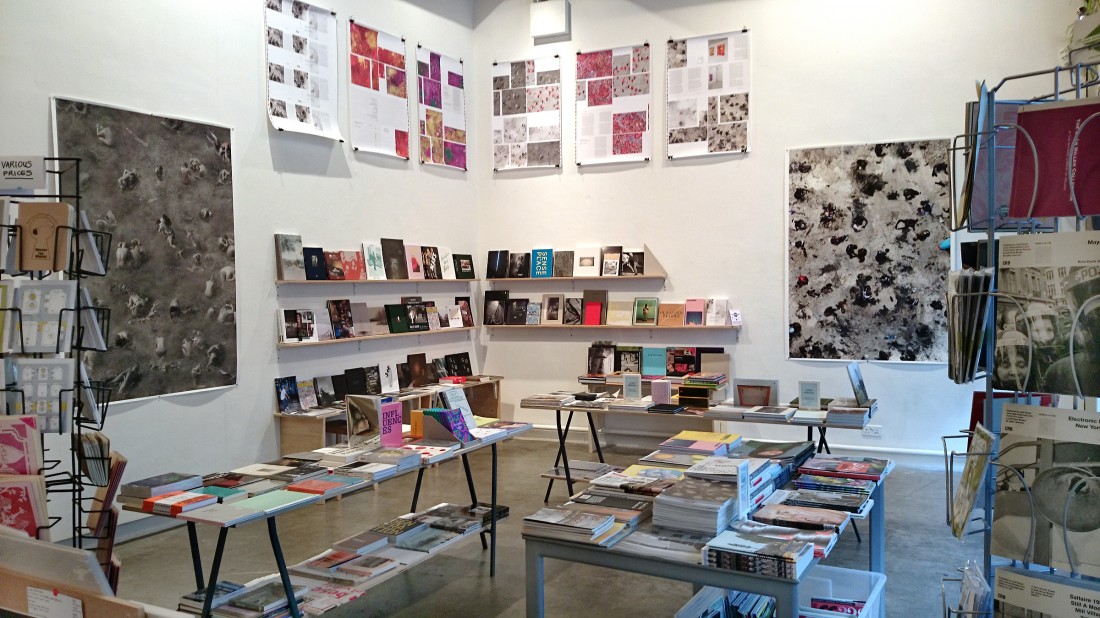 In 2014, The Library Project continued offering a very busy programme of exhibitions and events, engaging with a diverse array of artists and organisations. The venue has quickly become a key supplier to the local Arts diet, joining other well-established venues, and adding value to the Temple Bar Cultural Quarter.
Here are some of the events programmed:
13/02/2014 In Search of The Truth: Afghanistan, Jim Ricks [photos] 27/02/2014 The Life Of Psy, Maciej Pestka
14/03/2014 i, Eamonn Doyle [photos] 15/03/2014 Making Space: Transform Your City – as part of OFFSET 2014
20/03/2014 Bill Murray: Chasing The White Whale, Hunt & Gather – as part of OFFSET 2014 [photos] 1/04/2014 NEOP, Barry W Hughes
14/04/2014 'C.30 C60 C90 GO' Neue Collective – Recent Graduates from NCAD
24/04/2014 Study Room Boxes (Live Collision International Festival 2014)
25/04/2014 Launch of Blow issue 10: Urban Scenes
24/05/2014 In Pursuit of Beauty – Visual Representation of Real Women
2/05/2014 The Contract – Olena Bulygina & Natalia Pokrovskyar
8/05/2014 Contemporary Photography in Ukraine & Russia – Talk by Olena Bulygina & Natalia Pokrovskyar
8/05/2014 'Undone' by Daire O' Driscoll – Launch Party
9/05/2014 Connecting Generations: Past, Present & Future Self Through Photography – Bealtaine Festival
5/06/2014 Seen Not Heard
10/06/2014 Zines Of The Zone
06/06/2014 Residency: A Group Exhibition by 3rd Year IADT Students as Part Of The Canon Open Programme
03/07/2014 The Paris Photo – Aperture Foundation Photo book Awards 2013
25/07/2014 Thread Magazine Launch
2/08/2014 Ensembles Assembled – Katrin Korfmann
7/08/2014 WeAreDublin Launch
14/08/2014 Superstitious Aura – Grainne Tynan
18/08/2014 Pigment Exhibition
25/08/2014 Zoo Logical – David O'Shaughnessy
22/08/2014 Self Talk Book Launch – Paul Walsh
20/10/2014 Locus Amoenus – Sanne Thunnissen
3/11/2014 Traces – GUM Collective
19/11/2014 Gorse No. 2 Launch
4/12/2014 Greetings From Ireland
10/12/2014 BURNSIDE & CO – Official Launch

If you are interested in proposing an event for 2015, get in touch: email tlp@photoireland.org
*     *     *     *     * 
Finally, in July, the Irish Times Nominated The Library Project for Best Bookshop, and the Photoireland Festival 2014 website was finalist for the Best Microsite and Arts Website Web Awards. We hope you enjoy what we have planned for 2015!
If you enjoy what we do and want to support PhotoIreland and The Library Project, you could volunteer, donate and help spread the word about our work.
Follow us on: Facebook, Twitter, Google +, or subscribe to our newsletters by clicking on the blue button at the top of this page.