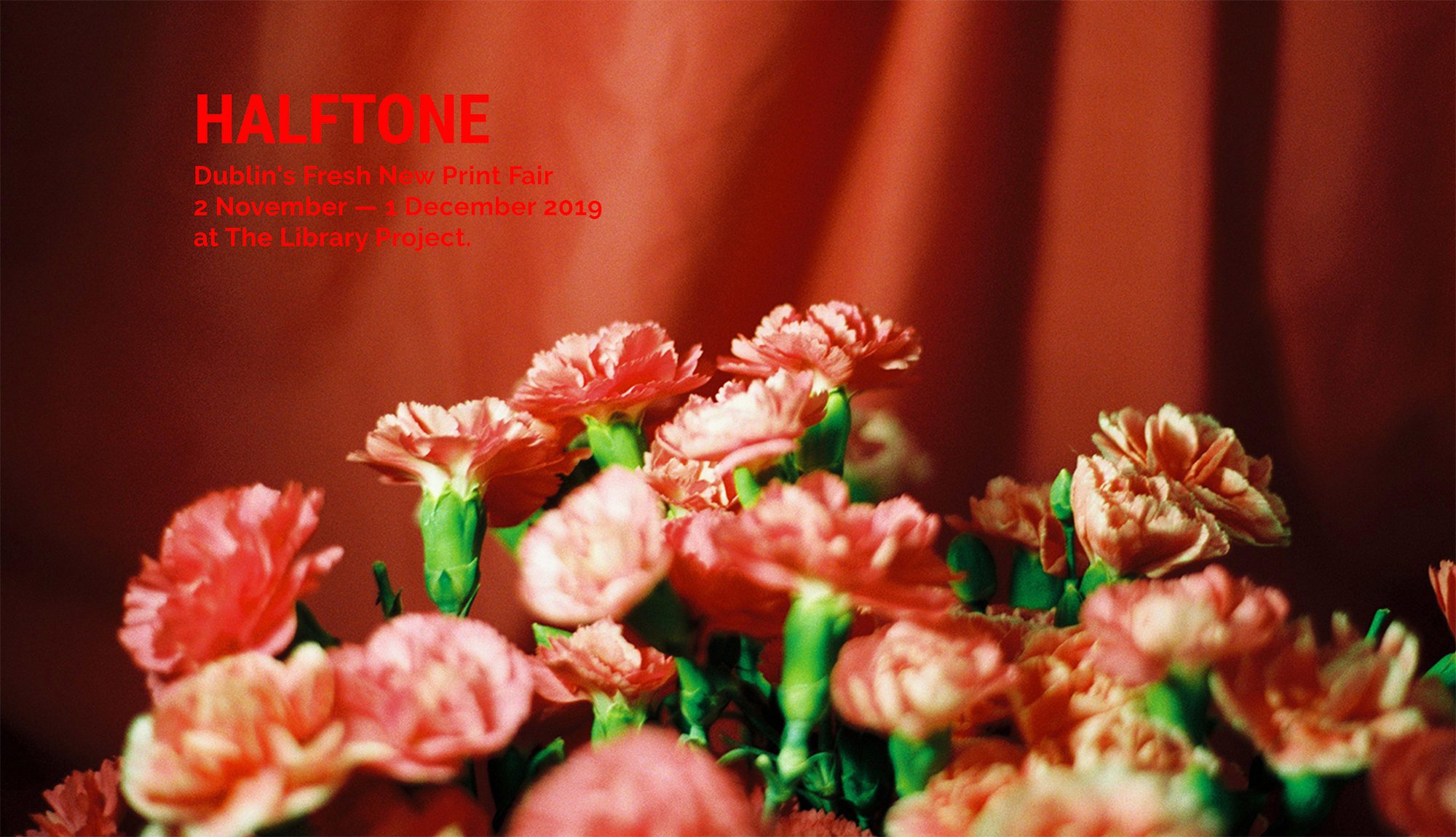 Launch 2pm Sat 2 November
Running 2 November-1 December
At The Library Project, 4 Temple Bar Street, Dublin 2
This year is going to be the biggest edition of HALFTONE yet! Thank you to everyone who took the time to send in their submissions; we have had a record amount of entries and there is a total of 110 artists participating in the fifth edition, selected through the open call and through invitation. HALFTONE is an initiative by PhotoIreland Foundation, hosted every year at The Library Project, bringing together a large selection of works by established and emerging artists, showcasing Ireland's exciting Art scene. Artworks start at €3, the Print Fair has a print for every taste, wall, space, and pocket!
Tsundoku
Extending its celebration of the printed matter in this 5th edition, there is a new addition this year: Tsundoku, offering visitors four days of events (21-24 November) with book launches, talks, workshops, and a collaboration with Damn Fine Print which will see the launch of a new series of publications and a special showcase. All topped-off with a first-and-second-hand book market focused on liberating space on busy bookshelves – everyone interested in selling books can find details on how to participate on this page → 
Participating Artists 2019
Aila Harryson Lorigan, Alan Phelan, Alisha Doody, Andrew Osborn, Anita McCarthy, Aoife Herrity, Audrey Hendy, Barbara Kenneally, Becks Butler, Billy Kenrick, Brian Giles, Brian McIlveny, Brian Teeling, Bronagh Lee, Bronwyn Andrews, Bryan Hogan, CANVAZ, Caoimhe Dalton, Ciaran Meister, Claire McCluskey, Claire Prouvost, Clare Lynch, Clare Lyons, Clodagh O'Leary, Colin Jones, Conor McMahon, Conor Nolan, Crona Gallagher, David Begley, David J Moore, David McGinn, Dermot Ryan, Dorje de Burgh, Dorota Borowa, Eimearjean McCormack, Eimhinn Farrell, Elise Fisher, Elizabeth O'Shaughnessy, Ellie Berry, Els Borghart, Emma O'Hara, Freja Blomstrand, Gabrielle Bowe, Gary Byrne, George Voronov, Gintaras Varnagys, Giorgia Graf, Giulia Berto, Grainne Murphy, Helena Gouveia Monteiro, Holly Anna Furey, Hugh Quigley, Iryna Baklan, Izzy Rose Grange, Jane Cummins, Jason Minsky, Jill Quigley, Jo Kimmins, Joanne Betty Conlon, Joe Marner, John Busher, Juliana Falanghe, Juliette Liautaud, Kelsey Lennon, Kimberly Goes, Kurb Junki, Laura McMorrow, Lorcan Cassidy, Luke Reidy, Madison Donohue, Margaret McLoughlin, Marian Balfe, Martina Cleary, Mary Keane, Mary O'Connor, Maureen Burke, Meabh Joyce, Megan Doherty, Monolith, Muntsa Molina, Myles Shelly, Neil Smyth, Niamh Coffey, Niamh Gillespie, Norah Brennan, Pauline Rowan, Peter Bjoerk, Rafal Krol, Ramona Farrelly, Rebecca Phelan, RGKS Cribs, Ria Czerniak, Róisín McGannon, Róisín White, Ruth Connolly, Ruth McLoughlin, Sarah Bracken, Sarah Usher, Sean O'Donnell, Simon Bates, Stasele Jakunskaite, Ste Murray, Stephane Bruchet, Steven Nestor, Vaida Varnagiene, Vesna Gasparic, Wally Cassidy, and Yuri Kawakami.
The Damn Fine Print artists and the working title of their riso-zines are:
Bronagh Lee, Do Not Choose An Apple By Its Shape
Clare Lyons, fieldnotes
Conor Nolan, Zoltar
Izzy Rose Grange, Deep Water
Neil Dunne, The Treachery of Architecture
Sarah Usher, Nature Notes