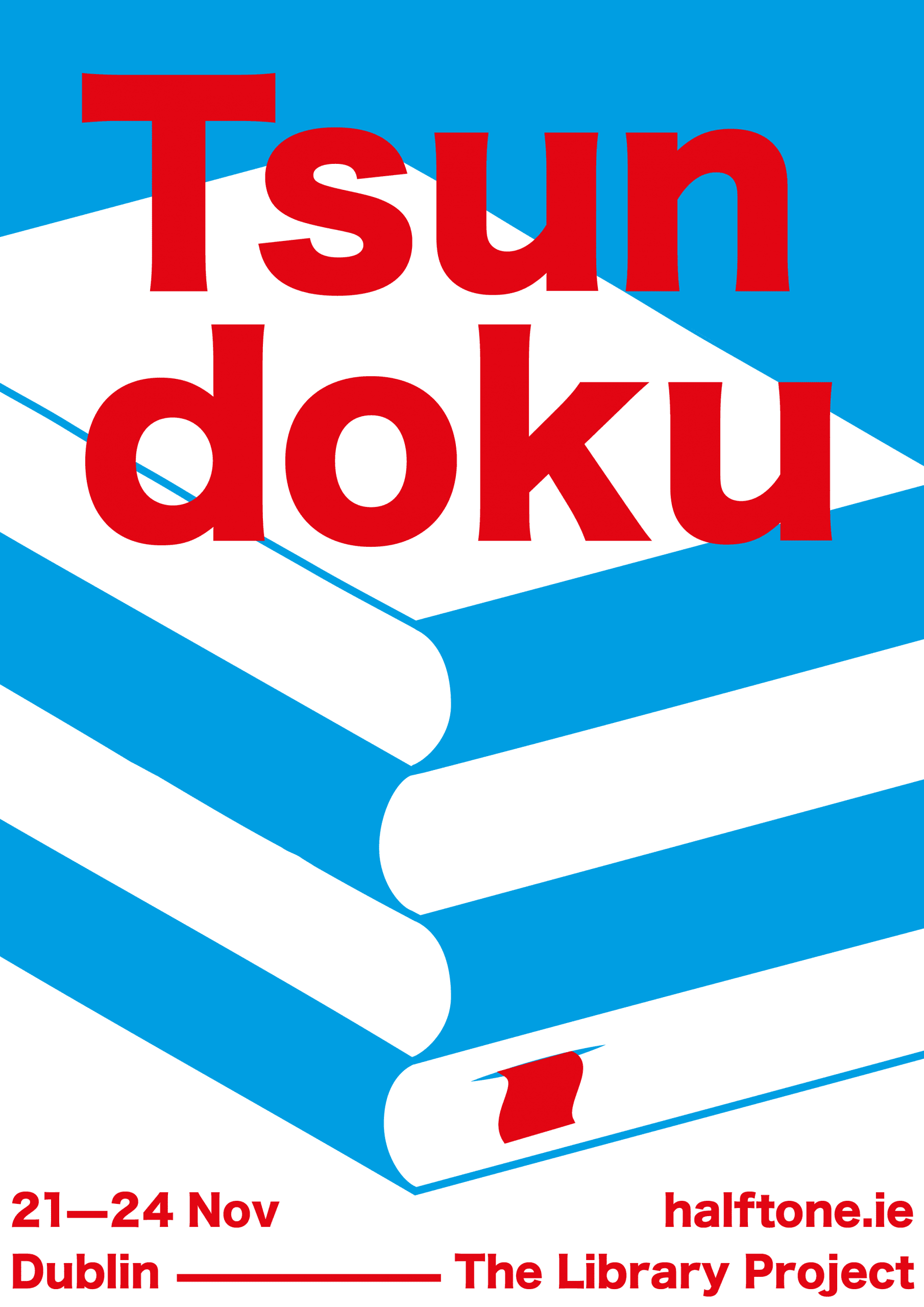 Launch 6pm Thu 21 November
Running 22-24 November
At The Library Project, 4 Temple Bar Street, Dublin 2
Extending its celebration of the printed matter in this 5th edition, there is a new addition to HALFTONE this year: Tsundoku! Tsundoku offers visitors four days of events with book launches, talks, workshops, including a collaboration with Damn Fine Print which will see the launch of a new series of publications and a special showcase, launching their new venture Damn Fine Press. All topped-off with a first-and-second-hand book market focused on liberating space on busy bookshelves.
Entry is free and everyone is welcome to The Library Project. Come and enjoy the inspiring HALFTONE Print Fair, and the new Tsundoku book weekend.
Tsundoku Events
Thursday 21 November
6pm Launch: Tsundoku Featuring the 1st and 2nd Book Market.
6pm Launch: Damn Fine Press Launch with Bronagh Lee, Clare Lyons, Izzy Rose Grange, Neil Dunne, Conor Nolan, and Sarah Usher.

Friday 22 November
6pm Artist Talk: Over Nature Curator Valeria Ceregini will host a talk with some of the artists involved in the exhibition running at Rathfarnham Castle from 14th November to 21 December 2019, including Shane Finan, Beata Piekarska-Daly and Kathy Herbert. The exhibition catalogue is on sale at The Library Project. You can read more about the exhibition Over Nature online here.
Saturday 23 November
2pm Launch + Reading: Eamonn Doyle Launch of the book published by RM and Mapfre Foundation. With Eamonn Doyle and Niall Sweeney.
Sunday 24 November
2pm BYOB Bring Your Own Book First run as part of the Book & Magazine Fair in 2011, this event invites everyone to bring their published or loved books and participate in an open discussion about them, guided by our invited experts Orla Fitzpatrick and Steven Nestor. Free and everyone is welcome.