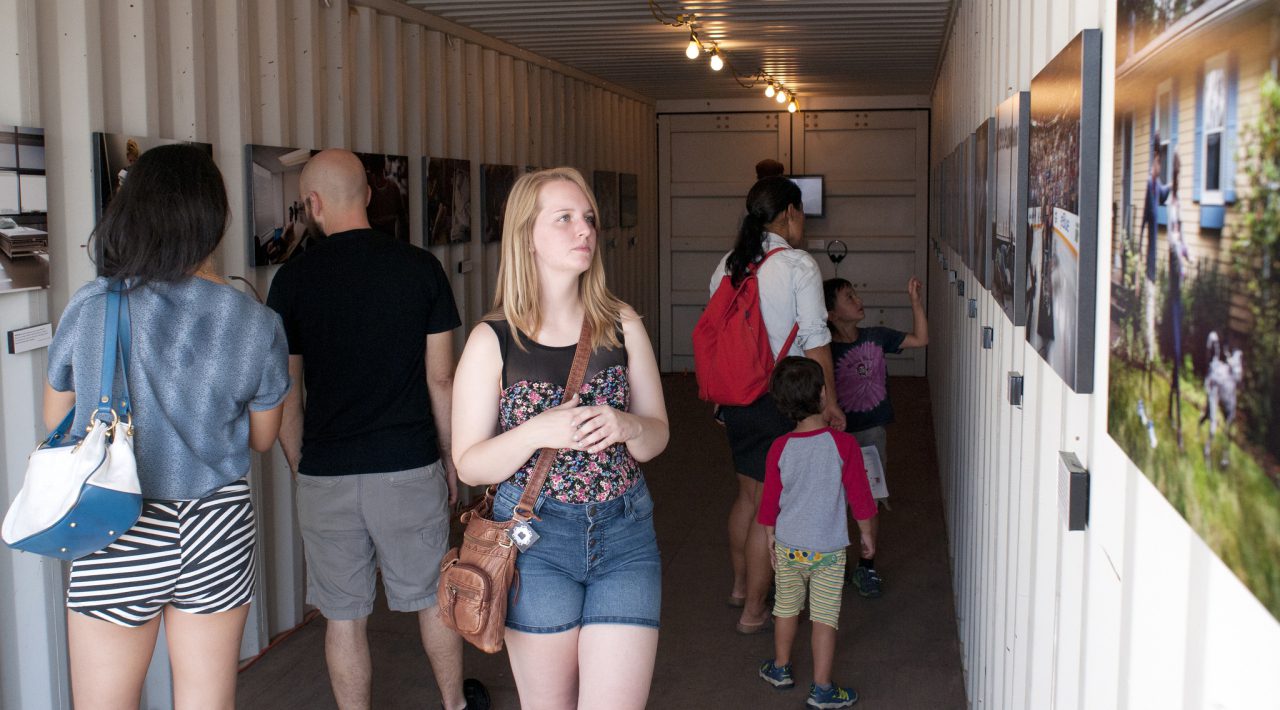 The 40 selected images from Greetings From Ireland are travelling to the Hamburg Triennial of Photography, joining the busiest Photography hub this year, and ensuring a great representation of local artists at this key event in the Photography calendar. The exhibition will run from the 18th to the 28th of June in Hamburg at a specially built Container City. Meanwhile, in Dublin, we will celebrate the second phase of this project with Greetings From Ireland Worldwide, exhibited at the City Assembly House and The Library Project, where we will be displaying the results of the call for global participation.
Regarding the Triennial's plans, "the focal point of the festival will be a container village on Deichtorplatz featuring exhibitions by ten European photo festivals and photo schools. As international partner, New York's Photoville Brooklyn festival will present contemporary American photography. Inspired by Photoville, the leading US-american photo festival, a container city with exhibitions and night-time multimedia projections will be created for first time in Hamburg. Photoville forms a major part with six exhibitions within the container city. Here highly-respected contemporary American photographers will be presented, such as Nina Berman, Stanley Greene, Chris Bartlett, and Erin Trieb, among others."
European photo festivals:
PHotoEspaña, Madrid, Spain
FORMAT Festival, Derby, England
Noorderlicht International Photofestival, Groningen, Netherlands
Circulation(s), festival de la jeune photographie euopéenne, Paris, France
Fotografia Europea, Reggio Emilia, Italy
Lodz Fotofestiwal, Lodz, Poland
Backlight Photo Festival, Tampere, Finland
Encontros da Imagem, Braga, Portugal
Kolga Tbilisi Photo, Tibilisi, Georgia
PhotoIreland, Dublin, Ireland
European photo schools:
CFP Bauer in Milan, Milano, Italy
Folkwang University of the Arts, Essen, Germany
Hamburg University of Applied Sciences, Hamburg, Germany
Hochschule Hannover, Hannover, Germany
Institute of Creative Photography, Opava, Czech Republic
Lodz Filmschool, Lodz, Poland
Moholy-Nagy University of Art and Design, Budapest, Hungary
Ostkreuz School of Photography, Berlin, Germany
University of Derby, Derby, England
As a reminder, the artist that are part of the Greetings From Ireland project are:
Aerandir Baiza, Aidan Kelly, Bernadette Keating, Bob Negryn, Brian Cregan, Connor Horgan, Conor McMahon, David Farrell, Dorje de Burgh, Dragana Jurisic, Eamon Doyle, Erica Coburn, Garry Loughlin, James Parkin, Jamie Young, JB Maher, Jill Quigley, Kate Nolan, Kenneth O Halloran, Kevin Griffin, Liam Murphy, Mandy O'Neill, Mark Duffy, Martin McGagh, Matthew Thompson, Miriam O'Connor, Paul Corcoran, Paul McCarthy, Paula Barrett, Richard Gilligan, Richard Wade, Sarah Ryan, Sean Breithaupt, Shane Lynam, Simon Burch, Steven Nestor, Tristan Hutchinson, Victoria J. Dean, Yvette Monahan.
Check all the Greetings From Ireland images here.
Check the Greetings From Ireland at the Hamburg Triennial of Photography.
Image credit: Photoville, New York.