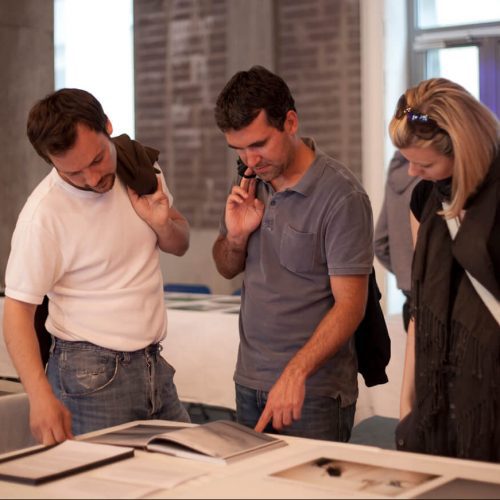 Critical Practice Reviews
Bookings close on 24th April
Cost per 1 hour session: €30
Dates: Friday 5th & Saturday 6th May 2017, 10am-5pm
Critical Practice Reviews (CPR) are group critiques in which 3 professionals listen, discuss and advise on the practice and development of 2 artists at a time. The sessions run for 1 hour, with 20 minutes presentations per photographer plus 10 minutes Q&A and feedback. A key component of these reviews is the approach, and the background of the experts.
In the CPR sessions, 2 of the 3 specialists in the group are experts with a diverse Photography background, with the third expert being one currently working in creative industries such as Design, Marketing and Advertising. The sessions will offer an analysis of the overall artist's practice as much as looking at the specific hurdles they may find in current projects; the specialists will follow a proposed methodology, raising a series of key questions and looking for specific answers, to ensure these are indeed serious and poignant meetings for all participants.
Each day, we will assemble 5 CPR Teams, and for every session you book, you will be assigned one of them, at a particular time between 10am and 4pm. We will partner you with another artist that we consider will be relevant in your session. The allocation of sessions is made as bookings are received, so the sooner you book, the better. The fee per 1 hour session is €30 and artists are welcome to book no more than 4 sessions.
These new meetings represent a unique opportunity for artists in any stage of their career to meet with international professionals, highlight new photographic projects, and to further and examine not only their practice and personal work, but most importantly, their careers and professional self-development.
Why Critical Practice Reviews and not Portfolio Reviews?
In the last edition of PhotoIreland Festival, we decided to stop offering portfolio reviews. Instead, we tested out privately a new structure to replace the traditional meetings with a better format that would avoid many of its shortcomings, and during 2016 we continued working on it to perfect it.
We had grown uncomfortable with this standardised form of meetings, because of the format, the power relations it perpetuated, and because so many times it failed to succeed; it is a model borrowed from the creative industries and applied outright to the Arts. Over the last years, our experience running such meetings, attending them internationally too as reviewers, and listening to the feedback from reviewees, slowly made us question them, as we passionately question everything we do. That is why this May, we are finally launching the first edition of what we have come to call Critical Practice Reviews.
Our experience has demonstrated that in a majority of the portfolio sessions, there is a strong need for creative input beyond curatorial or editorial aspects, a demand to resolve a well-researched project, transforming it into visually and conceptually engaging stories. In most of these cases, the input from a creative mind is key. Of course, these experts also bring into the Critical Practice Reviews an added business layer, one with a sustainable mindset that actually values creative labour beyond craft and that is certainly and largely ignored in the Arts. This, added to the experience and knowledge of the curators, editors, lecturers, and photographers experts, will create a strong if not unique offering.
In short, the Critical Practice Reviews resolve many of the issues presented by traditional portfolio reviews and actively engage with both the origin of such professional meetings and the Art context where they are placed. The Critical Practice Reviews are our best response to an obsolete model, they are the result of our honest approach, and we are happy to call them ours; now we are delighted to offer them to all artists interested.
Dates and Location
The Tara Building on Friday 5th & Saturday 6th May 2017, 10am-5pm.
This is the opening weekend of PhotoIreland Festival 2017, so as a participant you will be invited to join all events programmed.
The CPR Team
Some of the confirmed photography experts so far are:
Christiane Monarchi, Photomonitor.
Jenny Lindhe, Curator, Landskrona Foto Festival, and Breadfield Gallery.
Ken Grant, Photographer and Lecturer.
Marc Prüst, Photography Consultant and Curator at Noorderlicht.
Monika Chmielarz, Artistic Director and Photoeditor, Blow Photo.
Moritz Neumüller, Curator, Educator and Writer.
Orla Fitzpatrick, Photohistorian, Researcher and Writer.
Rodrigo Orrantia, Art Historian and Curator.
Tracy Marshall, Director, Belfast Exposed Photography.
Vivienne Gamble, Founder and Director, Seen Fifteen Gallery.
Some of the confirmed creative experts are:
Bob Gray, Design Director, Red & Gray
Ciara Cantwell, Founder and Director, Associate, Dublin.
David Wall, Co-Founder and Co-Director, WorkGroup, Dublin.
Eamonn Hall, Art Director, Atomic
Laura McGovern, Senior Creative at BBH, London
Oonagh Young, Designer, Owner, Oonagh Young Gallery, Dublin
Book Your CPR Sessions
To book your Critical Practice Reviews sessions, gather the following:
1- Download and fill in the CPR17 Form [link removed].
2- Make any necessary payments via PayPal to info@photoireland.org, or in person at The Library Project
3- Email the form to pif.submissions@gmail.com with 'Critical Practice Reviews' in the subject line.
Upon confirmation of acceptance, you will be placed into as many CPR sessions as you booked and will receive an email with further details.
Should you have any further questions, please contact pif.submissions@gmail.com