PhotoIreland Festival's portfolio review weekend will take place on 11-14 July 2013 in Dublin city, representing a unique opportunity for emerging artists worldwide to highlight new photographic projects and meet with international professionals to further their careers.
Who should submit
Portfolio 13 is open to all photographers worldwide, working on any theme. Please, make sure you read the guidelines.
Deadline
5pm Friday 29th March 2013
Reviewers
Andy Adams, Flak Photo, Wisconsin, USA.
Barry W Hughes, Director, SMBH Magazine, Dublin, Ireland.
Calin Kruse, Founder and Director, Dienacht Magazine, Leipzig, Germany.
Dieter Neubert, Director, International Photobook Festival, Kassel, Germany.
Elisa Medde, Managing Editor, Foam Magazine, Amsterdam.
Irène Attinger, Library Curator, Maison Européenne de la Photographie, Paris, France.
John Duncan, Co-editor, Source Photographic Review, Belfast, Northern Ireland.
Jörg M. Colberg, writer, photographer, and educator, Conscientious, MA, USA.
Karen McQuaid, Curator, The Photographers Gallery, London, UK.
Katja Stuke & Oliver Sieber, Böhm/Kobayashi, Düsseldorf, Germany.
Krzysztof Candrowicz, Director, Fotofestiwal, Lodz, Poland.
Leszek Wolnik, Curator, The Copper House, Dublin, Ireland.
Markus Schaden, Publisher, Schaden.com, Cologne, Germany.
Matt Packer, Curator, Lewis Glucksman Gallery, Cork, Ireland
Moritz Neumuller, Independent Curator, Educator and Writer, Barcelona, Spain.
Olivier Laurent, News and Online Editor, The British Journal of Photography, London, UK.
Pádraig Spillane and Pamela Condell, Curators Stag & Deer, Cork, Ireland.
Rui Prata, Founder, Encontros da Imagem Festival, Braga, Portugal.
Susan Zadeh, Founder and Director, Eyemazing, Amsterdam, Netherlands.
Stefano Stoll, Director, Festival IMAGES, Vevey, Switzerland.
Yasmina Reggad, Director and Founder, Photo-Festivals, London, UK.
Exposure
Portfolio 13 offers you the opportunity to:
Be part of the International Portfolio Reviews programme in 2013.
Be featured in PhotoIreland Festival 2013 catalogue and website.
Get your work reviewed by a selected group of professionals.
Be featured in a special publication that will accompany the event.
Get your work seen by all our international guests, and Book & Magazine Fair participants at a special presentation on July 11th 2013.
Publication opportunities via our media partners in Ireland and abroad, on and offline.
The reviewers will select an overall winner, who will be offered a solo show in PhotoIreland Festival 2014.
For a full list of details, schedule, reviewers, rules and FAQ, please visit the Portfolio 13 page.
Find out more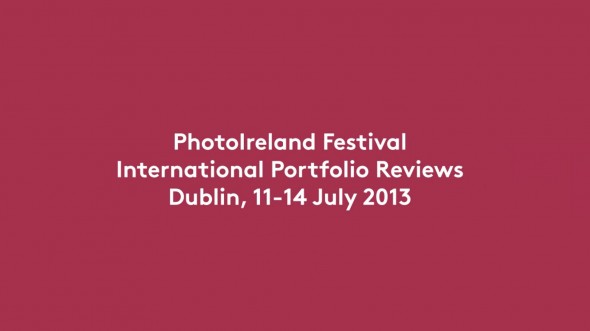 Thanks to Cian Brennan for producing the video, and to Orquesta for the music.