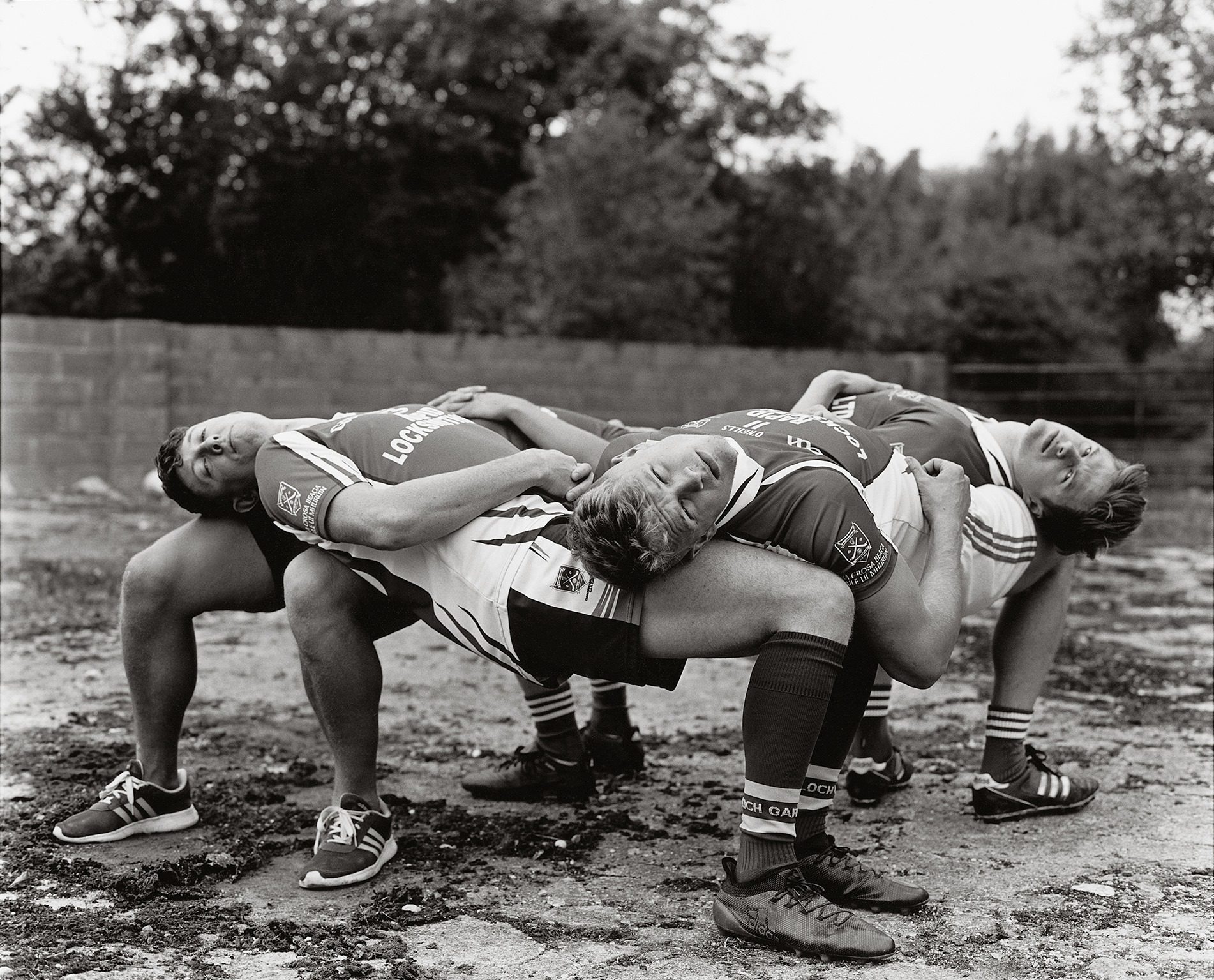 Talk 4pm Sat 14 March
Signing 5-6pm Sat 14 March
At The Library Project
With a background in professional dance, Rodriguez's work pays tribute to the metaphorical weight of centuries of physical labour behind cultivating the landscape and maintaining cultural heritage. Images of scarred limbs and hands, from the field and from sport, function as a cartography of these bodies, as culture both shapes and is shaped by the individual. Elsewhere, we see the exaggerated glamour of modern female Irish dancers taken out of the glitzy ballrooms and into the fields, creating a rupture across time and space.
Rodriguez was also struck by the intense physicality of the sport of hurling. Considered to be the fastest sport on grass, while watching slow-motion footage of hurling Rodriguez saw that within seconds the players would go through pushing, shoving, grabbing, hugging, knocking each other down and then lifting one another up. Rodriguez worked with players to reform these gestures: creating sculptures out of bodies, directing and literally layering players upon one another.
Images © Luis Alberto Rodriguez 2020 courtesy Loose Joints
Berlin-based US artist Luis Alberto Rodriguez completed a very productive two months residency in late summer 2018 at Cow House Studios, Wexford, organised by PhotoIreland and Futures Photography, and co-funded by Creative Europe. The resulting work was exhibited a year later, May-August 2019, at The Library Project as part of PhotoIreland Festival.
Now, we are looking forward to bringing the project back to The Library Project, with the launch of the excellent photobook produced by Lewis Chaplin and Sarah Piegay Espenon of Loose Joints publishing. The event will take place from 4pm next 14 March 2020, when you will be able to meet the artist and purchase signed copies of the book.
The book includes texts by Tim Walker and Photo Historian Dr. Orla Fitzpatrick. Limited signed framed prints available at the opening, and pre-orders are available online now.
About Luis Alberto Rodriguez
Luis Alberto Rodriguez (b. 1980, New York) is a Berlin-based photographer of Dominican heritage. He studied dance at the Juilliard School, New York where he received his BFA. His work has been published in various art and fashion publications and exhibited at Wanås Konst, Sweden. Rodriguez was the recipient of the Public Prize and the American Vintage Prize at 32nd Festival of Fashion and Photography, Hyères, France. In 2018 he was selected as one of Red Hook Labs' New Artists. Rodriguez is currently working on a group project with the International Olympic Committee.
About Loose Joints
Loose Joints is an artist-run photography publisher and design studio exploring progressive approaches to image making in book form. Loose Joints is based between London and Marseille and was founded in London in 2015 by Sarah Piegay Espenon and Lewis Chaplin.