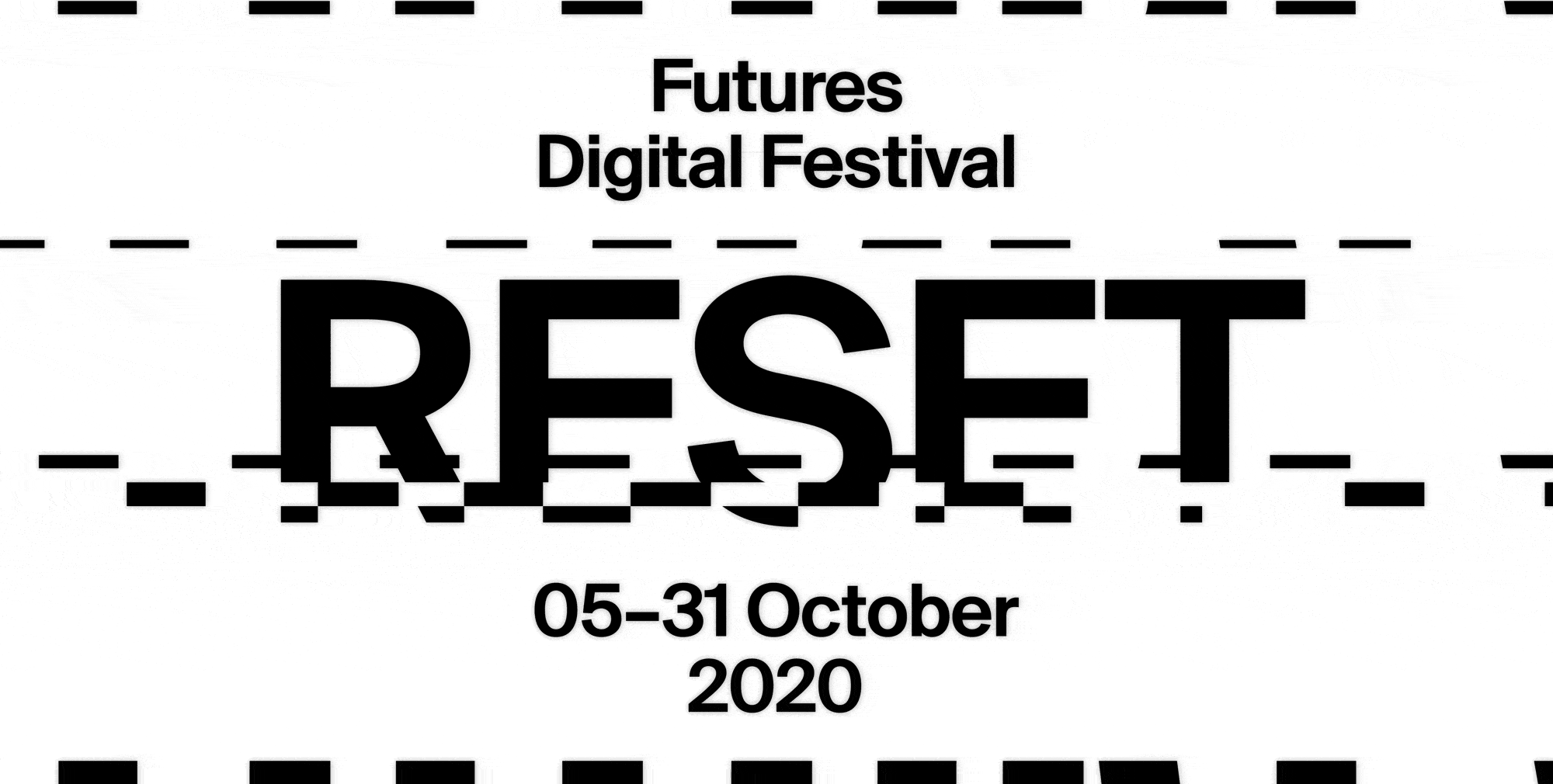 Today 5th October at 5pm Irish time, FUTURES Digital Festival RESET launches its busy programme of events with all the platform artists and partners present, followed by 'Who wants to be a photographer?', a quiz hosted by non other than You Must Not Call It Photography If This Expression Hurts You™ (curators Marco de Mutiis, Katrina Sluis and Jon Uriarte).
To join the launch, you can register online here →
‌
Whether you are an art lover, an artist or an art professional, there are plenty of free events to keep you engaged and interested every week throughout October!
The RESET programme is divided into 5 sections, with online exhibitions, panel discussions, studio visits and more, where some of these events being run privately and in support of artists and arts professionals. If you are interested in joining any of the private events, get in get touch with us at info@photoireland.org
The structure, with links to get registered, is as follows:
The Expos
Hosted by and curated by artist, publisher and curator Salvatore Vitale, the expo RESET investigates the main theme with projects by seven artists from the platform: Julie Poly, Ela Polkowska, Sanne De Wilde, Dávid Biró, Ana Zibelnik, and Irish artists Eva O'Leary and Garry Loughlin. The expos are hosted online in the FUTURES website.
The Assembly
A series of talks organised by the platform members where art professionals converse around topics related to the main theme RESET. The assemblies take place online every Tuesday, Thursday and Saturday at 3pm Irish time. The talk ASSEMBLY #2 'On Adaptation and Production' has been organised by PhotoIreland, and it presents Lewis Bush (artist, educator) and Aisling Murray (Exhibitions Manager, Science Gallery Dublin) in conversation this Thursday 8th October at 3pm Irish time
Register for the week 1 zoom sessions here →
The Conversations
Over 50 international professionals have the chance to meet our talents for a series of portfolio reviews and coaching sessions. These meetings take place once a week during the month of October, in a private and online environment. The list of professionals is online here.
The Open Mic
The Open Mic is a private activity where our talents can present their ongoing projects in an online space with artists and other professionals from the industry. Amongst others selected, Irish artist Vera Ryklova will benefit from this session.
The Studio Visit
The Studio Visit programme is an online activity organised by Futures and curated by Marina Paulenka (Co-Founder of Organ Vida Festival and former Artistic Director of Unseen). On Fridays, she presents a virtual online tour of artists studios, talking about their inspirations, creative process, and ongoing projects. This activity is mainly exclusive to invited professionals and guests. The private sessions will include Irish artist Shia Conlon. As an exception, the studio visit on October 30th will be open to the public from 3pm Irish time via Zoom and Facebook live-stream. For this event, Paulenka sees Charlotte Schmitz, Karolina Wojtas and Ulla Deventer.
OCTOBER SCHEDULE
WEEK 1 
*NOTE: LISTED ARE IRISH TIMES*
– TODAY Monday 5th 5pm: Launch event + quiz
– Tuesday 6th 3pm: RESET Talk – Salvatore Vitale in conversation with Garry Loughlin, Dávid Biró, Ana Zibelnik and Julie Poly
– Wednesday 7th 8.45am: Futures Conversations
– Thursday 8th 3pm: On Adaptation and Production – PhotoIreland in conversation with Lewis Bush and Aisling Murray
– Friday 9th 3pm: Studio Visit #1 by Marina Paulenka with Clemence Elman, Kata Geibl, Sybren Vanoveberghe, Mate Bartha
– Saturday 10th 3pm: Reset Modernity – Raphaëlle Stopin in conversation with Sylvain Gouraud
WEEK 2 
*NOTE: LISTED ARE IRISH TIMES*
– Monday 12th 3pm: Open Mic: with artists Mar Saez, Sebastian Steveniers and Hanna Jarzabek
– Tuesday 13th 3pm: Assembly: Decolonization, representation and power in the contemporary cultural scenario by Camera Torino with photographer Nicola Lo Calzo and writer Igiaba Scego
– Wednesday 7th 9am: Futures Conversations
– Thursday 15th 3pm: Assembly Talk: On Protest and Activism by The Calvert Journal with photographers Tanya Kapitonova, Rafal Milach and Yulia Krivich
– Friday 16th 3pm: Studio Visit #2 by Marina Paulenka with David Uzochukwu, Alin Barbir, Sasha Chaika, Sina Niemeyer
– Saturday 17th 3pm: Assembly Talk: Survival Artists! How artists are dealing with Coronavirus with Triennial of Photography Hamburg 2020 artists
WEEK 3
*NOTE: LISTED ARE IRISH TIMES*
– Monday 19th 3pm: Open Mic: with artists Vera Ryklova, Ana Zibelik and Brave Boy Studio. (get in touch for private link!)
– Tuesday 20th 3pm: Assembly: Resistances in solidarity: Talk with Pía Ogea, Sandra Maunac and Nicolás Combarro by PhotoEspaña
– Wednesday 21st 9am: Futures Conversations
– Thursday 22nd 3pm: Assembly: RESET your mindset and adapt in the world of photography by PhotoRomania
– Friday 23rd 3pm: Studio Visit #3 by Marina Paulenka with Shia Conlon, Giovanna Petrocchi, Masha Svyatogor, and Jon Gorospe
– Saturday 24th 4pm: Assembly: Resetting The Cow – Artists reflecting on mankind tailoring nature to its own needs with artists Dániel Szalai, Manuela Barunmüller, and Hans van der Meer by Robert Capa Centre