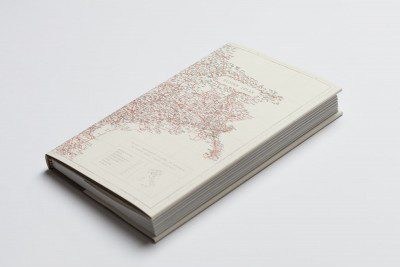 Winner of First PhotoBook 2014:
Nicoló Degiorgis, Hidden Islam
"This volume condenses years of research and interaction with members of Muslim communities in northern Italy. It is a sincere book that attempts to bridge local conditions in Italy to a larger European context—and a very strong example of attention to detail and overall concept in today's independent bookmaking."—Sebastian Hau
Winner of Photography Catalogue of the Year 2014:
Christopher Williams, Christopher Williams: The Production Line of Happiness and Christopher Williams: Printed in Germany
"This is a super pure, extremely well-done set of books: the use of bright colors, the perfect selection of papers, the perfect economy and rhythm. It's very appropriate to what's happening right now in terms of both design and photography. The book is a perfect response to the material."—Cléo Charuet
Winner of PhotoBook of the Year 2014:
Oliver Sieber, Imaginary Club 
From a range of titles that included both emerging artists and contemporary masters competing for the PhotoBook of the Year prize, the jury selected Oliver Sieber's Imaginary Club as an extremely well-crafted final manifestation of a photographer's personal, in-depth project.
Special Mention:
Vytautas V. Stanionis, Photographs for Documents
"Photographs for Documents tells me that these are not just documents; they are lives that are shared on the page. The page becomes a stage. . . . The fragility and simplicity, the humility of the materials themselves, are also pivotal to the overall result."—Rahaab Allana
The short list is on view in the Publishers section of Paris Photo at the Grand Palais in Paris until November 16, 2014. The exhibition will then travel to the IMA Concept Store in Tokyo from December 9, 2014 to January 18, 2015, and New York's Aperture Gallery from December 13 to January 29, 2015, followed by exhibitions in 2015 at Photobook Melbourne, Australia, and the Month of Photography Los Angeles.
The short-listed books are also profiled in issue 007 of The Photobook Review, Aperture's biannual publication dedicated to the consideration of the photobook.