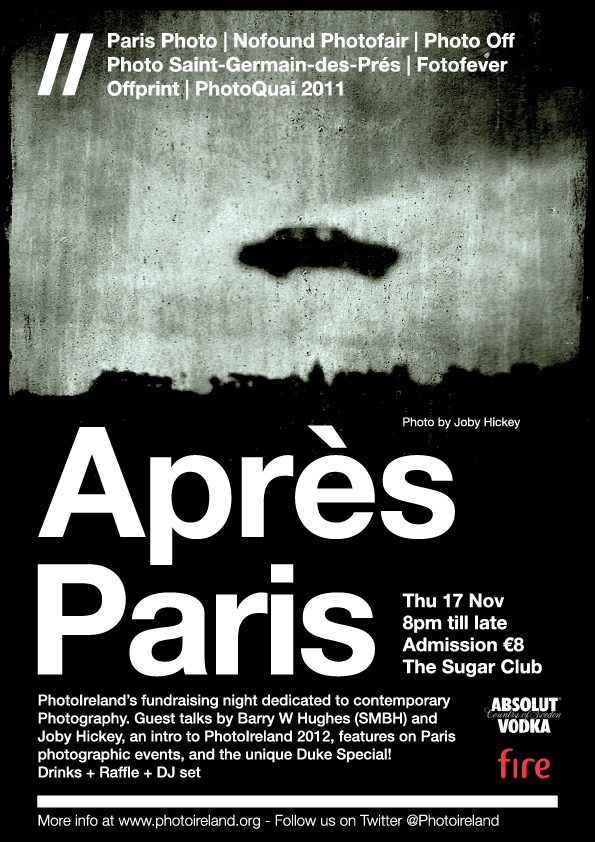 ***We are preparing Après Paris 2012 – Stay tuned!***

You can't make it to Paris Photo? Or won't manage to see ALL the events that were on in Paris this November? Do not fret!
PhotoIreland presents 'Après Paris', a fundraising night dedicated to contemporary Photography with a special feature on Paris' photographic events this month. With highlights from Paris Photo, Nofound Photofair, Photo Off, Photo Saint-Germain-des-Prés, Fotofever, Offprint, PhotoQuai 2011, this will be a night to remember.
The highlight of the evening will be Duke Special's talk on 'Under the Dark Cloth', his recent collaboration at The Metropolitan Museum of Art (NY) to write all new songs inspired by photographs from the exhibition 'Stieglitz, Steichen, Strand'.
Duke Special is playing The Sugar Club two days earlier on the 15th Nov.
Join us at The Sugar Club to celebrate, be in with a chance to win one of the fantastic raffle prizes (including a signed book of Martin Parr's Best Books of the Decade'!), enjoy a few drinks, have a wee dance, get the news on PhotoIreland Festival 2012, and enjoy our special guests Barry W Hughes (supermassiveblackholemag.com) and Joby Hickey (jobyhickey.com)
We have a few more suprises up our sleeve, so keep checking for updates and mark the 17 November in your calendars! Head to The Sugar Club, we'll be there from 8pm so you have even time to pop into the Gallery of Photography at 7pm for the launch of Dr. Justin Carville's book 'Photography and Ireland' – highly recommended! [For more details, check out the Gallery of Photography's Facebook Page]
PhotoIreland is looking forward to seeing you all at The Sugar Club. Let's celebrate & help support Ireland's International Festival of Photography and Image Culture.
Thu 17 Nov – from 8pm – The Sugar Club – Admission: €8 incl. raffle ticket
RSVP at the Facebook event page.
Poster photo by Joby Hickey.
Any comments or feedback, contact us at info @ photoireland.org