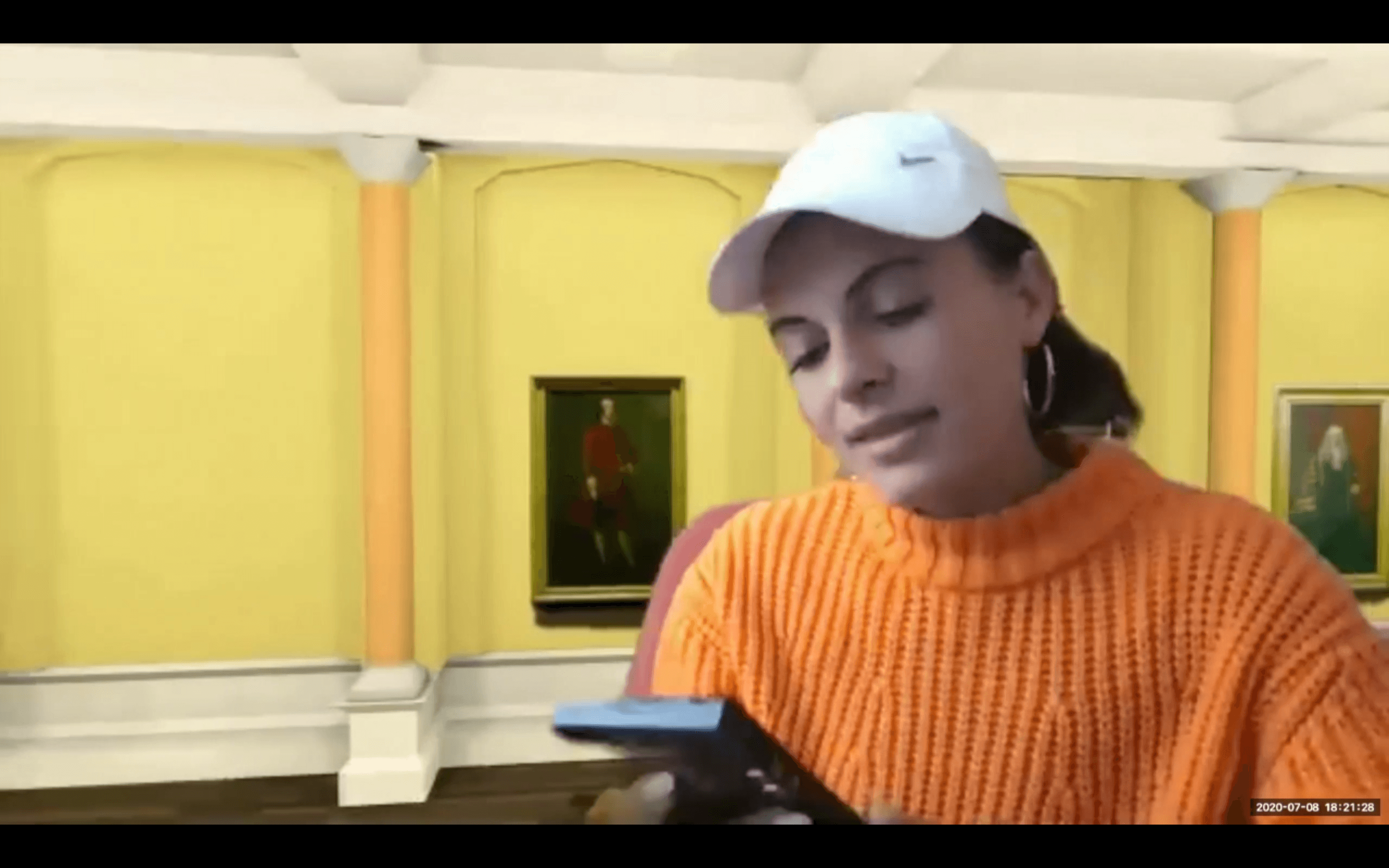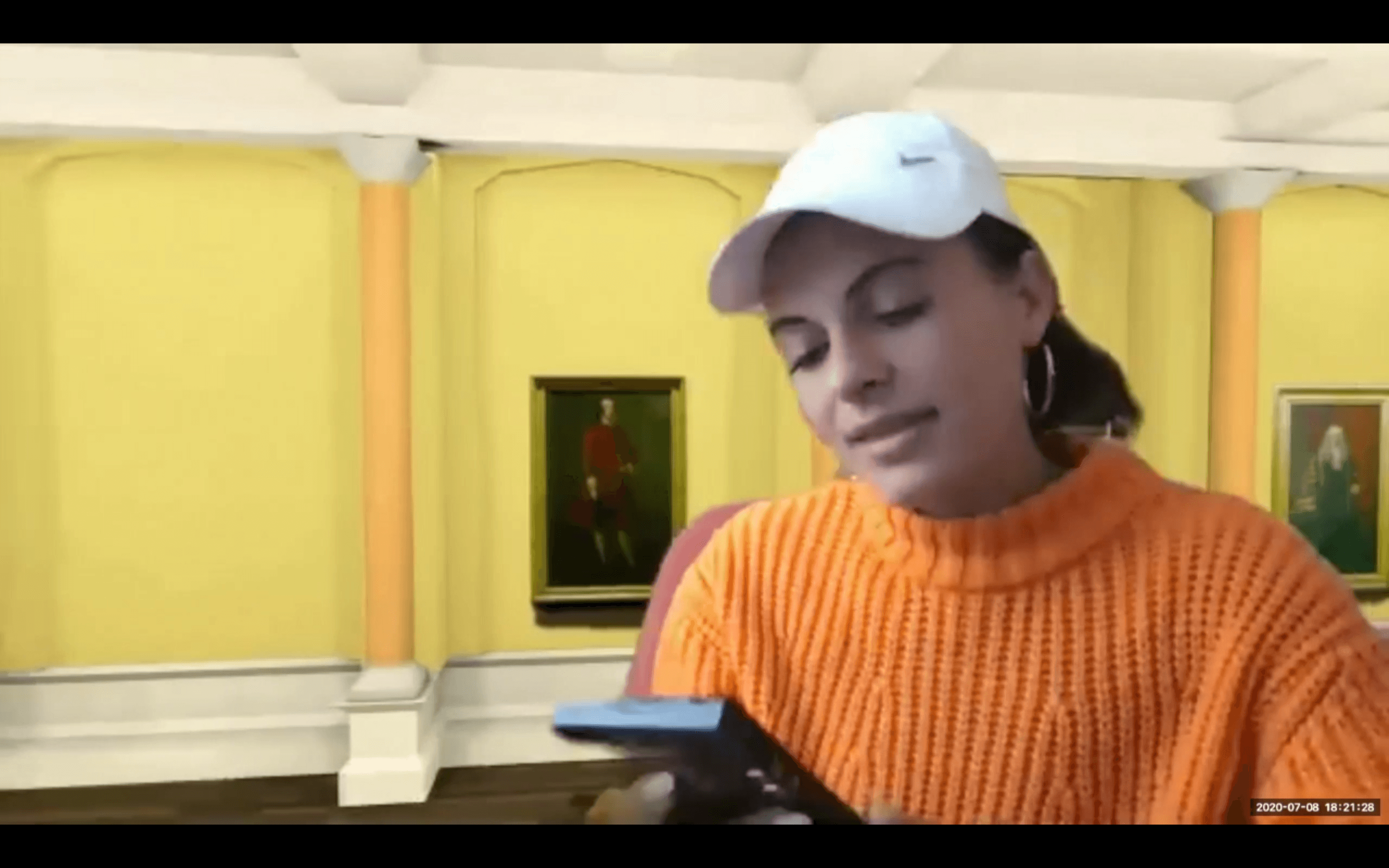 Recorded on 8 July 2020 during the launch of PhotoIreland Festival 2020
As is cited on her website, Anna Ehrenstein is an interdisciplinary artist living between Berlin, Cologne, Tirana, and the cloud. Her work presents personal meditations and reflections around migration-related material culture and diasporic narrations, with an ever present use of contemporary technology where these self-representation discourses are abound. Lens based media, installation, social moments, sculpture, print or writing – Ehrenstein's artistic practice is diverse and above all interdisciplinary. She studied photography and media art and attended curatorial courses, and some of her recent projects include Tales of Lipstick and Virtue and Tools for Conviviality.
She has exhibited widely in festivals and galleries such as in Circulations at the Centquatre in Paris, the Month of Photography in Los Angeles, the Organ Vida Festival in Zagreb, the Rencontres de la Photography in Arles, and of course at PhotoIreland Festival as part of the group show The Recount of Conflict, presented in Pallas Projects in 2017.
In her practice as an art mediator she prioritises working with diverse social groups, in educational and collaborative formats, for example as part of the 10th Berlin Biennale for Contemporary Art or within the Young Arts Neukölln Art Centre in Berlin, and also in 2019 during PhotoIreland Festival where she hosted a super fun and engaging Workshop on Selfies and Portraits, as part of the Critical Academy programme called Magic Insta Material at Rathfarnham Castle.
__________________
Below, the introduction launching PhotoIreland Festival 2020 by Ángel Luis González, Director of PhotoIreland, omitted from the video.
Dear guests, supporters, patrons, public and private funders, artists, art professionals, art lovers, from Ireland and beyond, international friends who have taken the opportunity to join us today… We welcome you all to the online launch of PhotoIreland Festival 2020.
This is the 11th edition of Ireland's International Festival of Photography & Image Culture, always aiming to bringing International Contemporary Photography to Ireland and Irish Photography to the World.
The 11th edition of PhotoIreland Festival is presented under the title of ON/OFF. It combines a programme of online and offline activities and exhibitions, free for all audiences.
Despite the complexities that we all have experienced over the last months, our team managed to remain optimistic, adapting to the continuously changing circumstances and focusing on the opportunities presented by the rapid shift to online experiences – what we saw as a sort of global digital exodus.
But to take digital content seriously we have to go beyond producing online slideshows and videos, or facilitating Instagram takeovers, it still requires a serious level of curation and therefore a certain expertise and knowledge to engage audiences as much as themes or subjects.
We approached the Digital Curatorial team of Fotomuseum Winterthur (Marco de Mutiis, Doris Gassert, Mona Schubert) and The Photographers Gallery London (Jon Uriarte), as we have been following their work for a long time, and we admire what they have achieved. They engage playfully not only with what photography means today, but with anything to do with contemporary visual culture. As digital curators, they question our everyday life on the digital stage where it happens, discussing the concerns and opportunities that these channels present.
It is important for us to stay engaged and therefore work with artists and practitioners making relevant work about current issues. With the exodus online, it is more important than ever to learn and be informed about the online culture, our role and responsibilities within.
In this way, part of this year's programme, ON, highlights the work of these two organisations The Photographers' Gallery and Fotomuseum Winterthur. They have collaborated to deliver an effective and refreshing series of online streams called Screen Walks: a sort of studio visit crossed at times with live performance that looks at artists and researchers using the screen as their medium. We invite you to join us for a special Screen Walk around the practice of Irish artist Conor McGarrigle next Wednesday 15 July.
In addition, as part of a collaboration between PhotoIreland and Fotomuseum Winterthur, the artists Geraldine Juárez and Mario Santamaría have been invited to critically look at the hidden power dynamics behind the Google Arts & Culture Project. The festival presents these two contributions addressing what we called The Googlified Image presented within SITUATIONS.
SITUATIONS is an experimental curatorial programme devised by Fotomuseum Winterthur to engage the flexibility of the image and its currency with a decisive and quick-reacting format beyond the physical space, beyond the gallery. They will take place on 6pm Saturday 11 and 19 July.
In the rush to digital, we may have forgotten a great medium that has returned once and again to claim its importance: print publishing. In this way, OFF presents further content from the festival offline, within the pages of OVER journal, a new publication by PhotoIreland.
Contributors to the first issue of the journal investigate the role of criticism, museology, and more, provoking conversations around topics regarding contemporary practices and how these are influenced by our current environments and society. The texts of this first issue are penned by Aidan Kelly-Murphy, Alison Nordstrom, Ángel Luis González, Anna Ehrenstein, Benedetta Casagrande, Duncan Wooldridge, Erik Vroons, Gloria Oyarzabal, Jörg Colberg, Julia Gelezova, Natasha Christia, and Yining He. The journal includes a special interview with Marion Hislen, Photography Delegate of the French Ministry of Culture,  kindly supported by Alliance Française Dublin and the French Embassy in Ireland.
Inside OVER, you will find a feature with the three artists selected from this year's open call: Francesca Catastini, Hiro Tanaka, and Theo Ellison. Discover works by the Irish FUTURES Artists 2020 Becks Butler, Garry McLoughlin, Mark McGuinness, Shia Conlon, and Vera Ryklova. The journal presents three FUTURES artists from previous editions; including  a new body of work by Teresa Eng, and a review of Eva Kreuger and Yvette Monahan's practice, as Amelie Rose, current Project Coordinator of FOAM, reflects on their similarities and influences.
The launch of OVER Journal will take place at 6pm Saturday 18 July. The format will include an introduction by writer Aidan Kelly Murphy in conversation with artist Heather Agyepong and OVER Journal co-editor Ángel Luis González, followed by a screening of artist Theo Ellison's latest work.
Finally, the Tokyo International Photography Competition brings to Ireland a diversity of practices to enjoy on the gallery walls of The Library Project in Temple Bar: Hashem Shakeri, Gregg Segal, Turjoy Chowdhury, Acacia Johnson, Ciril Jazbec, Charlotta María Hauksdóttir, Ryota Kajita, and Robin Michals.
Before we introduce Anna Ehrenstein, I would like to take a moment to express our gratitude to our 75 patrons, not by name because that would take a while, but with our deepest thanks. These are individuals that have come forward and donated to PhotoIreland through a monthly subscription via Patreon.com and we really appreciate it.
We are also extremely thankful to our public aid funders, the Arts Council of Ireland and Dublin City Council, as much as to Alliance Française Dublin and the French Embassy in Ireland, as much as Jim and Ed at Inspirational Arts for their continuous support throughout these 11 years.
Special thanks to Creative Europe and all our partner organisations in the FUTURES Photography Platform.
Thank you to the team of Fotomuseum Winterthur, especially to Marco de Mutiis, Mona Schubert, and Doris Gassert, and thank you to the team of The Photographers' Gallery, London, in particular to Jon Uriarte.
Finally, thank you to all the artists involved in this edition of PhotoIreland Festival, for keeping our minds excited and awake during challenging times, and to The National Campaign for the Arts for underlining the importance of the Arts in a healthy society.
__________________
Find out more about Anna Ehrenstein at annaehrenstein.com
The PhotoIreland Festival 2020 programme can be found at 2020.photoireland.org