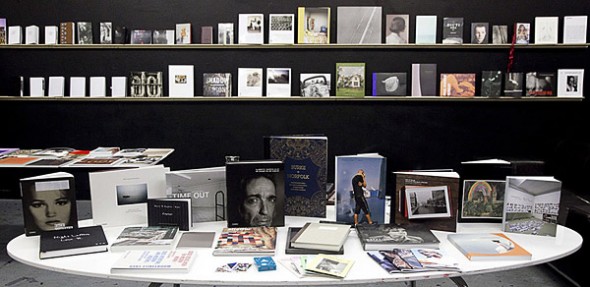 Book & Magazine Fair
13-15 July 2012
Following on from the success of the Book & Magazine Fair, 2011, the 2012 edition will again host a weekend long Photobook Fair. As well as showcasing our extensive library of over 500 photobooks, magazines and zines, the 2012 edition will include workshops, talks, review session, and films. In addition this years event will see a number of photobook publishers exhibiting their latest publications.
The 2012's Book & Magazine Fair will be held at IMOCA and will be the ideal place to purchase books, meet the publishers in person, network, find inspiration and browse through the amazing publications on display. In addition you will have the opportunity to get your own work reviewed, enjoy exhibitions, talks by selected publishers, workshops and films, all dedicated to photography publications.
The Library Project at the Book & Magazine Fair
Last year we started a collection of the best contemporary publications around Photography and Image Culture that is now the core of our Library Project. The plan is to develop a free public resource library with up-to-date materials, free for all to enjoy. This unique collection, of over 500 books, will be available at the Book Fair for your enjoyment.
Note to Publishers
To book your place, get information on exhibiting and possibilities of holding workshops and talks at the Book & Magazine Fair 2012, please contact the fair coordinator Arcangela Regis at arcangela.regis@photoireland.org
Full details at http://2012.photoireland.org/intro/book_mag_fair.html