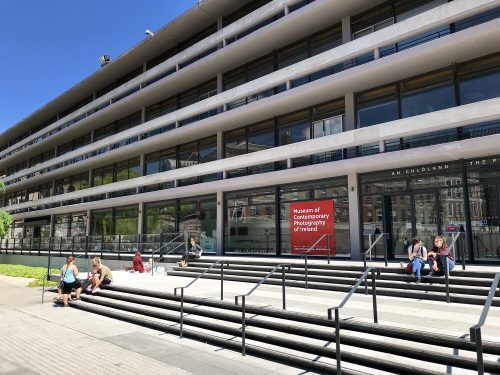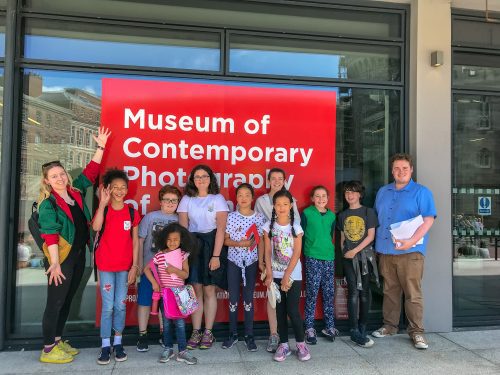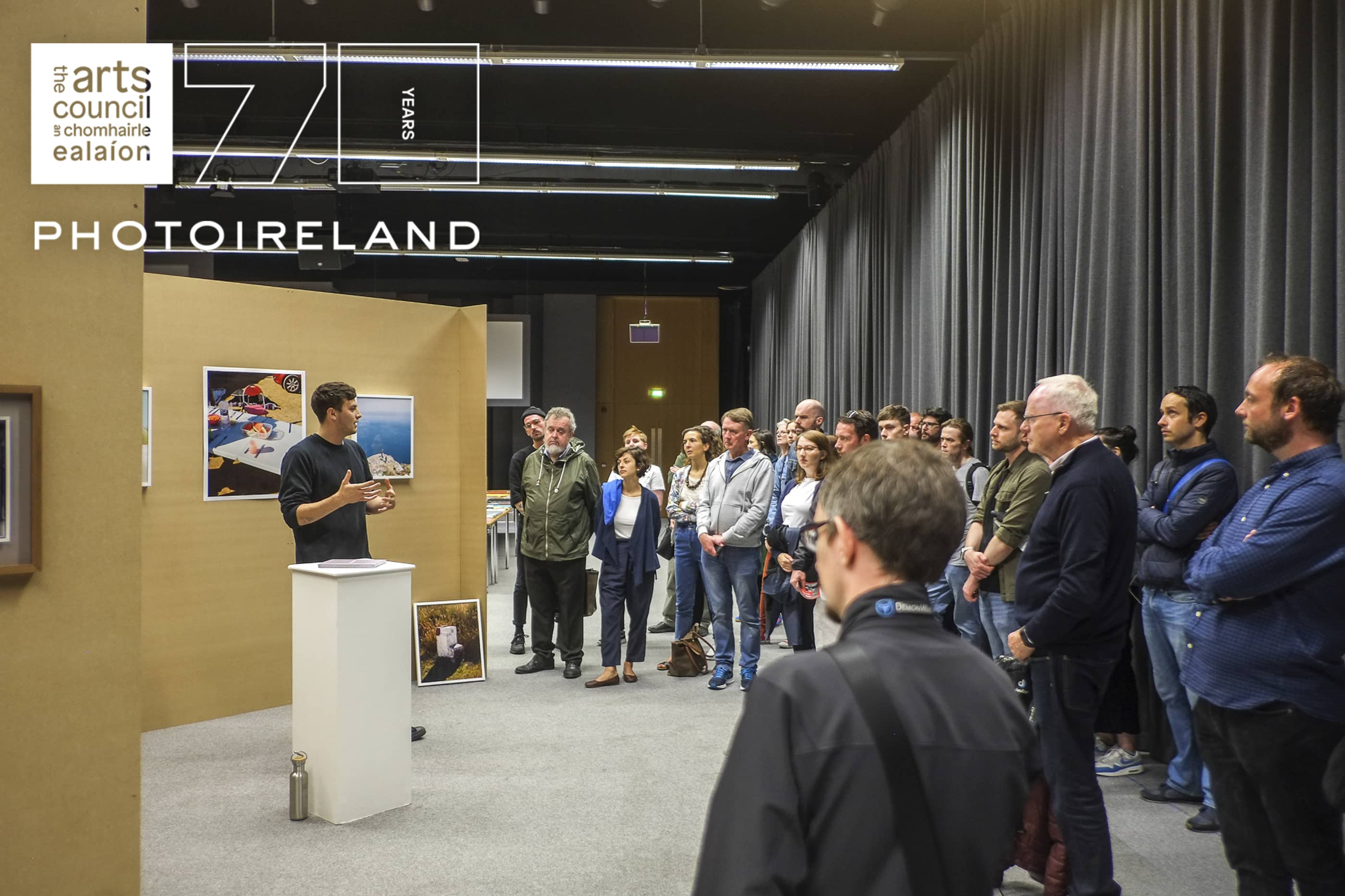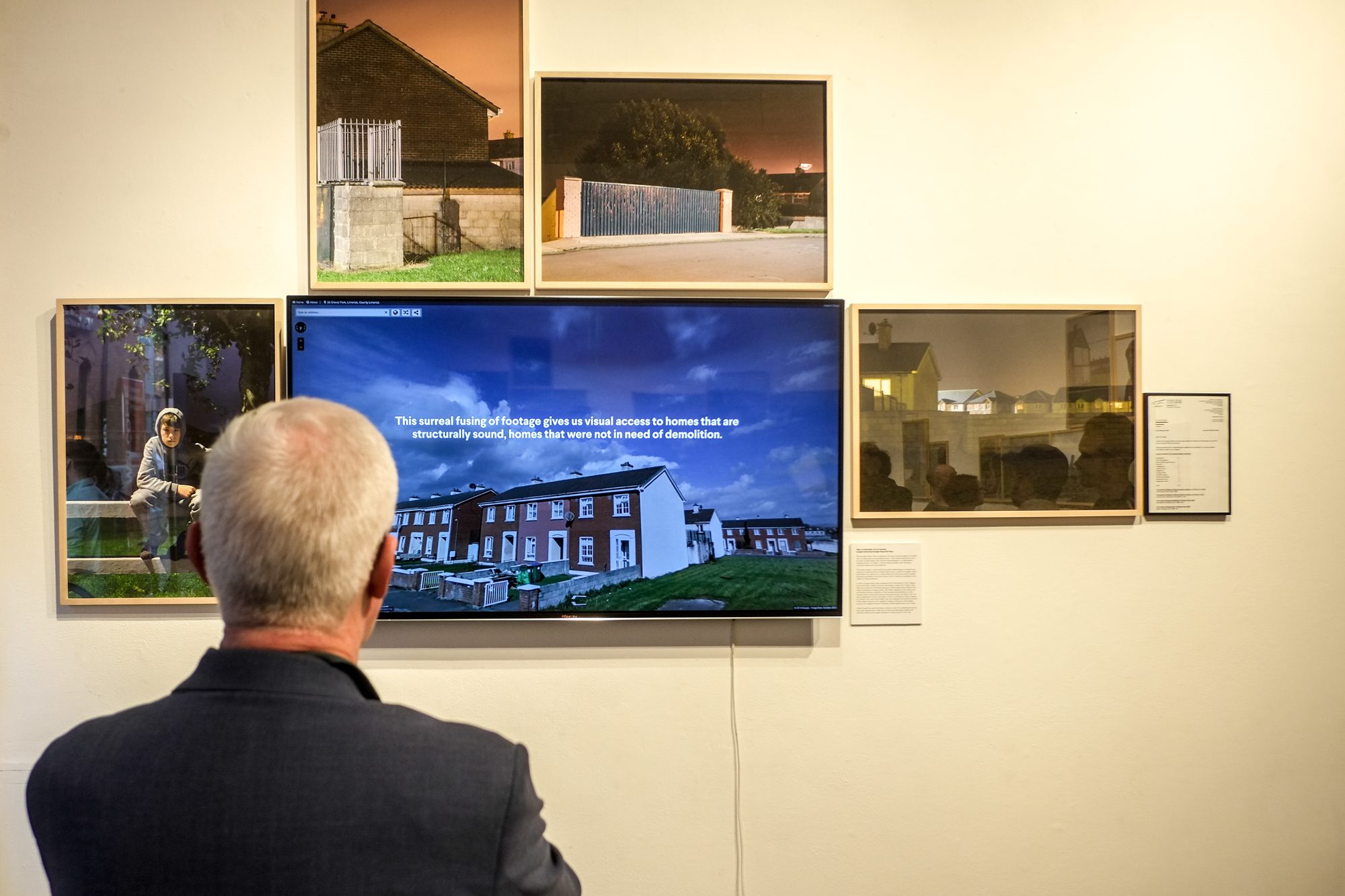 Ireland's International Festival of Photography & Image Culture.
From May to July, we celebrated 10 years of a festival that has been actively looking at what we were missing in Ireland, and what the world was missing of Ireland.
Exhibitions featuring works by Luis Alberto Rodriguez, Nadim Asfar, Cihad Caner, Dries Lips, Jessica Wolfelsperger, Monica Alcazar-Duarte, Benedetta Casagrande and Leonardo Falascone, Lucie Khakhoutian, Clare Lyons, Yvette Monahan, Aisling McCoy, Cian Burke, Dorje de Burgh, George Voronov, Jamin Keogh, Phelim Hoey, Robert Ellis, Roisin White, Sarah Flynn, Zoe Hamill, and Steven Nestor. Plus the minds of Alan Butler, Susan Bright, Anna Ehrenstein, Alison Nordstrom, Lewis Bush, Hester Keijser, Seda Yildiz, Eleonore Challine, Marco de Mutiis, Photography/Archives/Ireland, and more!
The Museum Of Contemporary Photography of Ireland, at The Printworks Dublin Castle, with the kind support of OPW; a temporary space for an on-going research project that we started this year.
It is 10 years since PhotoIreland Festival launched its first edition at the Meeting House Square in Temple Bar, in July 2010. It was the effort of a large group of individuals and organisations presented as vibrant, friendly, all-inclusive: a festival for all to enjoy. The motto remains the same today, and so does the intention to learn and grow from that first edition, not necessarily in size, in number of shows, or geographically, but instead to grow in our understanding of the practice, of the place where it sits in the context of the Arts in Ireland, and of all the circumstances that affect it. It is the ethos of PhotoIreland Festival to celebrate Photography as a discipline, even when it has become so broad and abstract that its name is of little use anymore to define it. But while we find a better word, visual storytelling, visual literacy, it is as relevant as ever in our hyperconnected society. based research methods, testing new ways of working. It is important to remain critical, not merely accepting and repeating what such an organisation is meant to do or what is expected from us, and we must keep searching for best practice from other great organisations and individuals, striving for excellence Who could have thought that a decade later, Ireland would enjoy a festival with such strong European connections, being the Irish member of two EU co-funded platforms of Photography, Parallel and Futures, for example, and actively collaborating with other European festivals and Arts organisations to provide great content to audiences like you. There is a lot of people that have worked tirelessly together, contributing over the years to the success of this organisation. To each and every one of them, from the volunteers to the staff, the artists, curators and the Ireland's International Festival of Photography & Image Culture celebrates 10 years It is also the ethos of this festival to support Ireland's talents, promoting locally and internationally through its programme and its partnerships, the work of artists based on the island. We endeavour to offer them ways to progress in their careers, within and outside Ireland, with publishing and exhibiting opportunities alongside educational and developmental ones, geared specifically to emerging and mid-career artists. Doing so, we ensure that a healthy ecosystem of practices is not silenced by lack of opportunities. For this reason, this is not a festival that can merely appear every two or three years, with fireworks and flashy highlights. This is a hard working festival that wants to make a difference, one that is needed in Ireland, and to do that demands continuity. Our work over the last ten years has undoubtedly impacted positively on the discipline, and we want to keep working in that direction. As always, we will continue with our practice often overlooked Art administrators, to the sponsors, grant aiders and supporters, to all of them we owe our deepest gratitude. This year, we programme not one but three months of events, from May to the end of July, to celebrate them as we celebrate this anniversary. To make it even more special, as this year we started a research project that investigates what a museum of contemporary photography should be like in Ireland today, we are offering a space modestly named the Museum of Contemporary Photography of Ireland. This pop-up space will open at The Printworks, in Dublin Castle, thanks to the Office of Public Works, and it will host the main activities during July.
List of Exhibitions and Events
Events
Photobook Launch:Sarah Pannell, Tabriz to Shiraz, 23 May
Documenting the Everyday, with Sarah Pannell, The Library Project, 24 May
Photography for Non-Human Entities, with Alan Butler, The Library Project, 4, 11, 19 and 25 May
Reading Photographs: An Introduction, with Michelle Dunn Marsh, Temple Bar Gallery + Studios, Studio 12, 5-9 Temple Bar, Dublin 2, 28 May
Visualising Power, with Lewis Bush, The Library Project, 7 June
Open Source Research Methods, with Lewis Bush, The Library Project, 8 June
Blow Photo, Fuse, The Museum of Contemporary Photography of Ireland, Dublin, 13 July
How to be an Ethically Literate Photographer, with The Photography Ethics Centre, The Museum of Contemporary Photography of Ireland, 14 July
Performing the Posthuman Subject in Photography, The Museum of Contemporary Photography of Ireland, 13 July
Anita Groener and Owen Boss In Conversation, The Museum of Contemporary Photography of Ireland, 25 July
From the Past to the Present but…to the Future?? with The Stairlings Collective, The Museum of Contemporary Photography of Ireland,  20-21 July
Wikimedia Edit-a-thon, The Museum of Contemporary Photography of Ireland, 16 July
Practice & Parenthood, The Museum of Contemporary Photography of Ireland, 20 July
Magic Insta Material: A Workshop on Selfies and Portraits (for general audiences), with Anna Ehrenstein, Rathfarnham Castle, 21 July
Triple T&G Photobook Launch: Steven Nestor, Colin Abbott, Brad Rimmer, The Museum of Contemporary Photography of Ireland, 13 July
Symposium: Photography and the Museum, The Museum of Contemporary Photography of Ireland,  5th July
thing, aura, metadata Artists Tour, The Museum of Contemporary Photography of Ireland,  5th July
Performance Lecture by Cihad Caner, The Museum of Contemporary Photography of Ireland,  5th July
Nadim Asfar Artist Talk, The Museum of Contemporary Photography of Ireland,  5th July
David Thomas Smith, Arecibo, The Copper House Gallery,  5th July
Look at Italy!, Italian Institute of Culture, 11 Fitzwilliam Square East, Dublin 2, 6 June
"Foul, Filthy, Stinking Muck", Project Arts Centre, 39 East Essex Street, Temple Bar, Dublin 2, 4 June
Main Exhibitions

The People of the Mud, The Library Project, 3 May-25 August
The Invention of Memory, Rathfarnham Castle,
New Irish Works, The Museum of Contemporary Photography of Ireland, 5-28 July
The Invention of Memory, Rathfarnham Castle, 5-30 May
Nadim Asfar, The Mountain, Museum of Contemporary Photography of Ireland,  5-28 July
Parallel Platform Exhibition:thing, aura, metadata. A poem on making. Museum of Contemporary Photography of Ireland, 5-28 July
Kassel Dummy Award Showcase, by Fotobookfestival, Museum of Contemporary Photography of Ireland, 5-28 July
Photobook Week Aarhus Dummy Award Showcase, Museum of Contemporary Photography of Ireland, 5-28 July
Book and Magazine Fair, Museum of Contemporary Photography of Ireland, 5-28 July
Monica Alcazar-Duarte, The New Colonists and Ascension, Instituto Cervantes Dublin, 12 July – 16 August
Featured Exhibitions
From Ballots to Bullets, National Photographic Archives, -26 May
The Past is a Foreign Country, The LAB Gallery, 24 May-28 July
A Vague Anxiety, Irish Museum of Modern Art, 12 April-18 August
A Modern Eye: Helen Hooker O'Malley, National Photographic Archives,  20 June-November
The Queeratorial, Pallas Projects/Studios, 21 June-6 July
The Parted Veil, The Glucksman, Co. Cork, 12 April-30 June
Tokyo International Photography Competition, The Museum of Contemporary Photography of Ireland, 5-28 July
Pilvi Takala, Temple Bar Gallery+Studios, 19 July – 7 September
David Thomas Smith, Arecibo, The Copper House Gallery, 6-13 July
Fix, Hang Tough Gallery, 21 July – 3 August
Open Programme
36 Views of Croghan Hill, Veronica Nicholson, Áras an Chontae, Co. Offaly, 1-31 May
Indomitable, Paul Kelly, Dublin City Council, 3-16 May
Capture, SO Fine Art Editions, 10 May-6 June
Diversity of Four, The Darkroom, 17-25 May
Nadim Asfar, The Mountain, The Museum of Contemporary Photography of Ireland,
Fotobookfestival Kassel Dummy Award, The Museum of Contemporary Photography of Ireland
Photobook Week Aarhus Dummy Award, The Museum of Contemporary Photography of Ireland
The Past is a Foreign Country, The LAB Gallery
Threads, The Darkroom
INSIDE, OUT, The Workman's, 1-13 June
LSAD Graduate Show, Limerick School of Art and Design, Co. Limerick
Labourer's Cottages, Irish Architectural Archive, 26 June-31 July
Photo 2019, Dublin Camera Club, Running 4 June-28 June at Dublin City Library,1-12 July at The CHQ Dublin
St. Kevin's College Graduate Exhibition, A4 Sounds, 17-20 May
TU Dublin Graduate Exhibition, Gallery of Photography, 1-12 June
After the Landscape, The Library Project, 31 May-2 June
INSIDE, OUT, The Vintage Room, The Workman's, 1-13 June
Threads, The Darkroom, 31 May – 9 June
IMAGO, Institute of Art, Design + Technology, Dún Laoghaire, Co. Dublin, 31 May-8 June
Griffith College Dublin Graduate Show, Griffith College Dublin, 7-12 June
Wanderings, The Darkroom, 14-23 June
Sinead Curran, Spruce, The Darkroom, 18 July
The Bridge, Ballina Quay, Ballina/Killaloe, Co. Tipperary, 19-31 July
Mella Travers, Inverse, The Darkroom, 11-20 October