The Library Project.
We imagined a library dedicated to Photography & Image Culture
with unique, contemporary publications from all over the world,
for you to enjoy.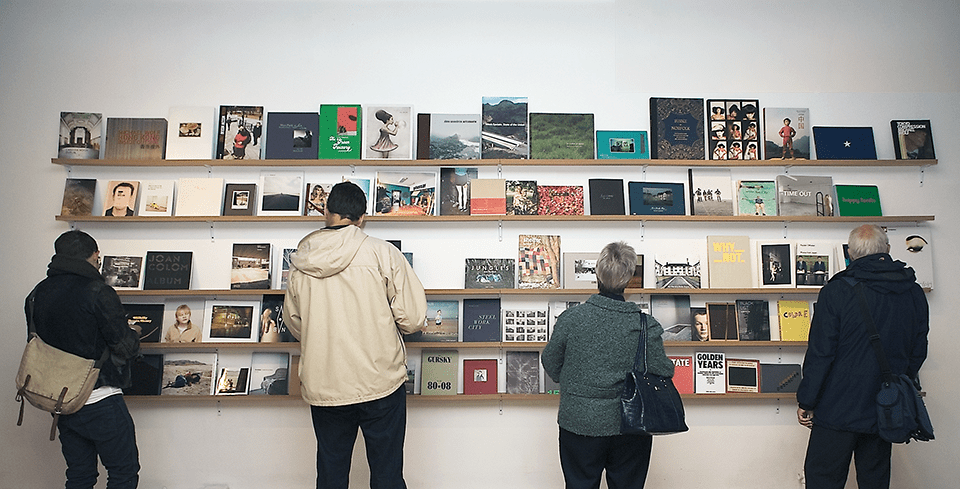 T
he Library Project, initiated in 2011 by PhotoIreland, sets out to offer the public an on-going collection of the latest photobooks, magazines and zines, produced by independent publishing companies, well-established, large publishing houses and self published. The curated selection holds already over 700 items from 150 publishers worldwide, and welcomes everyone, both individuals and organisations, to contribute to this unique public resource library.
We are proud of the fact that the collection includes some of Martin Parr's 30 best books of the decade, and also PhotoIreland's first book, produced to accompany Parr's exhibition of the same name. You can follow the development of The Library Project in Twitter and on Facebook, and soon you will be able to browse the full catalogued collection online at http://library.photoireland.org
Come visit us at The Copper House, St Kevin's Cottages, Synge Street, Dublin 8. Arrange an appointment by emailing tlp@photoireland.org or by calling 087 6856169.
Opening hours: Monday to Friday 12noon to 5pm

View The Library Project in a larger map.

Become a friend of The Library Project
& enjoy great benefits.
A 'friend programme' has been established to support the work and enhance the facilities of The Library Project, a vital resource for everyone interested in photography. The Library Project aims to bring artists and friends together to enjoy and appreciate photography in friendly and informal atmosphere.
The vital funds generated by our friends will help us to keep The Library Project going, and are directed towards the day to day running, upgrading of facilities, production of exhibitions and the presentation of our educational programmes. As a friend of The Library Project you can enjoy an excellent resource, knowing that you are supporting an exciting project that not only ads to the community, but also helps to promote Photography and the Arts in Ireland.
Available from early 2013, the card will offer you a diverse range of benefits that include discounts at a selection of photo related shops, discounts for all PhotoIreland events during and after the festival period, and receiving invites for private events. Also, you will enjoy a special discount for the new and exciting educational programme at The Library Project coming in the new year. Stay tuned for news, subscribe to our newsletter by clicking the blue button on the top right of this website.
---
The Publishers
The core of the collection was made possible by the kindness of the following publishers:
If you would like us to promote your publication or publishing house through The Library Project, please use the submission form.