We imagined a library dedicated to Photography & Image Culture
with unique, contemporary publications from all over the world,
for you to enjoy.
The Library Project is a collection of contemporary publications around Photography, the core of a public resource library already holding over 1000 items from 200 publishers worldwide, a wealth of publications unseen in Ireland.
[dropcaps type='elegant' color='#0079ff' background_color=" border_color="]I[/dropcaps]nitiated in 2011 by Claudi Nir and Ángel Luis González Fernández, from PhotoIreland, the first phase of 'The Library Project' sets out to offer the public an on-going collection of the latest photobooks, magazines and zines, produced by independent publishing companies, well-established, large publishing houses and self published. In 2012, the collection was expanded with the efforts of Arcangela Regis, and in 2013, with the support and passion of Steven Maybury, Katie Mooney-Sheppard, Gill Thorpe, Sinéad Corcoran, Nigel Payne, and Lorna Murphy. The curated selection holds already over 1000 items from 200 publishers worldwide, and welcomes everyone, both individuals and organisations, to contribute to and enjoy this unique public resource library.
The Art Bookshop in Temple Bar
Since October 2013, The Library Project features  a specialised bookshop offering a great selection of the latest publications, expanding its remit from Photography to all Art disciplines, and adding essential text books and magazines. You will find also framed and unframed artists prints and Irish made stationery. Make sure you browse the bookshop online to discover the latest arrivals.
Location
The Library Project is located at 4 Temple Bar, Dublin 2, Ireland.
Browse the collection online
The Library Project's website is available at http://tlp.photoireland.org – offering over 700 items from the collection, and we will keep adding to it the full catalogue of photobooks, zines, magazines and new arrivals.
Visit The Library Project via Google Street View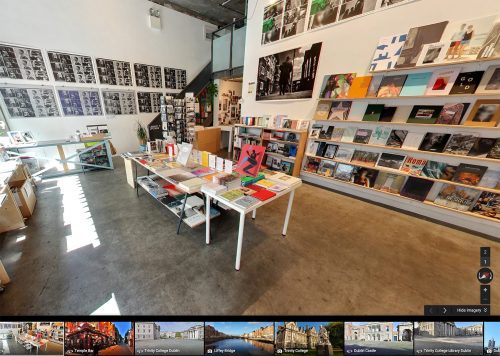 You can now visit The Library Project in Google Street View, enjoying the exhibitions hosted during PhotoIreland Festival 2014. If you want to check the collection upstairs, click the number 2 beside the compass, and enjoy!
Get in contact
To contact The Library Project, please email tlp@photoireland.org or use the contact form. You can propose a book submission via this page. Find details about the library and plans for the second phase, that includes the Educational Programme, in  the library web site and the Facebook page.
Support and help improve PhotoIreland and The Library Project.